Krispy Kreme's Latest Donut Flavors Are Bringing The M&M's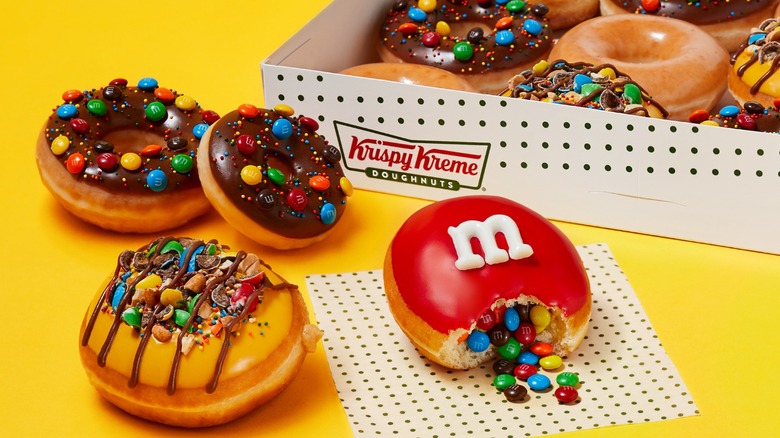 Krispy Kreme
For decades, we've been enjoying Krispy Kreme creations. Lately, however, the donut chain has been going all out in its partnerships, including collaborations with candy brands like Reese's and Twix, as well as with cookies brands like Chips Ahoy and Oreos to release donut flavors even the Cookie Monster would love. On July 17, Krispy Kreme ramped things up a notch yet again, announcing a limited-time collab with M&M's, for the first time ever — per a press release.
How these two brands hadn't already partnered up to make chocolate candy-studded donuts is beyond us, but what really matters is that the partnership is now here, boasting three new donuts for customers to choose from.
The first of the new donuts comes stuffed with M&M's Minis and is dipped in red icing, complete with a white candy "M" on top. The second donut comes filled with Peanut Butter Kreme (though it's unclear whether or not this is the same Kreme that was used in the Reese's collab) and is topped with peanut butter icing, peanut M&Ms, and a chocolate drizzle. Last but not least, the third donut is a simple glazed dessert with chocolate icing and M&M's Minis. The latter is also available in a mini donut size.
All the ways you can enjoy Krispy Kreme's latest donut release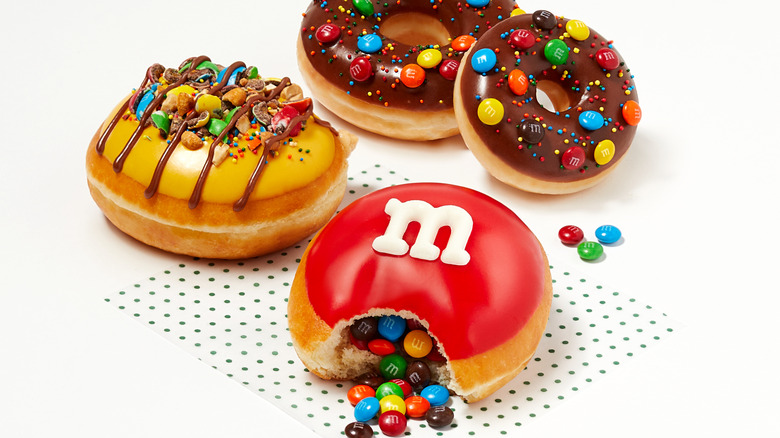 Krispy Kreme
Until August 6, customers can order Krispy Kreme x M&M's donuts at participating shops or online, or even pick up a box at select grocery stores like Meijer, Walmart, and Kroger. Perhaps more exciting, however, is all the different ways you can order these donuts.
Sure, you can drive up to your local Krispy Kreme and order a single Chocolate Candy Surprise donut, but you can also order the collection as a pack of three, with one of each of the new M&M's donuts. You can also order the Chocolate Iced and Peanut Butter Kreme M&M's donuts — along with Krispy Kreme's famous glazed donuts — in a 12-pack. If you're looking for miniature donuts, Krispy Kreme will substitute its Mini Chocolate Iced with Sprinkles for the new Mini Chocolate Iced Doughnut topped with M&M's in the Assorted Minis 16-Count.
Depending on which location you visit, the M&M's donuts' prices will vary — but expect to pay a bit more for these special treats as compared to Krispy Kreme's standard fare.