A Whole Jar Of Capers Actually Makes A Great Homemade Mayo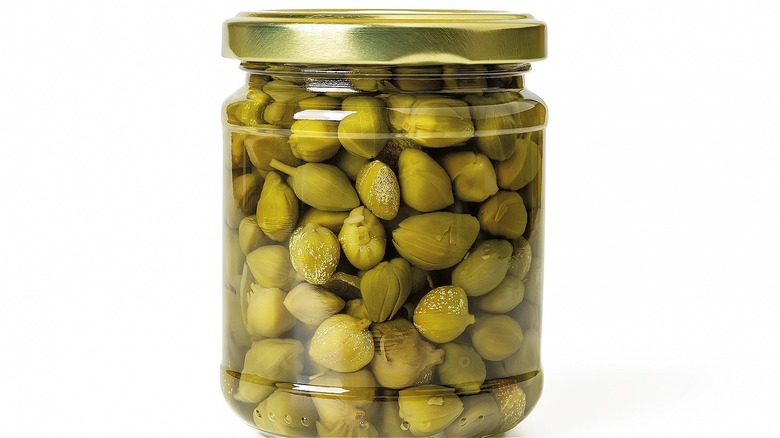 Maryia_K/Shutterstock
Mayonnaise requires only three simple ingredients: oil, eggs, and lemon juice. With just a few basic pantry staples, you can whip up a batch of homemade mayo in no time. As a simple culinary marvel that transforms sandwiches, burgers, and hot dogs, mayonnaise is a kitchen essential. But why settle for simplicity alone when you can elevate your mayo game and add a touch of flair?
One social media foodie on TikTok has embarked on a mouthwatering mission to uncover just how many ways you can mayo in their aptly-titled series: "Will it Mayo?" In the first installment, the foodie made mayonnaise with a whole jar of capers, begging the question: Can mayo's creamy base and the bold, briny essence of capers create a harmonious symphony of flavors? It sure can.
Caper mayonnaise offers a fragrant tanginess to the rich creaminess of classic mayo. The capers boast a unique flavor profile that walks a line between floral and salty, giving your homemade mayonnaise recipe a unique interplay of flavors. Plus, it's easy to make!
To create caper mayonnaise, start with the basics — olive oil; an egg; a single clove of garlic; a dash of salt; and, in this case, a whole jar of capers. Fire up your emulsion blender, stand mixer, or food processor, and there you have it — caper mayo.
Uses for caper mayonnaise
Now that you're privy to the culinary gem that is caper mayonnaise, you'll need to find some uses for it. With this robust mayo, you can keep it simple or get creative — the world is your caper!
Keep it classic by elevating your sandwiches and wraps with a layer of caper mayo spread on your bread or tortilla. This brings a dash of vibrance to dishes that can complement ingredients like roasted vegetables, deli meats, and grilled chicken. One Portland restaurant owner tweeted a recipe for fried chicken provolone melt with caper mayo — need we say more?
Bring out the flavors of seafood dishes by using caper mayo as a dipping sauce or spread. It pairs wonderfully with grilled fish, shrimp, or crab cakes, and can even be used as a condiment for fish tacos. Dare we suggest using your caper mayo for a batch of tartar sauce?
Reinvent classic deviled eggs by incorporating caper mayo into the filling mixture or use it as a dip alongside fresh vegetables, chips, or breadsticks. For a more subtle use, drizzle your caper mayo over roasted veggies like Brussels sprouts or asparagus for an earthy, creamy veggie medley.
Next time you're refilling your homemade mayo stock, add a jar of capers and watch your dishes transform.