Broccoli And Mushroom Stir-Fry Recipe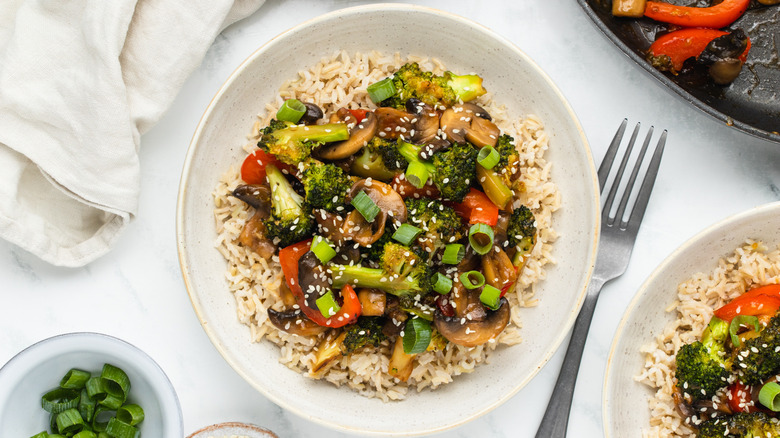 Catherine Brookes/Mashed
It's tough to go wrong with stir-fry. You throw a bunch of delicious ingredients into a wok, fry it while, well, stirring it to cook all sides of all ingredients, then serve. You can mix a bunch of different types of ingredients in your wok but recipe creator Catherine Brookes chose to combine broccoli and mushrooms for a fried and stirred delight that takes less than a half hour from prep to finish. Plus her recipe has a great super-sweet sauce to set it apart from other stir-fry dishes.
"It's the combination of all the sauce ingredients here that make this recipe super tasty," gushes Brookes. "Garlic and ginger add heaps of flavor, and salty soy sauce balances perfectly with honey."
So the recipe is quick, it's easy, it's full of flavor, plus it's a delicious vegetarian option (though you could probably add meat to it if you wanted). Either way, it's a great go-to for those nights when you want to keep it healthy and fresh, don't have a ton of time to cook, and you don't want to sacrifice taste.
Grabbing your broccoli and mushroom stir-fry ingredients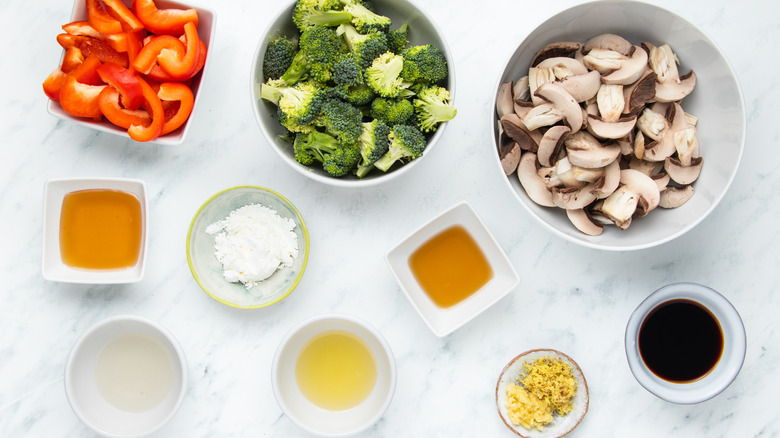 Catherine Brookes/Mashed
For this recipe, you'll need rice wine vinegar, cornstarch, honey, soy sauce, and some sesame oil, and olive oil. As far as produce goes, we'll want a head of broccoli, a red pepper, at least 10 ounces of cremini mushrooms, 3 cloves of garlic, and a 1-inch chunk of ginger.  
"The ginger adds an aromatic flavor and warmth, whilst the honey adds sweetness," explains Brookes, speaking to where the depth in this sauce comes from.
Do your prep and make your slurry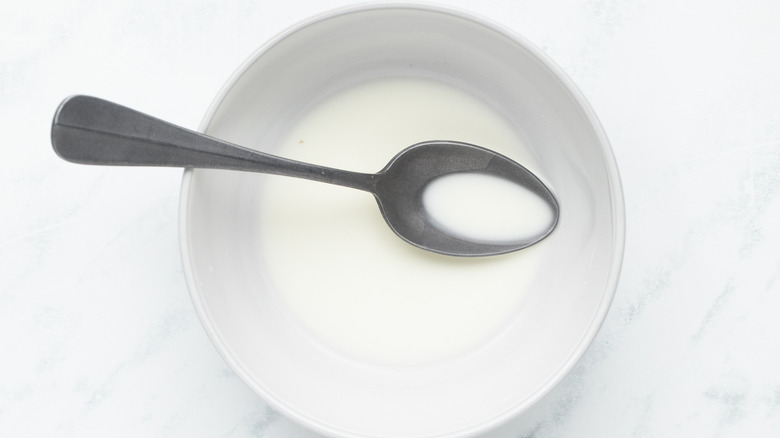 Catherine Brookes/Mashed
Before you get started, it's always a good idea to get your chopping and crushing done. While you won't need them for a few steps, you can crush your garlic cloves, slice your cremini mushrooms and red bell pepper, slice your head of broccoli into bitesize pieces, and grate your chunk of ginger. 
After that prep, start your cook session by combining the rice vinegar with the cornstarch in a bowl, mixing it into a nice little white watery concoction known as a slurry.
"The cornstarch and vinegar slurry is fairly watery as it doesn't thicken until heated," explains Brookes. "You just want to mix the two together until there are no lumps." This will give us a thick, velvety sauce in the end.
Finish your stir-fry sauce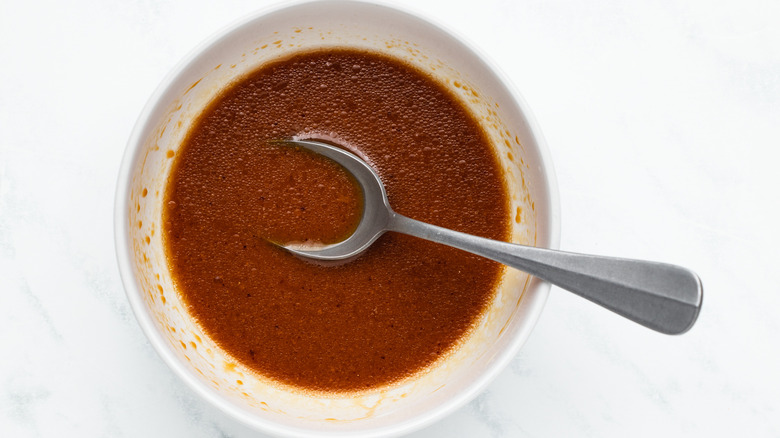 Catherine Brookes/Mashed
Once your rice vinegar and cornstarch become one, add honey and soy sauce to it until everything is inseparable. The combo should start looking like a dark soup or a thin sauce.
Finally pour in the sesame oil and mix well. Once it's all combined, set it aside and move on.
Get to frying and stirring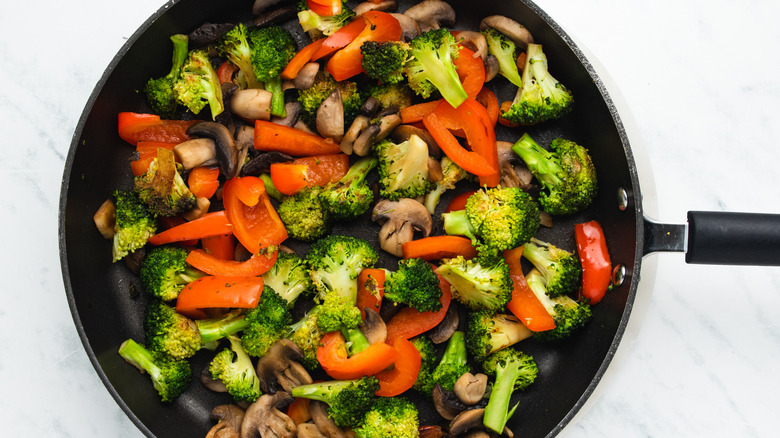 Catherine Brookes/Mashed
It's wok time. Pour some olive oil into a wok (a large frying pan also works) and heat it up on the stove on high. Then throw in the broccoli, red pepper, and mushrooms to fry. "You can stir with a spatula or wooden spoon here," explains Brookes. After about 7 minutes or so they should all be browned and a little softened. Finally, add the garlic and ginger to cook for another few minutes. 
Finish and serve your stir-fry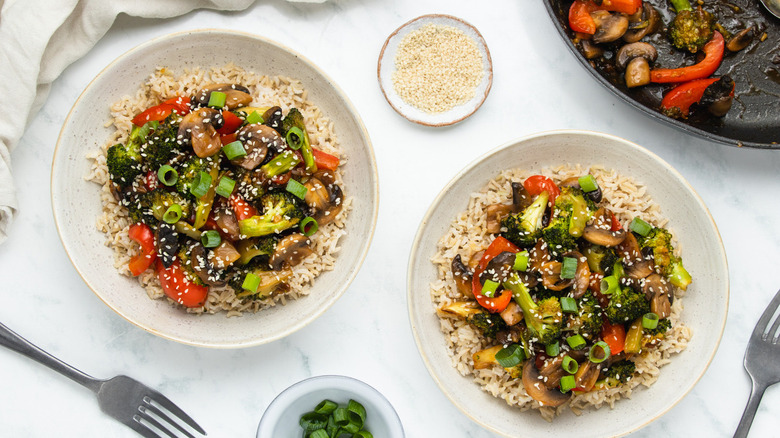 Catherine Brookes/Mashed
Pour the sauce over the veggies and drop the heat back to low. Stir another 2 minutes until the fried vegetables are completely coated and the sauce begins to thicken. Once the sauce thickens, you're ready to serve. That's how you do the stir-fry — no wonder it's so quick.
Spoon it over either rice or noodles in a bowl, sprinkle some sesame seeds if you want, and bam: You're enjoying your mushroom broccoli stir-fry.
"You could serve with other sides such as spring rolls or shrimp toast," suggests Brookes. "I personally love this with brown rice, but noodles work great too." 
Broccoli And Mushroom Stir-Fry Recipe
This simple veggie stir-fry comes together in mere minutes. All you need are some knife skills and a hot wok (or pan).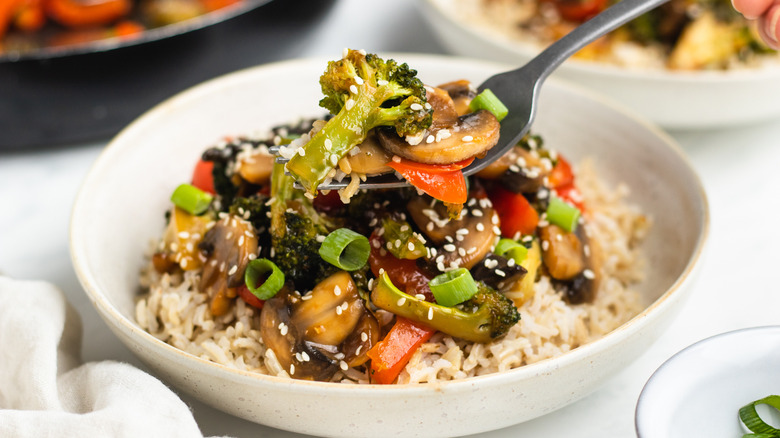 Ingredients
1 tablespoon rice vinegar
1 tablespoon cornstarch
1 tablespoon honey
2 tablespoons soy sauce
1 tablespoon sesame oil
1 tablespoon olive oil
1 head broccoli, sliced into bitesize pieces
1 red bell pepper, sliced
10 ounces cremini mushrooms, sliced
3 cloves garlic, crushed
1-inch knob of ginger, grated
Optional Ingredients
Rice or noodles, for serving
Sesame seeds, for garnish
Directions
Add the rice vinegar and cornstarch to a bowl and mix together.
Add the honey, soy sauce and sesame oil and mix again. Set aside.
Heat the olive oil in a large frying pan or wok over high heat. Add the broccoli, red pepper, and mushrooms. Fry, stirring frequently for 6-8 minutes until the vegetables are browned and slightly softened.
Add the garlic and ginger. Cook for another 2 minutes, stirring constantly.
Pour in the sauce and turn the heat to low. Stir for another 2 minutes to allow the sauce to thicken and coat all of the vegetables.
Garnish with sesame seeds if desired and serve over rice or noodles.
Nutrition
| | |
| --- | --- |
| Calories per Serving | 226 |
| Total Fat | 10.1 g |
| Saturated Fat | 1.6 g |
| Trans Fat | 0.0 g |
| Cholesterol | 0.0 mg |
| | |
| --- | --- |
| Total Carbohydrates | 30.5 g |
| Dietary Fiber | 7.0 g |
| Total Sugars | 12.6 g |
| Sodium | 661.6 mg |
| Protein | 9.6 g |