Crispy Shrimp Toast Recipe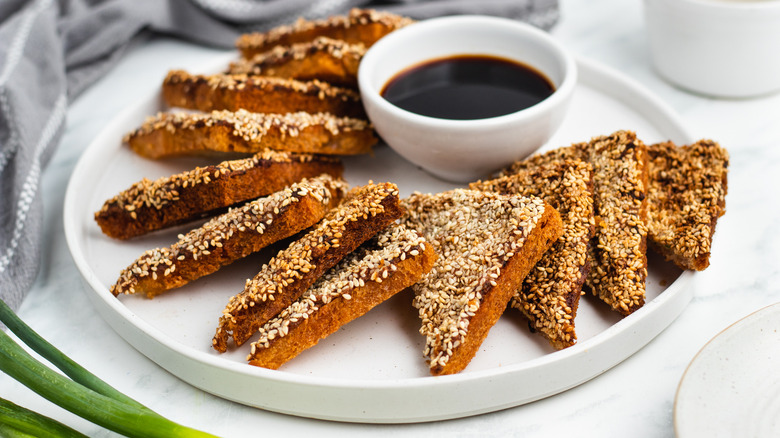 Catherine Brookes/Mashed
Shrimp toast might seem like a typically Chinese-American appetizer, something you'd typically find on a pu pu platter at the type of old-school restaurant that serves tiki drinks, but it turns out to be a Chinese creation. Authentic though it may be, it's admittedly not the healthiest dish on the menu, especially when deep-fried instead of baked. Even so, it's a super-tasty treat that's okay to indulge in every once in a while.
If you make shrimp toast at home instead of ordering takeout, it can actually be fairly budget-friendly since there's no reason not to use the smallest, cheapest shrimp you can find. As a bonus, the shrimpiest of shrimp may even come pre-peeled so they could save you some prep work. As for how the shrimp toast from this recipe compares to the restaurant version, recipe developer Catherine Brookes assures us, "It tastes just like takeout with loads of authentic Asian flavors packed in," and she also notes that it is "fun and surprisingly easy to make, too."
Gather the ingredients for the shrimp toast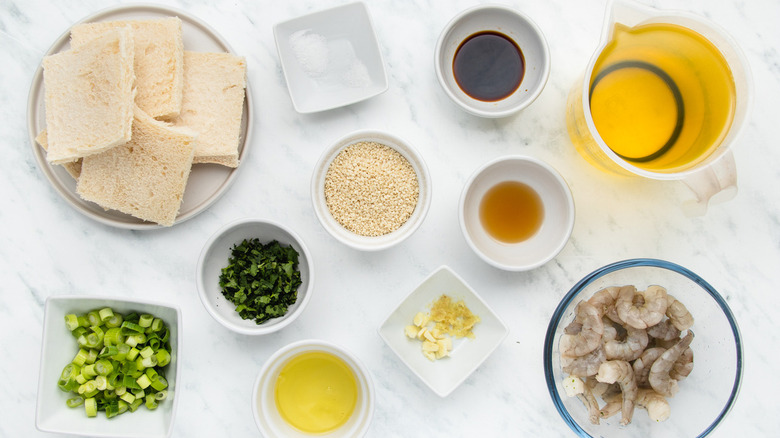 Catherine Brookes/Mashed
You'll need shrimp to make shrimp toast, of course, and Brookes says there's "no problem using any type of shrimp here." She does say, though, that if you're using frozen ones you should first defrost them. You'll also need bread for the toast part, with Brookes recommending the store-bought, pre-sliced kind of white bread. As she explains, it's "generally the best option here due to each slice being a similar thickness." The other ingredients necessary for this recipe are green onions (both the green and white parts), cilantro, garlic, ginger, an egg white, soy sauce, sesame oil, sugar, sesame seeds, and sufficient vegetable oil to deep fry the toast.
Make the shrimp paste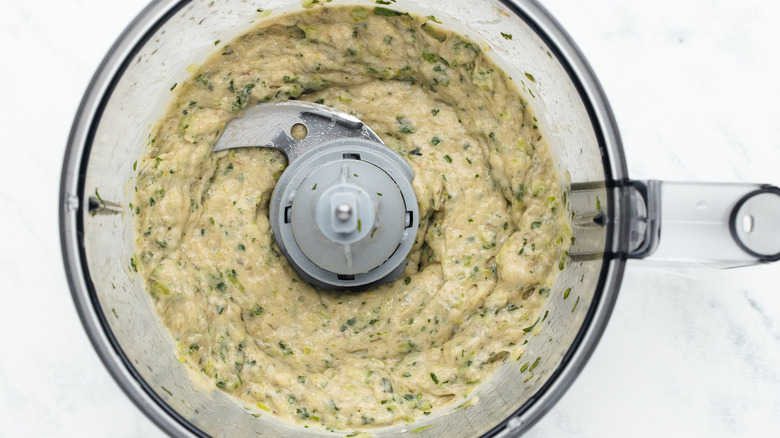 Catherine Brookes/Mashed
Take the first 10 ingredients, these being the shrimp, onions, cilantro, garlic, ginger, egg, soy sauce, sesame oil, sugar, and salt, and combine them in a food processor. Puree the mixture until you have a smooth paste. No need to worry about over-processing here since you don't need the shrimp paste to retain any chunkiness.
Assemble the shrimp toast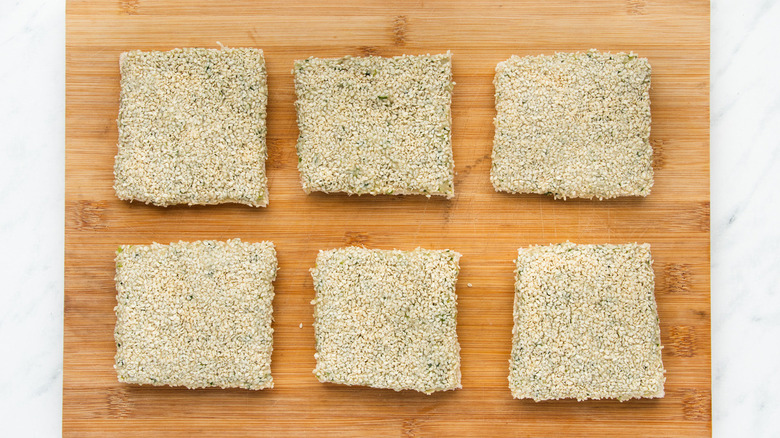 Catherine Brookes/Mashed
Take the bread slices — which you should already have de-crusted — and spread each one with shrimp pate on one side. The shrimp paste should go from edge to edge, leaving no empty space. Once you've shrimped up the bread, sprinkle it with sesame seeds to cover the shrimp layer. Pat the sesame seeds down so they stick to the shrimp. Brookes admits that "It's normal for a small amount of the seeds to fall off during prep or frying," but says patting them down helps them to stay on.
Deep-fry the shrimp toast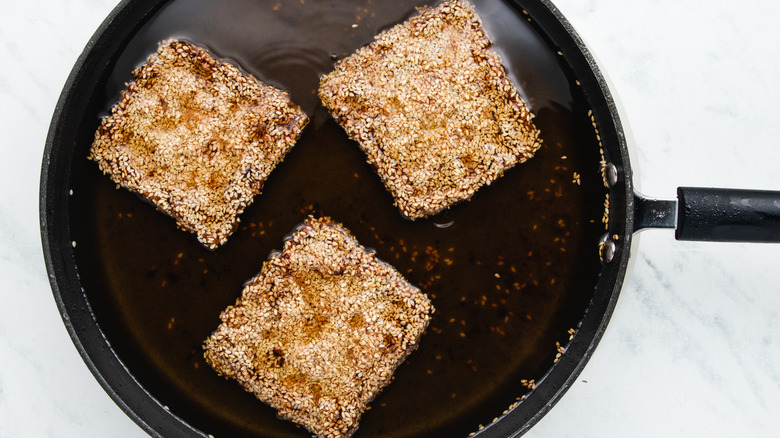 Catherine Brookes/Mashed
Heat the oil until it reaches 350 F, using a deep-fry thermometer to ensure that it reaches the proper frying temperature as too-cool oil means soggy toast while too-hot oil is a fire hazard.. Fry the bread with the plain side down for 2 minutes, then turn it over and fry it with the sesame/shrimp side down. You may need to work in batches so as not to overcrowd the pot since this will cause the temperature to drop.
As each slice of toast finishes frying, drain it on paper towels to sop up the grease. When the toast is cool enough to handle, cut each slice in half across the diagonal to make 12 pieces. If you want a condiment for your shrimp toast, Brookes suggests soy sauce, although you could also mix in some rice vinegar, chili garlic sauce, and maybe a tiny pinch of sugar to make a dip that's tangy and spicy as well as salty.
Crispy Shrimp Toast Recipe
Crispy shrimp toast is the ultimate comfort food, and now you can make the takeout classic in your own kitchen.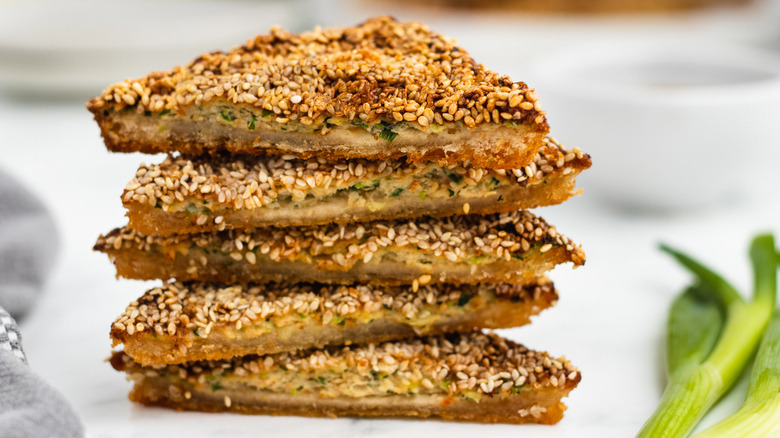 Ingredients
8 ounces raw shrimp, peeled and deveined
3 green onions, chopped
2 tablespoons chopped cilantro
1 cloves garlic, chopped
1 teaspoon ginger, minced
1 egg white
2 teaspoons soy sauce
1 teaspoon sesame oil
½ teaspoon sugar
¼ teaspoon salt
6 slices white bread, crusts cut off
½ cup sesame seeds
4 cups vegetable oil
Directions
Combine the shrimp, green onions, cilantro, garlic, ginger, egg white, soy sauce, sesame oil, sugar, and salt.
Puree the shrimp mixture in a food processor until it forms a smooth paste.
Spread the shrimp paste over each slice of bread, extending it all the way to the edges.
Sprinkle the sesame seeds over the shrimp mixture until each piece is entirely covered, patting the seeds down so they'll stick.
Heat the oil to 350 F.
Fry the bread with the plain side down for 2 minutes, working in batches if needed to avoid overcrowding the pan.
Flip the toast over and fry it shrimp-side down for 2 minutes.
Repeat the process as necessary until all of the shrimp toast is cooked.
Drain the shrimp toast on paper towels.
Slice each piece of toast across the diagonal.
Serve the shrimp toast with soy sauce or other condiments as desired.
Nutrition
| | |
| --- | --- |
| Calories per Serving | 413 |
| Total Fat | 42.9 g |
| Saturated Fat | 3.0 g |
| Trans Fat | 0.3 g |
| Cholesterol | 16.6 mg |
| | |
| --- | --- |
| Total Carbohydrates | 4.9 g |
| Dietary Fiber | 0.8 g |
| Total Sugars | 0.6 g |
| Sodium | 108.1 mg |
| Protein | 3.7 g |