Extra-Orange Orange Muffins Recipe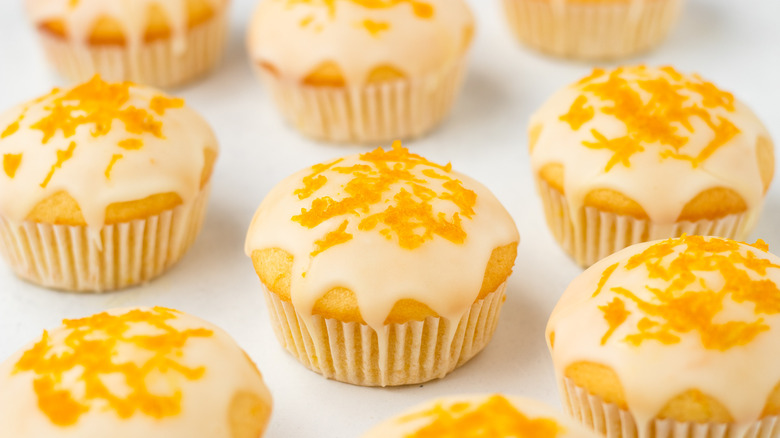 Catherine Brookes/Mashed
‌We'll just go ahead and say it: muffins are the real breakfast MVP. You know you agree. These versatile baked goods can be topped with streusel or glaze. They can be studded with nuts or fruit, or even chocolate chips. This much versatility means we can rely on them over and over again to be the meal-prepped solution to our busy weekday mornings. We love to prepare a batch on a weekend and nosh on them throughout the week. Not only are muffins the best prep-ahead grab-and-go breakfast, they also double as a dessert, which is truly remarkable.
Recipe developer Catherine Brookes brings us this recipe for extra-orange orange muffins. Brookes agrees with the versatility of muffins, saying, "These are perfect to enjoy all year round and can be eaten for breakfast, a snack, or dessert."
If you are going to grab these as a breakfast option, Brookes recommends sneaking in a few more servings of fruit saying, "These would definitely be great served with some fresh fruit on the side such as strawberries, raspberries, and blueberries."
Gather your extra-orange orange muffins ingredients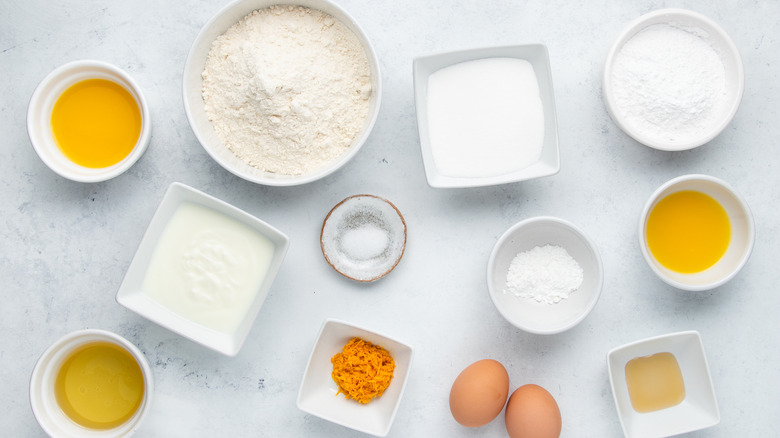 Catherine Brookes/Mashed
To make these extra-orange orange muffins, you can start by gathering your ingredients. For this recipe, you will need sugar, flour, baking powder, eggs, vegetable oil, buttermilk, orange juice, orange zest, vanilla extract, salt, and powdered sugar. 
While these muffins' essence is reliant on that orange flavor, feel free to switch it up and seek inspiration from another form of citrus. Brookes tells us, "You could certainly swap out the orange for lemon or lime here if desired."
Dry & wet ingredients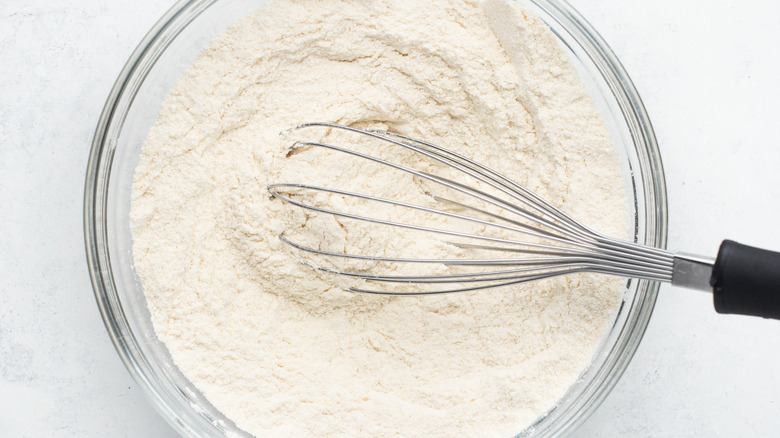 Catherine Brookes/Mashed
Start by preheating your oven to 350 F and adding the dry ingredients together in a bowl. This includes the flour, sugar, baking powder, and salt. Give these ingredients a thorough mix using a whisk. Then, in a separate bowl, whisk up the wet ingredients: eggs, oil, buttermilk, ⅓ cup orange juice, orange zest, and the vanilla extract.
We know it may be annoying to dirty two separate bowls, but this separation of dry and wet ingredients is a classic method used in making baked goods of many types. It's crucial for avoiding the overhydration of the flour and helps to evenly distribute the leavening agent, baking powder, throughout the ingredients.
Mix the batter and bake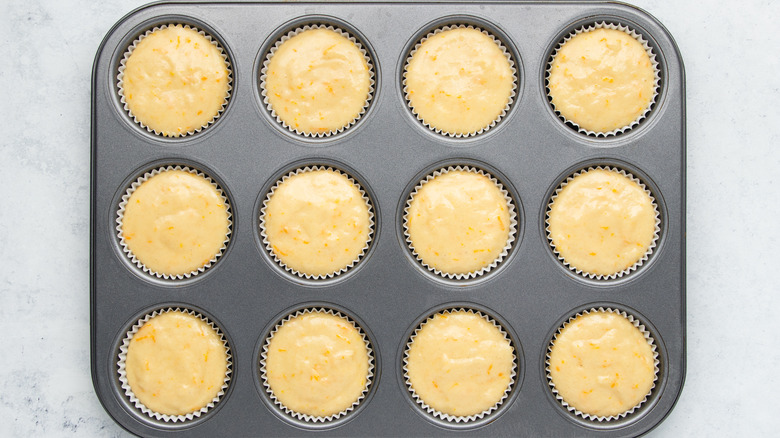 Catherine Brookes/Mashed
Then, pour the dry ingredients into the wet ingredients. Fold this mixture together gently until it forms a well-combined batter. Pour the batter evenly into the prepared muffin-tin-lined pan. Next, bake in the preheated oven for 18-22 minutes. Once the muffins have baked, allow them to cool in the pan for at least 15 minutes before transferring them to a wire rack to cool completely.
At this point you should be able to smell the orange flavor coming from the batter. Brookes wasn't lying about the "extra-orange" flavor. She packs even more citrus taste into the glaze, which you will make in the next. Brookes notes, "having orange flavor in both the muffin and the glaze gives these a real citrussy kick."
Prepare the glaze and spoon on top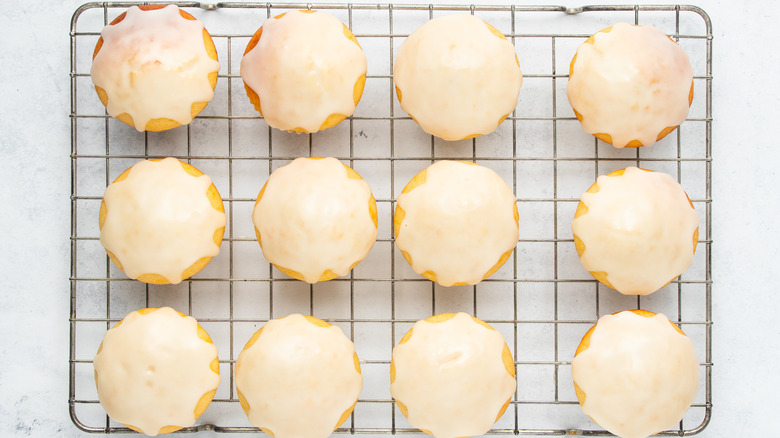 Catherine Brookes/Mashed
To make the glaze, add the remaining orange juice and powdered sugar into a small bowl. Stir these ingredients together until you reach a thin consistency. Once the muffins have cooled completely on the wire rack, spoon the glaze over top of the muffins. If you'd like, feel free to add additional orange zest on top of the glaze for a festive look.
If you have any leftover glaze, we highly recommend you don't let it go to waste. That tasty coating can be added to a variety of other baked goods. Brooke says, "This glaze is definitely super versatile! It would be perfect used on top of other loaf cakes and buns." We even think it would be great on pancakes or cinnamon rolls.
Extra-Orange Orange Muffins Recipe
Orange works its way into the batter and the glaze for these almost-a-dessert muffins, making them feel like sunshine in a bite.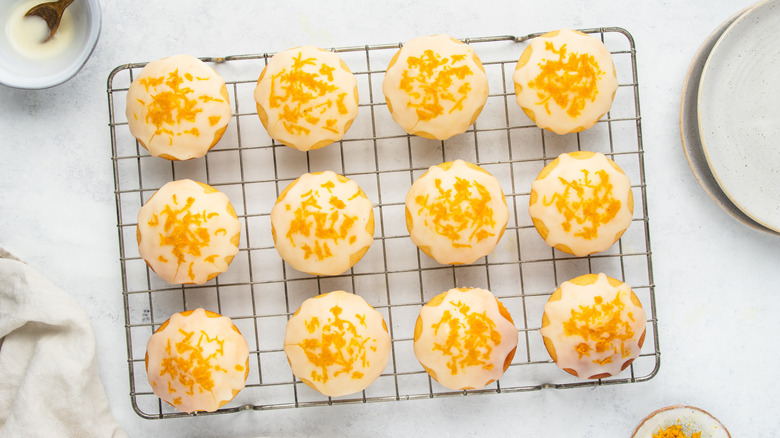 Ingredients
2 cups all purpose flour
⅔ cup sugar
2 ¼ teaspoons baking powder
¼ teaspoon salt
2 eggs
⅓ cup + 1 tablespoon vegetable oil
½ cup buttermilk
⅓ cup + 1 tablespoon orange juice (divided)
1 tablespoon orange zest
½ teaspoon vanilla extract
¾ cup powdered sugar
Optional Ingredients
Additional orange zest, for garnish
Directions
Preheat the oven to 350F and prepare a 12 hole muffin pan with muffin liners.
Add the flour, sugar, baking powder and salt to a bowl and whisk well.
In a separate large mixing bowl, whisk together the eggs, oil, buttermilk, ⅓ cup orange juice, orange zest, and vanilla extract.
Pour the dry ingredients into the bowl with the wet ingredients and gently fold together until just combined.
Distribute the mixture between your muffin liners, filling them almost to the top.
Bake for 18-22 minutes or until a skewer poked into the center of a muffins comes out clean.
Leave in the pan for about 15 minutes before transferring to a wire rack to cool completely.
Mix together the powdered sugar and 1 tablespoon orange juice to make the orange glaze.
Spoon the glaze on top of the cooled muffins. Decorate with some extra orange zest if desired.
Nutrition
| | |
| --- | --- |
| Calories per Serving | 233 |
| Total Fat | 8.4 g |
| Saturated Fat | 0.8 g |
| Trans Fat | 0.1 g |
| Cholesterol | 27.1 mg |
| | |
| --- | --- |
| Total Carbohydrates | 36.2 g |
| Dietary Fiber | 0.6 g |
| Total Sugars | 19.8 g |
| Sodium | 142.6 mg |
| Protein | 3.5 g |