Yes, You Can Order 32 Ounces Of Raising Cane's Sauce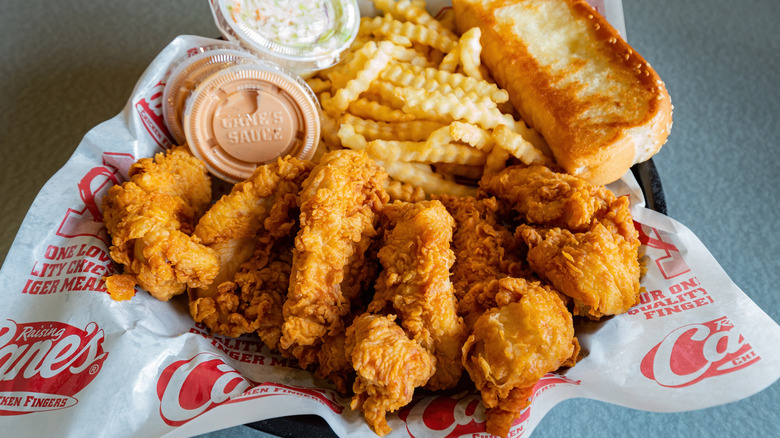 Kit Leong/Shutterstock
The internet has stumbled onto yet another little-known fact, this time focused on a single condiment. According to a recent Reddit post, the fried chicken chain Raising Cane's offers a 32-ounce soda cup full of their famously delicious Cane's sauce.
This isn't a fast food hack or a secret trick either, as there is apparently a designated button on the Cane's ordering system for the bulk-buy option. Though many people may not be aware of this menu option, Raising Cane's staff is acutely conscious of the alluring nature of their delectable dipping sauce. However, the price of the large sauce seems to be contingent upon your location, with internet users stating that they paid anywhere from $5 to $9 for the colossal condiment cup.
The enormous order seems perfect for those who crave the sauce but don't have a Raising Cane's location nearby, as many commenters on the original post have pointed out. Some users even explained that they travel long distances for Cane's highly addictive chicken, opting to pass over many other fast food chains on the way.
What is Raising Cane's sauce made of?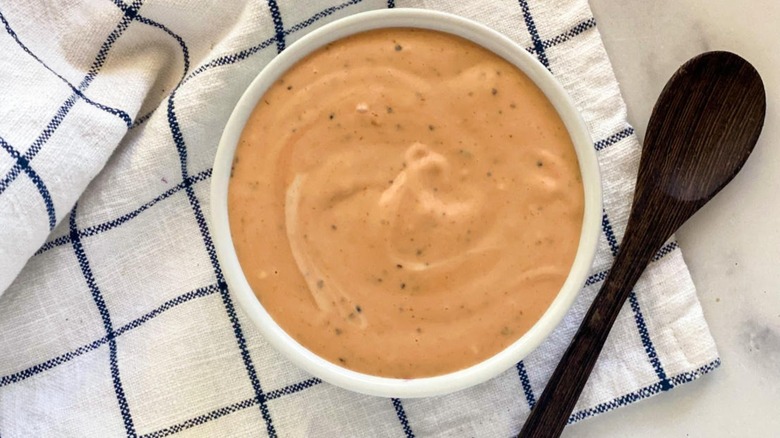 Miriam Hahn/Mashed
Just in case 32 ounces of the delicious dipping sauce simply isn't enough, Cane's enthusiasts may be overjoyed to learn that you can concoct a copycat recipe of the sauce at home. While Raising Cane's remains secretive about the exact measurements and spices in their secret sauce, internet sleuths have determined that the mixture is little more than a combination of several key ingredients. To create your own version of Raising Cane's sauce, combine ketchup, mayonnaise, Worcestershire sauce, salt, pepper, and granulated garlic, and mix until you've got something people will buy for $2 per ounce. 
They have a button to properly ring up 32oz of Raising Cane's sauce
by
u/DannyVFilms in
mildlyinteresting
The Reddit post, which was shared to the community r/mildlyinteresting, has garnered over 100 comments from enthusiastic fans of the chicken chain, with many professing their love for the sauce. One user comments, "I'd buy that, take it home, put it in a bottle, and refrigerate it to use for a long time!" Others expressed their love for the sauce with humorous hyperbole, stating, "Take it home, put in [the] freezer for about 2 hours... Raising Cane's shake."