The Portuguese McDonald's That Looks Like A Grand Cathedral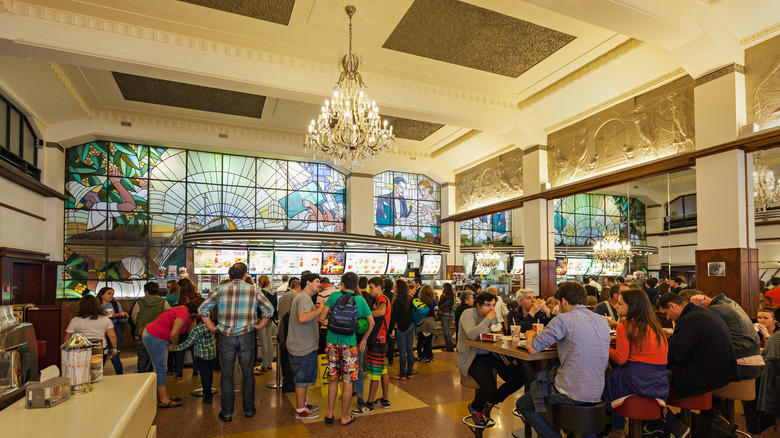 Saiko3p/Getty Images
Along the Douro River in northern Portugal sits the country's second-largest city of Porto. Its rich history dates back thousands of years, landing it a spot on the prestigious list of UNESCO World Heritage sites for its many historic buildings with intricate designs. Besides being known for its port wine and one of the best food scenes in Europe, Porto is also home to the architectural wonder that is often referred to as the most beautiful McDonald's in the world. Locals and tourists alike flock to this unique spot not only to grab a coffee, pastry, and perhaps a Big Mac to tide them over while exploring the city, but to marvel at the famous stained glass windows and fancy interior.
Much like the fancy Italian McDonald's with Roman artwork and statues lining its halls, the decorations and upscale environment within the chain's Porto location are stunning. Before walking through the doors of this Portuguese McDonald's, visitors will notice its classic golden arches are nowhere to be found, replaced by a towering bronze eagle statue that was sculpted by artist Henrique Moreira. The inside is quite the spectacle, with its ornate crystal chandeliers catching the light, detailed relief carvings near the ceiling, and a back wall splashed with vibrant stained glass. Those queuing up to place their order have the chance to inspect the subject of the stained glass art, which depicts Brazilian coffee farmers harvesting beans for Porto's elite. But, why coffee?
The McDonald's in Porto used to be an iconic café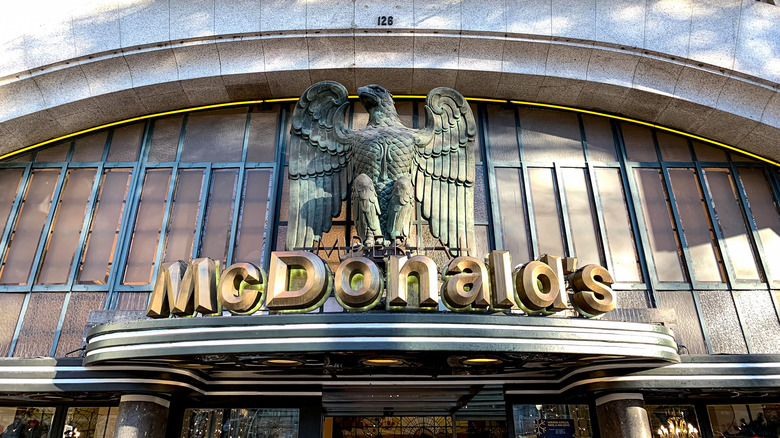 Alla Tsyganova /Getty Images
Instead of making changes to such a historic and beautiful place, in 1995 McDonald's decided to set up shop in what had once been a hotspot for coffee lovers. The classy Imperial Café, designed in the Art Deco style by Swiss architect Ernesto Korrodi, opened in 1936 and became a well-known café full of life. After its renovation and reopening as a McDonald's, locals began calling the burger-slinging fast food eatery McDonald's Imperial, and the name stuck. Its menu may not match the elegant architecture and artwork by any means, but the sociable atmosphere and communal spirit of the Imperial Café remains. While there are several unique menu items to try here, as there usually are at McDonald's in other countries, the fare at this particular chain is disappointingly not as luxurious as you'd expect.
The Portuguese McDonald's menu features burger buns with cheese baked into them, mushroom burgers, and a variety of tasty-looking soups, but the star of the menu is undoubtedly its pastries. It's no secret that European countries like Portugal pride themselves on their pastry-making abilities, always perfecting bakes infused with decadent flavors. The same is true for Porto's Imperial, where you can grab a muffin slathered in chocolate sauce, rich cream puffs, or a handful of macarons to pair with a cup of McDonald's coffee. Admiring the artwork while sampling the McCafé menu might be the best way to step back in time during your visit.