Crispy Sauerkraut Balls Recipe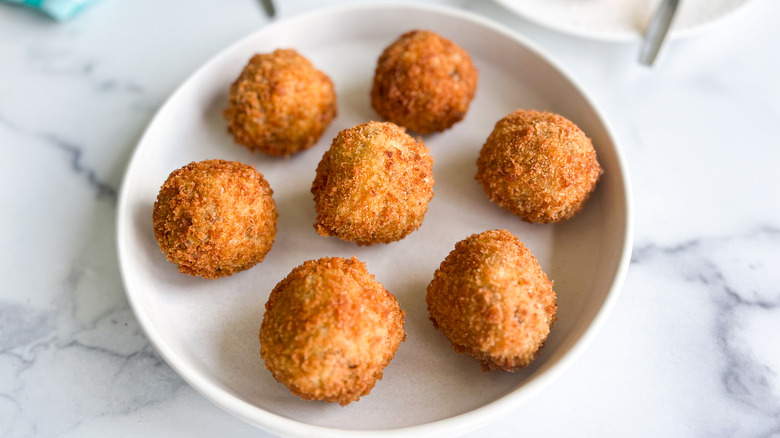 Erin Johnson/Mashed
Sauerkraut may be a polarizing ingredient due to its fermented nature and sour flavor profile, but it also happens to be quite the versatile ingredient, too. Whether you're looking to eat more sauerkraut or you just enjoy including the fermented cabbage in your diet wherever possible, then these crispy sauerkraut balls — courtesy of recipe developer Erin Johnson — should be right up your alley. 
Similar to a sausage ball or even a mac and cheese ball, these fried little appetizers feature sausage, cheese, and sauerkraut — and one bite will prove that the salty, sour flavor works quite well here. "I love this recipe because it takes classic flavors like sausage and sauerkraut and packages them in a unique twist," Johnson says. We can just about guarantee that if you show up to a potluck with these sauerkraut balls, your app will be the talk of the party and provide a welcome change from the same old starters. We love wings and mozzarella sticks, but it's time to switch things up!
Gather the ingredients for crispy sauerkraut balls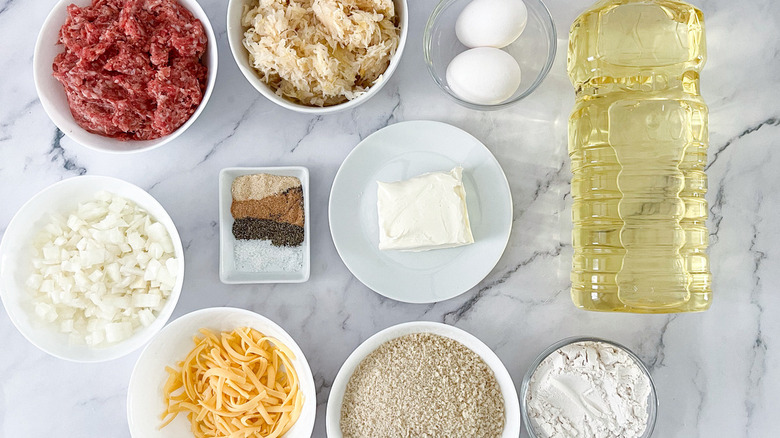 Erin Johnson/Mashed
Aside from the sauerkraut, which you'll need plenty of, you'll also need ground sausage, an onion, a cup of shredded Gouda cheese, and cream cheese to round out the filling. For seasoning, you'll need salt, pepper, garlic powder, and onion powder, and to get that crispy coating on the outside of the balls, you'll need panko breadcrumbs, flour, and a couple of eggs. Finally, you'll need a good amount of neutral oil to fry the balls.
If you're looking to load these sauerkraut balls up with extra cheesy goodness, Johnson notes that you can easily "add additional Gouda to make the balls cheesier."
Cook the sausage, then stir in the sauerkraut and cheeses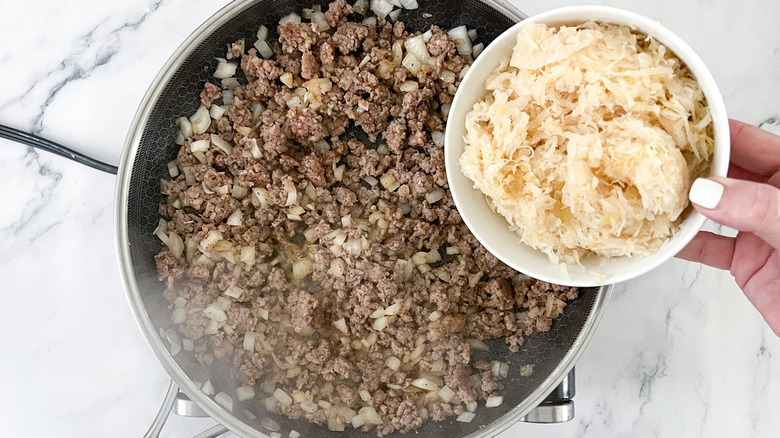 Erin Johnson/Mashed
Place a large skillet on your stovetop over medium-high heat and add in the sausage, allowing it to cook for a few minutes and begin to brown. At that point, add in the diced onion, and once that softens as well, add in the seasonings: salt, pepper, garlic powder, and onion powder. Finally, stir in the sauerkraut, then cut the heat and transfer the meaty mixture to a heat-proof bowl. Give the sausage and sauerkraut mixture some time to cool down, and once it has, stir in the cheeses and ¼ cup of panko bread crumbs.
Form the mixture into balls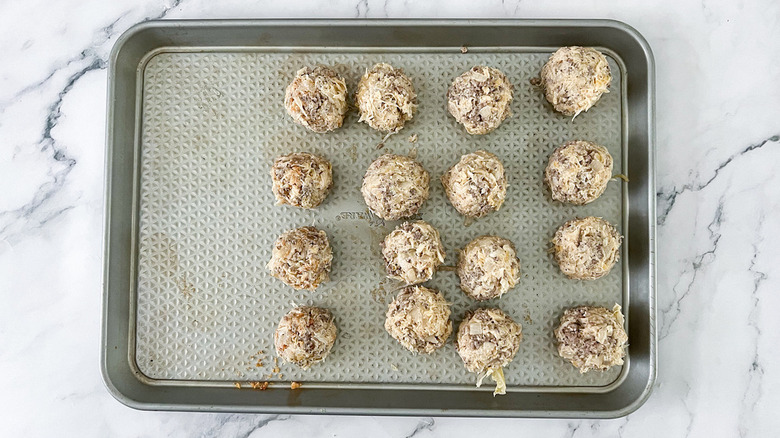 Erin Johnson/Mashed
Now that the filling is ready to go, you can shape it into balls. It's best to make these as equally sized and uniform as possible, so use a ¼ cup measuring cup to scoop up the mixture. Use your hands to roll each scoop into a ball shape, then place each ball onto a baking sheet so they're ready to go for frying.
Speaking of frying, go ahead and get the oil heating up in a large pot to 360 F. You'll want to be sure that the oil is at least a few inches deep in the pot so the sauerkraut balls will be fully submerged when it comes time to cook them.
Coat and fry the sauerkraut balls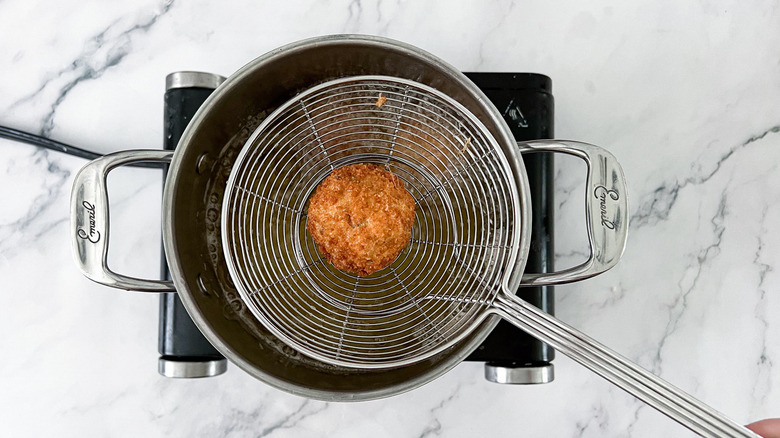 Erin Johnson/Mashed
As the oil heats up, roll each ball in flour first, then in the beaten eggs, and finally in the remaining bread crumbs. Once the oil is up to temperature, add in a few of the balls (carefully, so as not to splash hot oil everywhere) and allow them to cook for 3-4 minutes until golden. "Because the sausage is already cooked, you only need to worry about cooking these until golden brown, so they don't take long," Johnson notes. As the balls finish frying, remove them to a paper towel-lined baking sheet.
Depending on the size of your pot, you will likely need to work in batches. It's best not to overcrowd the pot when it comes to frying, so take your time and fry just a couple of balls at once for the best results. Also, keep an eye on the oil's temperature and make sure it stays around 360 F for the entirety of the frying period. 
Serve these crispy sauerkraut balls right away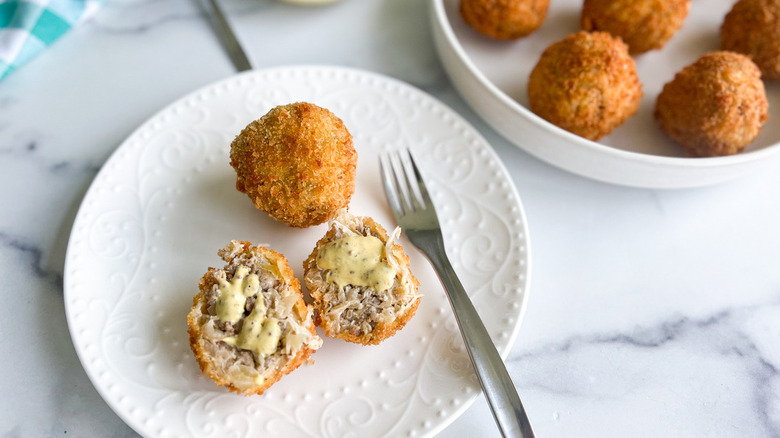 Erin Johnson/Mashed
Once the sauerkraut balls have cooled down slightly from frying, you can dive right into these crispy treats — and it is a good idea to dive in right away, so you can experience that perfect contrast between the crispy exterior and soft, gooey, cheesy interior. "I like to serve these as an app or party food with a honey mustard dipping sauce," Johnson notes, though they are perfectly delicious all on their own.
Crispy Sauerkraut Balls Recipe
These crispy, cheesy, sausage-filled snacks will convert even the pickiest of eaters into sauerkraut lovers.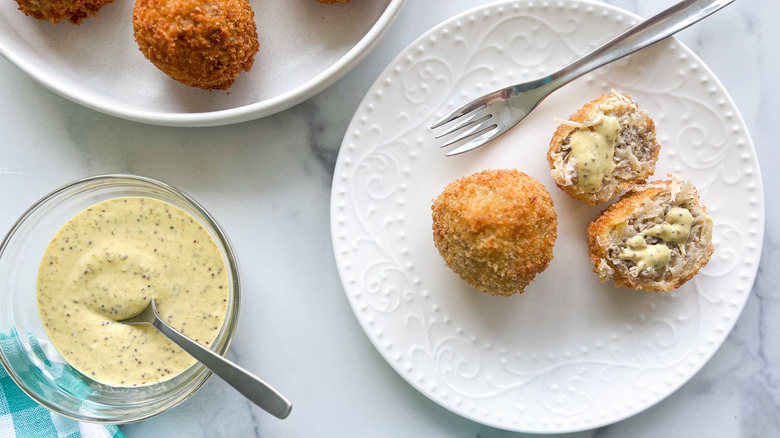 Ingredients
1 pound sausage
1 onion, chopped
¼ teaspoon salt
¼ teaspoon pepper
¼ teaspoon garlic powder
¼ teaspoon onion powder
1 (16-ounce) jar shredded sauerkraut, drained
1 cup shredded Gouda cheese
4 ounces cream cheese softened
2 cups panko, divided
Neutral oil, for frying
1 cup flour
2 eggs, beaten
Oil, for frying (enough to submerge the balls completely)
Directions
In a large skillet over medium-high heat, add the sausage. When it begins to brown, add the onion.
When the onions soften, add the salt, pepper, garlic powder, and onion powder.
Stir in the sauerkraut, then remove the mixture from heat and pour into a heat-safe bowl.
Allow the mixture to cool, then mix in the cheeses with ¼ cup of the panko bread crumbs.
Heat a large pot of neutral oil to 360 F for frying.
Meanwhile, form the mixture into balls. (Using a ¼ cup measuring cup as a guide, you should make about 16 balls).
Roll each ball in the flour, then the beaten eggs, and finally the remaining panko.
Once the oil is hot, add the balls to the pot in small batches, being careful not to overcrowd the pot or splash the oil. Cook for 3-4 minutes or until the balls are golden brown, and transfer to a paper towel-lined baking sheet to drain.
Serve warm.
Nutrition
| | |
| --- | --- |
| Calories per Serving | 333 |
| Total Fat | 27.1 g |
| Saturated Fat | 6.1 g |
| Trans Fat | 0.2 g |
| Cholesterol | 54.7 mg |
| | |
| --- | --- |
| Total Carbohydrates | 14.1 g |
| Dietary Fiber | 1.4 g |
| Total Sugars | 1.8 g |
| Sodium | 493.3 mg |
| Protein | 9.0 g |