Now We Know How To Make McDonald's Viral Grimace Shake At Home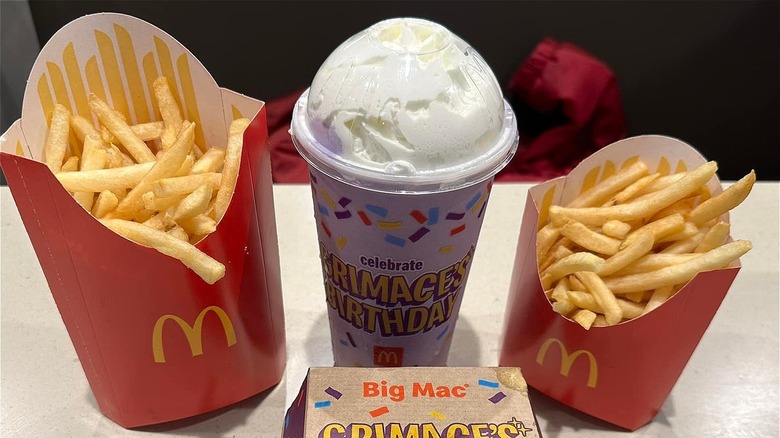 Alpha_7D/Shutterstock
In June 2023, McDonald's launched a Grimace-themed shake in honor of the purple mascot's birthday. However, the internet quickly went from tasting the shake on camera to a feral Grimace shake trend that can only be described as people pretending to be possessed and/or slayed by Grimace after taking a sip.
By the end of the month, the trend had even managed to take hold of beloved internet personality @cookingwithlynja. Lynja regularly shares recipes with their 16.8 million TikTok followers and 7.9 million YouTube subscribers — and a homemade Grimace shake naturally found itself among their digital repertoire.
While there's been rampant speculation, the McDonald's Grimace shake allegedly has two flavors: berry and vanilla. This combo isn't lost on Lynja, as they blend together blueberries, raspberries, vanilla ice cream, and milk. They then transfer the perfectly purple shake to a glass, finishing it off with a healthy serving of whipped cream and a yellow straw while wishing Grimace a happy birthday. But internet personality that they are, Lynja isn't immune to the grisly Grimace trend.
After the copycat shake recipe, there's a Grim-massacre, of course
Charming as ever, Lynja begins the TikTok clip demonstrating how to make a copycat McDonald's Grimace shake. Moments later, the video cuts to Lynja slumped across the kitchen counter, coughing up purple slime, with Grimace slipping away behind them into the night. In the comments, many of Lynja's fans mourned the loss, while others declared their installment of the Grim-massacre the best yet. But theatrics aside, Lynja's copycat Grimace shake is one you might want to try at home.
With nearly all of the attention on Lynja's TikTok focused on the theatrical ending (and for good reason, as the video has since racked up more than 57 million views), many people seem to have missed the recipe in the opening clip. Although it has gone largely unnoticed, we can confirm that Lynja's recipe aligns with other Grimace shake copycat recipes. That being said, other recipes may use food dye to achieve a richer purple color. But whether or not you choose to include food dye in your homemade shake, be sure to keep an eye out for Evil Grimace.