Spamburgers Offer A Salty Twist On The Beefy All-American Classic
Spam has often been lampooned in popular food culture as that processed sodium-saturated hockey puck of pork that comes packaged in a metal can. But despite the jokes, Spam has endured, perhaps in part because it pairs well with other dishes in a variety of cuisines. One of those foods that Spam complements is that All-American classic, the hamburger.
You've probably already heard of a Spamburger in reference to a stand-alone slab of Spam tossed on a bun and dressed with the normal burger toppings, so adding a slice of Spam to a hamburger patty just seems like a natural fit. We already love putting bacon on our burgers, and Spam, which is pork with ham added, offers a salty twist that can fulfill that same role atop a hamburger or cheeseburger. In addition to that saltiness, Spam provides another layer of texture to a burger with its crispiness. And if you're looking to enhance the taste of your Spamburger even further, consider the array of different options in its flavor lineup.
Salt, heat, and a little sweet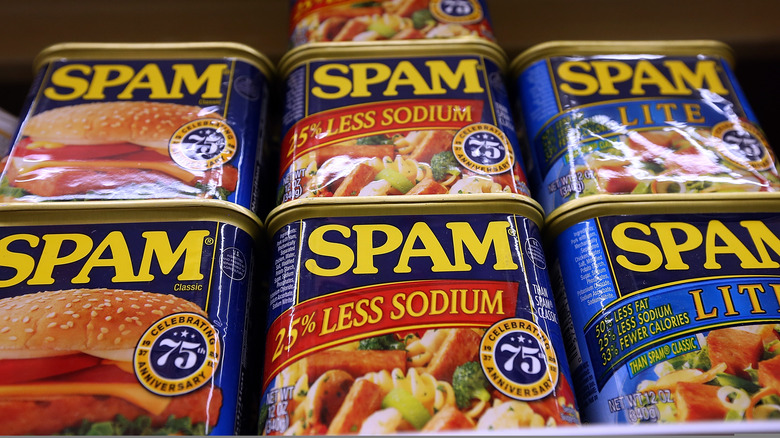 Justin Sullivan/Getty Images
With 10 different kinds of Spam from which to choose you can get creative with your Spam hamburger approach and mix it up. For spice enthusiasts who want to introduce a little element of heat to their burger, Spam has both hot and spicy and jalapeño flavors as spins on the original. To incorporate a tangy spin, there is also a teriyaki variety. Or if you really want to indulge your inner carnivore, Hormel even sells Spam that comes with bacon.
Spam is especially beloved in Hawaii, which devours more than seven million cans a year, the highest of any U.S. state, and even hosts an annual Spam Jam food festival. The Hawaiian version features a slice of grilled pineapple that balances the saltiness of the Spam and the burger with some sweetness. While Spam in its many forms can pair well with a hamburger, there are other amazing, unexpected ways to use Spam in your culinary repertoire from fried rice to spam tacos. It may be a product that has seen its fair share of scrutiny and satire over the years, but Spam appears to be here to stay.