Amazing, Unexpected Ways To Use Spam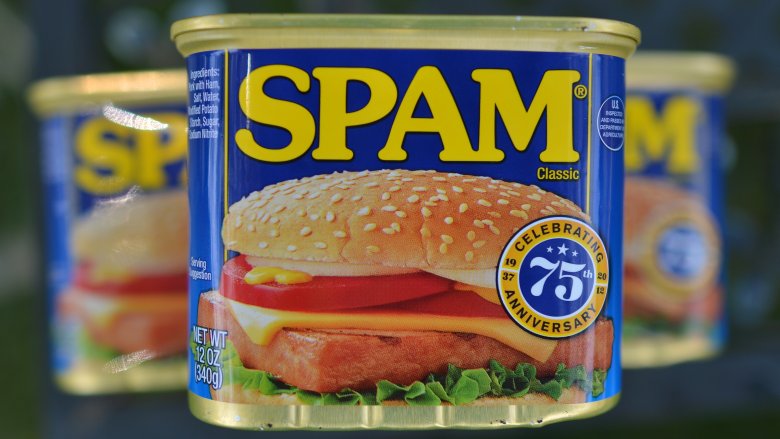 Getty Images
Let's talk about Spam. No, I don't mean the unsolicited emails that fill your inbox. I am referring to the canned lunch meat no one wants to admit they've eaten or heaven forbid, enjoy. Oh, you know, the distinctive blue cans of pinkish cooked meat made with pork shoulder? Sure, Spam is known all over for its potentially heart-stopping levels of sodium and fat. Yes, the sound it makes when you remove the loaf from the can is disconcerting. And the far out expiration dates on the cans lead us to believe that Spam will probably survive the human race. All of these characteristics make this notorious product the subject of great culinary suspicion.
Spam is surprisingly unmysterious. According to Hormel Foods Corporation, the lunch meat contains only six ingredients: pork with ham, salt, water, modified potato starch, sugar, and sodium nitrite. Available in 41 countries, Spam is actually incredibly popular! And while it's true that the meat is salty and fatty, it isn't any worse than eating pepperoni or hot dogs. And there are many delicious ways to prepare Spam, turning it into tasty dishes you'd be happy to eat any day. Read on, then head to the store to stock up on a couple dozen cans.
Make a hash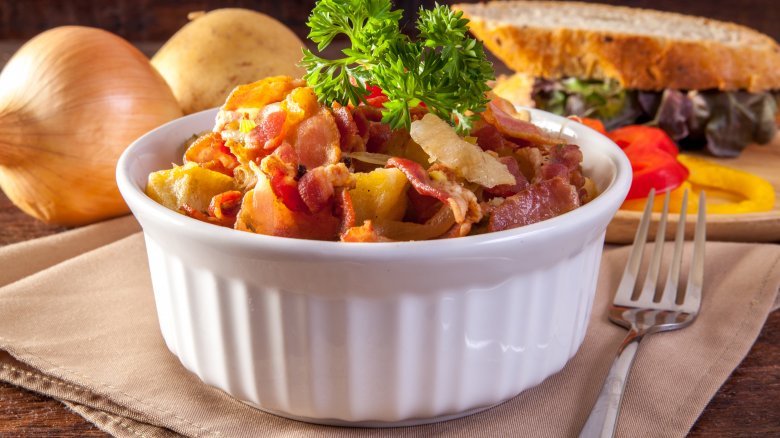 Shutterstock
Please consider using Spam in your next breakfast hash for a hearty, savory side dish that will have you rethinking your preconceived notions about this famous canned meat. Cut up that junk o' meat and pan-fry it in shallow oil, add some boiled potato chunks, and cook until everything is delightfully crispy. Season generously with salt and pepper and serve with eggs and toast. Sausage, ham, and bacon might still dominate the breakfast scene, but a good skillet full of tasty Spam hash makes a strong case for considering this notorious pre-cooked meat.
This veggie-forward recipe from Extra Crispy is an excellent way to turn Spam into breakfast hash bliss. It's simple and full of seasonal vegetables. Can't beat that.
Incorporate it into pasta dishes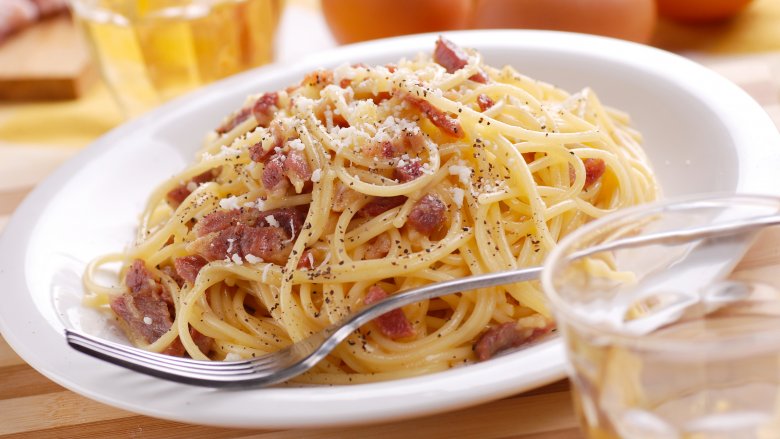 Shutterstock
Make Spam a part of your next pasta night for some excitement the whole family can get on board with. Incredibly versatile, this inexpensive canned meat easily brings flavor to the simplest pasta dishes. Add it to your next dish of baked mac and cheese. Fettuccine Alfredo with Spam is a surefire winner. Whatever your pasta dish, trust me. There is a fun, flavorful, and wholly irresistible way to incorporate Spam into it.
Change up your spaghetti carbonara by using Spam in place of bacon as in this recipe from Better Recipes. The result is ridiculously good when made with pepper Spam.
Add it to your hot pot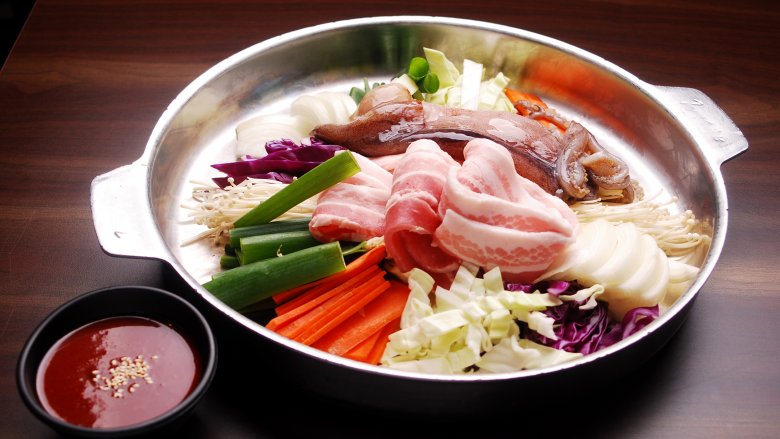 Shutterstock
Anyone who knows me will tell you that my love for hot pot knows no bounds. The practice of communal dining that involves cooking raw meats, veggies, and noodles in a large pot of broth right at the table is one with a lot of charm. Spam is the perfect thing to add that spicy pot of sizzling broth. Even though the lunch meat is already cooked, it doesn't really reach its peak deliciousness until it's heated through. I cannot think of a more glorious way to heat up Spam than in simmering broth that's been flavored by other yummy meats and seafood. 
Need some Spam ideas for your next hot pot sesh? Check this out.
Use it in your fried rice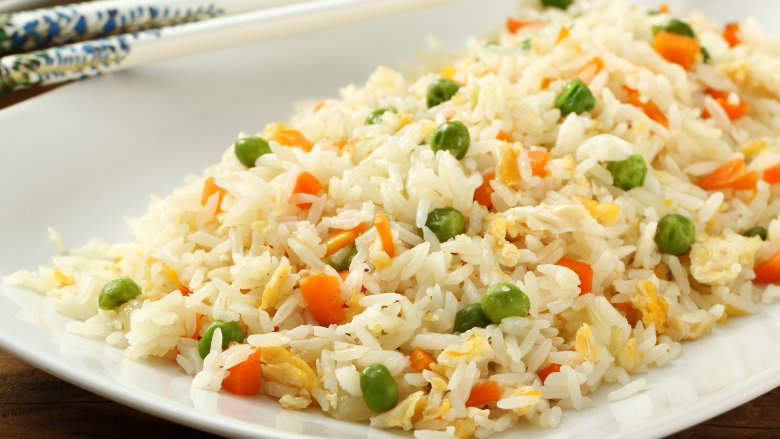 Shutterstock
Fried rice is the perfect meal for using up leftovers like day-old rice and random ingredients you have on hand. And, it's the ideal one for adding Spam to. Yep, hunks of the fatty salted meat lend tons of depth and flavor to an otherwise plain old skillet of fried rice. If your fried rice is lacking that certain ingredient that might take it to the next level, look no further than the aisle of the grocery store where the blue can of Spam resides.
This recipe from Damn Delicious makes tasty Spam fried rice that's easy enough for weeknights. Speckled with veggies and the meat of the hour, the dish is wonderful.
Enjoy it in desserts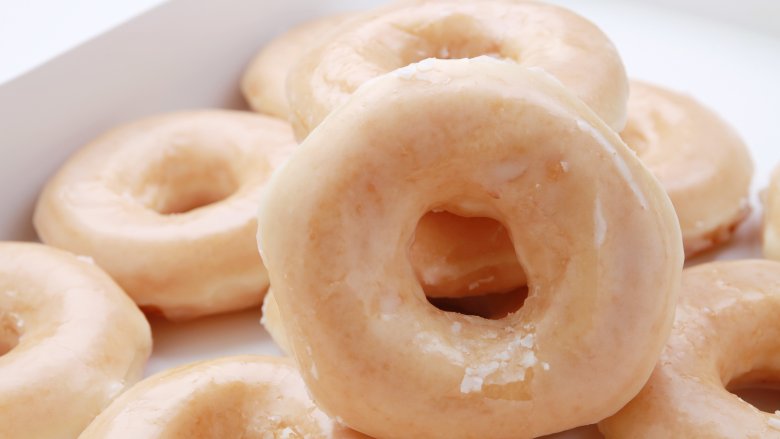 Shutterstock
We all know by now that salty bacon pairs well with sweets. The same goes for salty Spam! Sweet confections like doughnuts or fruity favorites like pineapple upside down cake are even more delicious when you throw some Spam into the mix. The salty notes balance out any proclivity towards cloying, turning saccharine creations into nuanced desserts with complex flavor profiles. If you haven't tried using Spam in desserts yet, there's no time like the present.
If Spam-filled doughnuts seem like they might be up your alley, you will probably want to make this recipe ASAP.
Add it to soups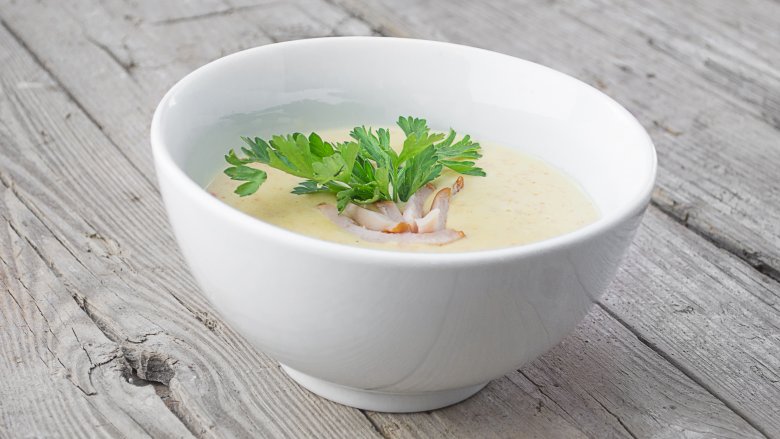 Shutterstock
Spam is a great flavor enhancer when used in a variety of soups. From pho and ramen to gnocchi soup, the ubiquitous Spam brings loads of meaty flavor to broths that traditionally gain their flavor from other types of pork, ham, or other proteins. Believe it or not, the commonplace lunch meat lends that coveted umami flavor to even the plainest of soups. So if yours are getting to be a bit staid and boring, make them exciting again with the help of a certain blue can of porky goodness.
This Hong Kong-style Spam soup from Food52 is comfort food at its best. Warm, heart, and cozy, it is the food equivalent of a hug.
Burgers and sandwiches—enough said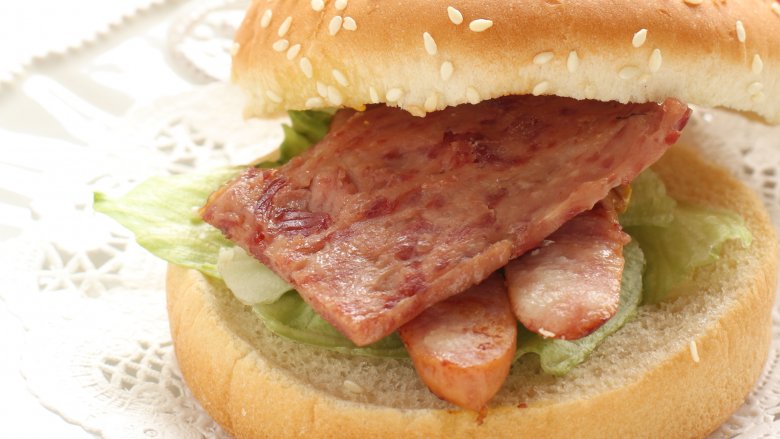 Shutterstock
Let's make Spamburgers and Spamwiches a thing, please. Please? If you've been through all versions of the burger—aka traditional beef, leaner turkey, wholesome chicken, fancy fish, and veggie ones made with beans—then maybe it's time to consider using a big salty slab of Spam. It's beyond delicious! Likewise, Spam can be used for your sandwich needs. Ham and cheese is a bore, but Spam and cheese? Now we're talking. Muffaletta? Make that a Spamletta. Tuna melt? Nah. Let's make a Spam melt. Simple lunches and dinners like burgers and sandwiches don't have to be boring and tow the line. Mix it up, for goodness sake. Your answer is Spam.
This Spam burger from Serious Eats is seriously amazing. Inspired by island flavors, it's made with pineapple, Swiss cheese, and sriracha mayo. Dead.
Have Spam tacos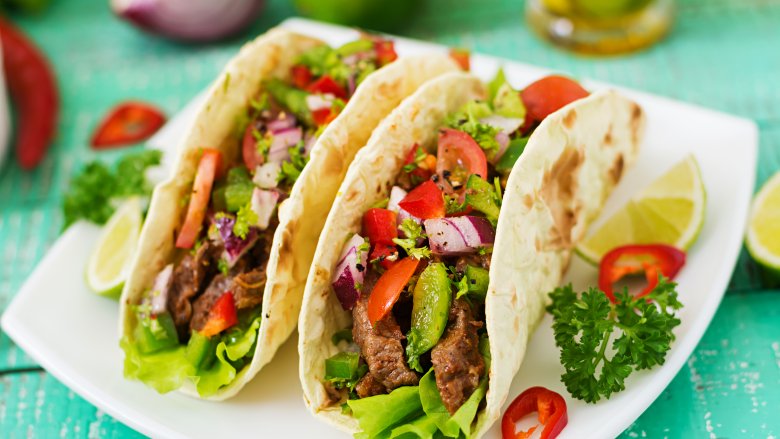 Shutterstock
Instead of run-of-the-mill beef tacos, spice things up by using Spam instead. The salty protein is easy to swap in and you'll love the extra fatty, salty flavor. Taco Tuesday is a weekly event that can definitely be fun and irreverent when you find ways to incorporate Spam. Cut the meat into cubes and saute or pan-fry strips of it. Whatever you do, you'll be glad you gave this idea a try.
Try this easy Spam taco recipe from The Spiffy Cookie for an easy and quick weeknight meal that will please everyone at the table.
Put a stick in it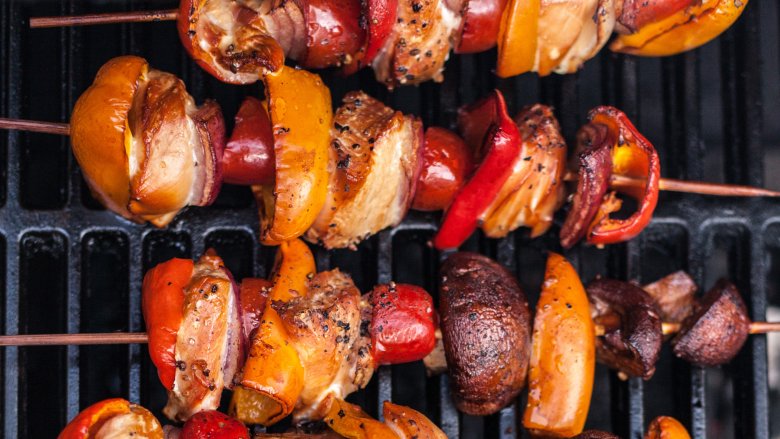 Shutterstock
Everything tastes better on a stick, right? Try cutting up a block of Spam and placing it on a skewer. Make your next cookout a bit more unpredictable when you grill up skewers with Spam and veggies. The fat renders beautifully and the meat is enhanced by unbeatable charred, smoky flavor. Like precooked hot dogs, Spam takes incredibly well to the easy grill treatment and it's sure to be a crowd pleaser.
These Hawaiian-style Spam kabobs are a wonderful way to get grillin'. They are fun to assemble and totally mouthwatering.
Make Spam casseroles
Shutterstock
Ham casserole? Nah. Try a Spam casserole instead. When you're feeding a crowd, nothing beats cheap, easy, and delicious. A gigantic casserole speckled with inexpensive, convenient, and delicious Spam is the way to go. You can incorporate it into your favorite casserole dish and immediately elevate the flavors with little effort. Whether you're making a veggie casserole or whipping up an eggy breakfast version, your meal will be improved when you introduce Spam.
This kid-friendly casserole from Key Ingredient is made with Spam and tater tots. Win!
Feeling inspired to grabs some Spam the next time you're at the store? Go for it!