The Ketchup-Soaking Ceremony That Supposedly Helps The Buffalo Bills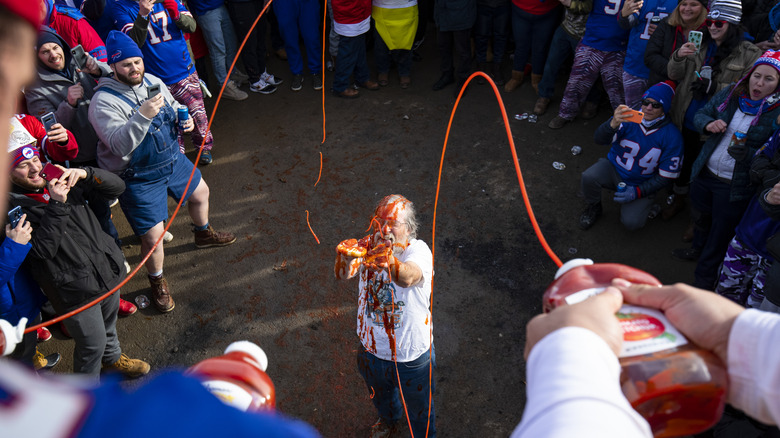 Brett Carlsen/Getty Images
NFL tailgates can be some pretty wild affairs filled with food, copious amounts of booze, and crazy antics, and each team's supporters have their own pre-game rituals they hope will bring good luck. The Bills Mafia, the nickname for the fervent fan base of the Buffalo Bills, has garnered a lot of press and social media attention over the years for its videos depicting followers flying through the air and crashing down onto tables. It's a regular occurrence, but it's not the only amusing tradition found at Buffalo's Orchard Park Stadium. There is also the Ketchup Opening Ceremony that supposedly helps the team as well.
Card-carrying Bills Mafia member Ken "Pinto Ron" Johnson, who gathers crowds around his red Ford Pinto, initiated the condiment coating event some 30 years ago, and it stuck like ketchup on a wall (via the Takeout). Johnson has been to every Bills' home game since 1984 and his potent grilling prowess and exploits are tailgating legend among the Bills' mafia. The impetus for the ketchup soaking was an attempt from his brother to squirt ketchup onto his burger from a few feet away. Then the idea grew and evolved into the ceremony it has become today. 
Would you like some ketchup on that burger?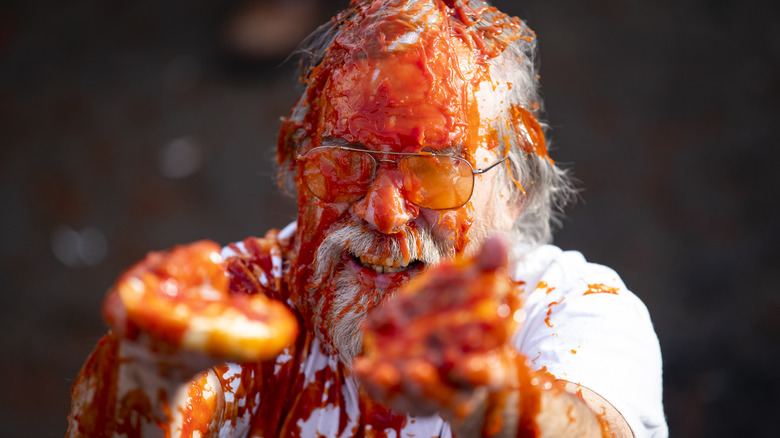 Brett Carlsen/Getty Images
The festivities always commence around 11:30 a.m., an hour and a half prior to 1 p.m. game kickoffs. That's when things start to get a little messy. Groups of tailgaters are stationed on the top of a van's roof armed with both ketchup and mustard and a crowd typically in the range of nearly a thousand people amasses to watch what unfolds next.
An emcee hypes the fans, as an intentionally bewildered Ken Johnson makes a motion that he has a burger that needs some ketchup applied to it. Johnson told the Takeout, "I'll start out way at the back of the crowd with a burger in my hand, and I'll push through looking confused. The idea is that somebody gave me a burger and there's no ketchup on it. Then [the people on the van] unload on me."
That's the cue for the people posted on the van to hit Johnson with everything they've got, which generally consists of three 64-ounce ketchup bottles and caulk guns loaded with mustard. He is then sprayed and caked in bright reds and yellows, with ketchup and mustard covering his face and shirt–and yes, quite a bit even makes it onto the hamburger bun. Whether this ritual helps the team win comes down to the beliefs of the individual fan, but win or lose, the Bills Mafia knows how to have a good time.