Will Aldi Be Open On Labor Day 2023?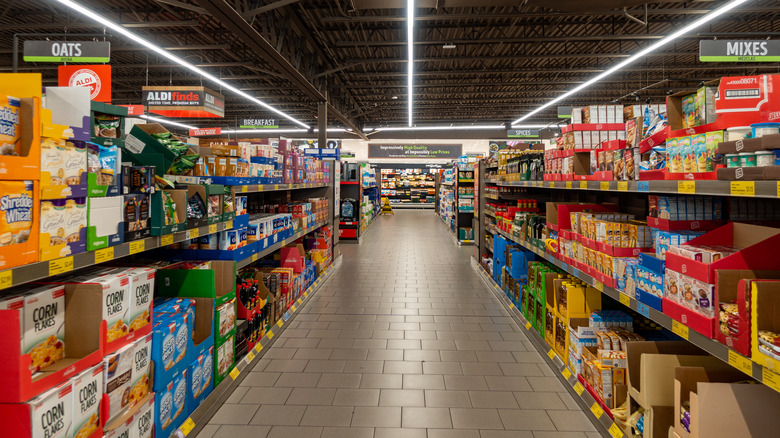 Joni Hanebutt/Shutterstock
Labor Day is often associated with the transition from summer to fall, as kids head back to school and discounts on everything from clothing to electronics begin to pop up. It's also a time of food freebies and deals, with many restaurants offering customers savings for dining in. But for others, the upcoming holiday can cause a sense of panic, realizing that you need something from the grocery store and worrying that it will be closed for the holiday. For those who shop at Aldi, rest assured that your favorite store will be open — but with limited hours.
For those anxious to get to Aldi before closing time, it's best to check your local store's hours for certainty. However, previous years have seen the grocery chain close by 6 p.m. on Labor Day, instead of its typical 8 or 9 p.m. closing time. For those who can't make it to Aldi in time, many other grocery stores have regular hours, such as Trader Joe's. 
Other holidays that Aldi has limited hours include Memorial Day, Independence Day, Christmas Eve, and New Year's Eve. Aldi stores are fully closed on four holidays: New Year's Day, Easter Sunday, Thanksgiving Day, and Christmas Day.
Aldi is one of many grocery stores open on Labor Day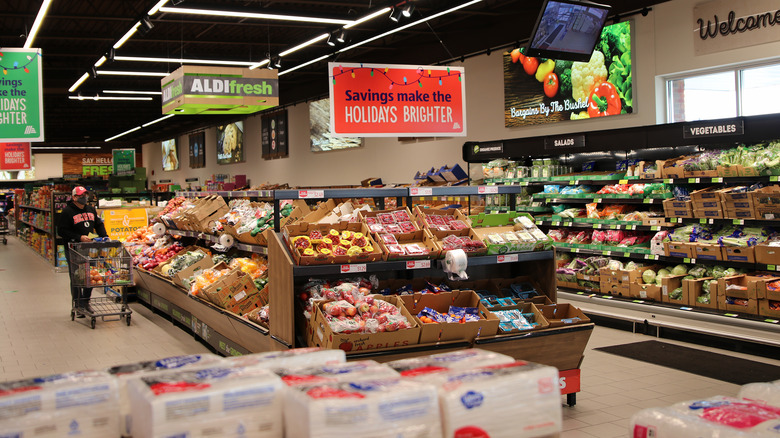 Eric Glenn/Shutterstock
It's not clear when Aldi started expanding its holiday hours and remaining open on big holidays like Christmas Eve and New Year's Eve. But the discount grocer was once always closed on Labor Day, Memorial Day, and Independence Day up until a few years ago. A look at Aldi's Facebook page from 2013 confirmed this with a post that reminded customers it would be closed for the July 4th holiday. The following year, a 2014 Aldi Facebook post revealed that Aldi stores would be closed in observance of Labor Day. Given that there are no more posts reminding customers they'll be closed for these holidays after 2013 and 2014, it seems likely that Aldi quietly changed its holiday hours soon after.
Needless to say, it's fairly easy to find grocery stores open on Labor Day 2023. According to Reader's Digest, most Kroger, Publix, Stop & Shop, and Whole Foods locations will be open on Labor Day, along with 23 other supermarkets, drug stores, convenience stores, and other retailers. Costco, on the other hand, won't be open on Labor Day and is one of the few grocery stores that choose to close on Memorial Day and Independence Day, as well.