Labor Day 2022: Where To Get The Best Food Freebies And Deals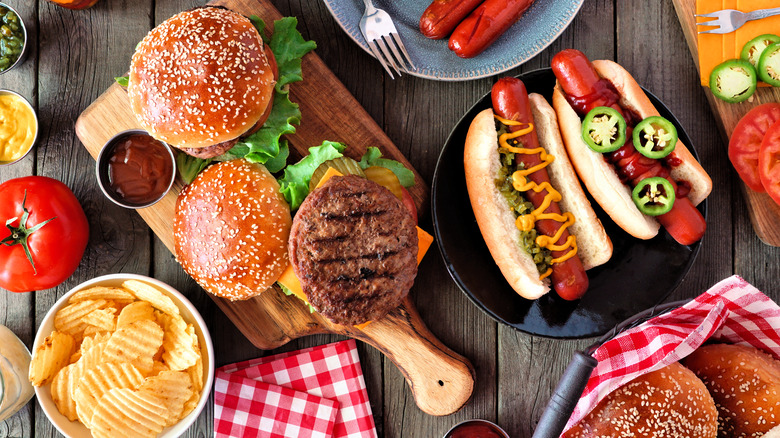 JeniFoto/Shutterstock
Thanks in part to the 10,000 New York City workers who marched from City Hall to Union Square in 1882, demanding less grueling schedules for the average worker, the 12-hour workday is no longer par for the course (via History). As workers at Starbucks, Trader Joe's, and elsewhere continue to rally around union representation in hopes of higher wages and safer working conditions, this Labor Day (Monday, September 5) is bound to come with a particularly strong air of celebration. 
Backstory aside, Labor Day is also the last three-day weekend of the summer, making it an ideal time for last-call backyard barbecues, beach trips, and — in some sartorially traditional circles — all-white outfits. It's also a great time to dig in to the last of the season's bounties as fall comes into view. If you're looking to celebrate the holiday with some tasty treats without breaking the bank, read on for a few notable freebies and deals at national eateries. 
Pieology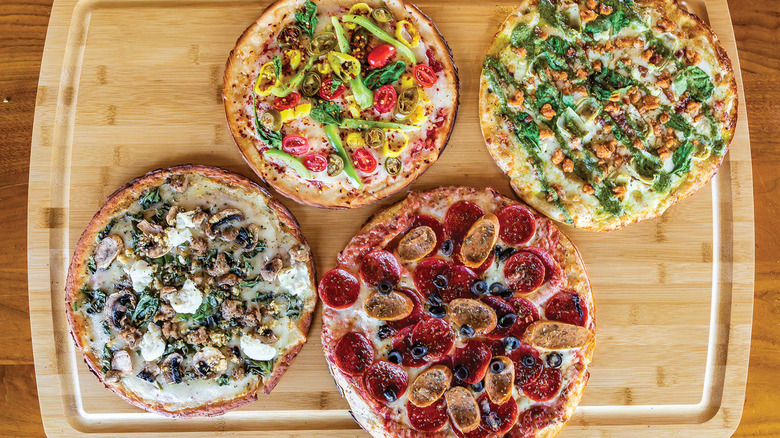 Pieology
If your ideal pizza toppings lean more experimental than the standard rotation at your local slice shop, chances are you'll have fun building your own edible creation at Pieology Pizzeria. From September 3-5, all locations of the Chipotle-like chain — which claims to offer 78 billion pizza combinations — is knocking $5 off any $30 order, or $10 off any $50 order. If you're ordering online, use the code 5OFF30NOW or 10OFF50NOW at checkout. Eat your heart out, pepperoni.  
White Castle
On a recent episode of his YouTube cooking show, J. Kenji Lopez-Alt blessed us with the info that White Castle may be responsible for the modern hamburger as we know it. As he fried up an Oklahoma onion burger, he explained that the chain was the first to serve its patties on "soft, round burger buns that were specially baked for the burgers," adding that the dish had previously been served on "either hard rolls or toast." The more you know! 
For Labor Day, White Castle is appealing to app-based customers by offering $3 off orders of $20 or more on Grubhub from September 1-7. If you're partial to DoorDash, the chain is offering the same deal on the app from September 2-5.
TGI Fridays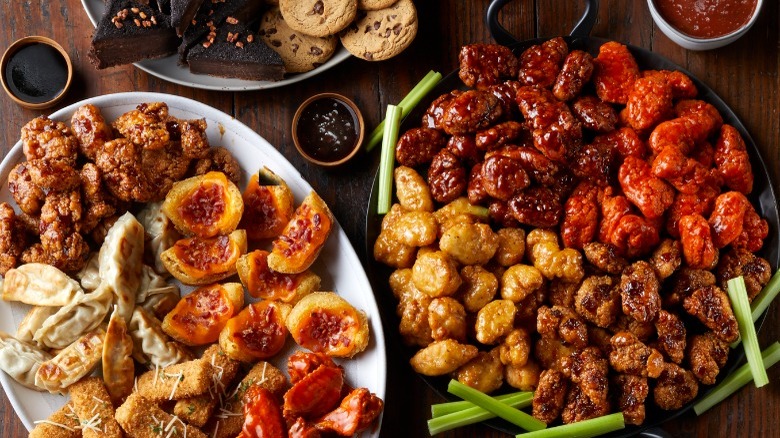 TGI Fridays
Party people who love to let loose at TGI Fridays can say "TGI Labor Day" all weekend long by scoring 25% off take-home platters, party trays, and family meal bundles online or over the phone. Use the promo code LABORDAY at checkout, or get on the horn with your neighborhood Fridays and drop word of the deal.
McAlister's Deli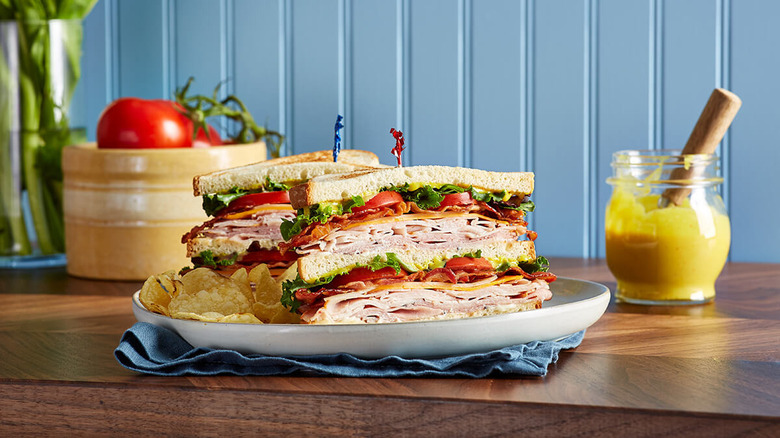 McAlister's Deli
This deal isn't related to Labor Day, specifically, but the Mississippi-based, fast-casual restaurant chain McAlister's Deli is waiving delivery and convenience fees every Saturday and Sunday through October 30 for those who place their orders online or through its app. Taxes and service fees may apply, and the promotion does not apply to third-party delivery services. 
If you're craving potatoes on your day off, consider an order of the restaurant's Giant Spuds: big, juicy, baked potatoes stuffed with tasty toppings. McAlister's is also known for its sweet tea, which is made with orange pekoe black tea leaves over ice.
Dickey's Barbecue Pit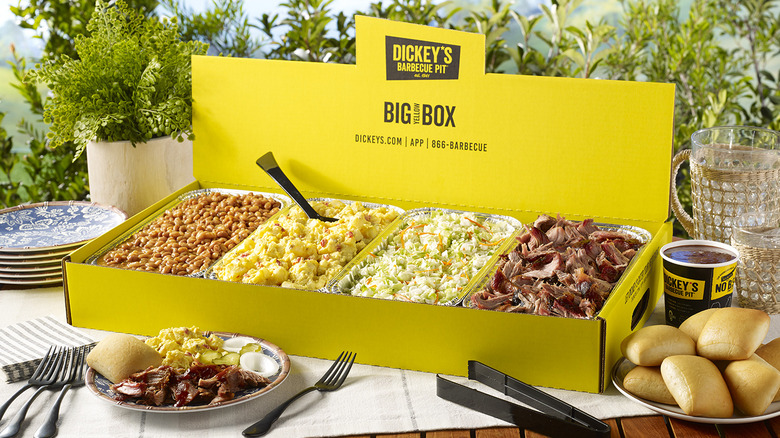 Dickey's Barbecue Pit
If the only thing holding you back from a Labor Day barbecue feast is the saucy mess it inevitably entails, Dickey's Barbecue Pit is offering a "convenient, self-contained" way to tuck into its slow-smoked Texas barbecue. It offers an array of Big Yellow Box and Party Pack options, including the classic Big Yellow Box ($125), which includes two pounds each of chopped brisket and pulled pork; large tubs of coleslaw, potato salad, and barbecue beans; and sides of pickles, rolls, relish, and Dickey's barbecue sauce. More into handheld meats? The Wings and Ribs Party Pack ($120) boasts 18 ribs and 24 wings with your choice of sauce, plus mac and cheese, coleslaw, rolls, barbecue sauce, and ranch.
Taco John's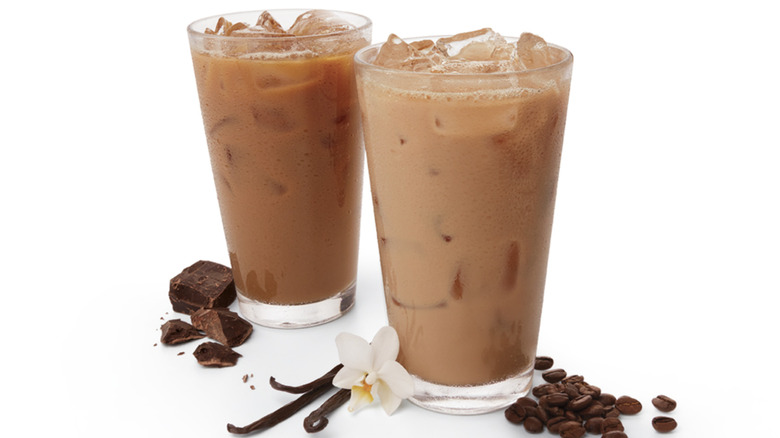 Taco John's
Need a cold jolt of caffeine with your taco order? Every Monday, the Mexican-inspired fast-food chain Taco John's offers free cold brew with any purchase for Bigger Bolder Rewards members who order through the Taco John's mobile app. If you're new to the program, the chain's popular offerings include its Potato Olés (crunchy potato rounds sprinkled in a signature spice blend), crispy tacos, and meat and potato burritos (to which you can add Olés for extra crunch). 
Fazoli's
The Kentucky-founded fast-casual chain Fazoli's loves an Italian American feast. If you live near one of its participating locations, you can celebrate Labor Day and National Cheese Pizza Day from September 5-11 with a large pizza and eight breadsticks for a cool $8.99. Use the code LABORDAY at checkout in the Fazoli's app.
Logan's Roadhouse
If you place an order of $40 or more from September 2-5 at the Houston-based, wood-fired beef emporium that is Logan's Roadhouse, you'll get $10 off. If you wish, you can use the chain's app to earn rewards on your purchase.
Boston Market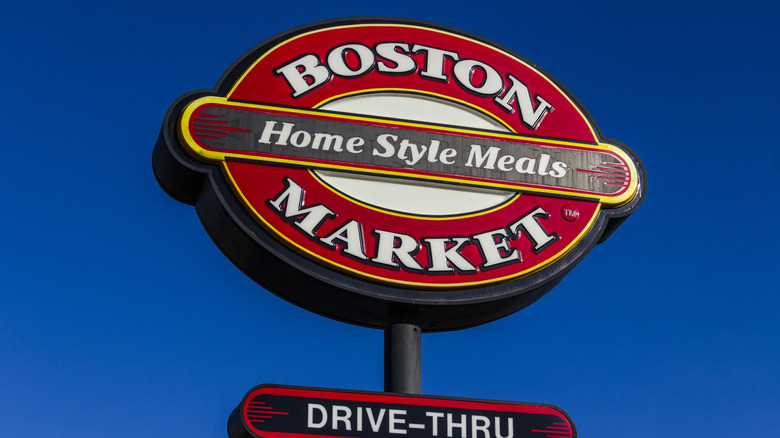 Jonathan Weiss/Shutterstock
Feed the whole family without having to cook over the long weekend. From September 3 to September 5, Boston Market is offering a $20 four-person meal deal that includes "rotisserie chicken, baby back ribs, [or] meatloaf, paired with your choice of sauce, four fresh-baked cornbread, and four sides," per a press release provided to Mashed.