Celeb Chefs From The Early 2000s Who Totally Vanished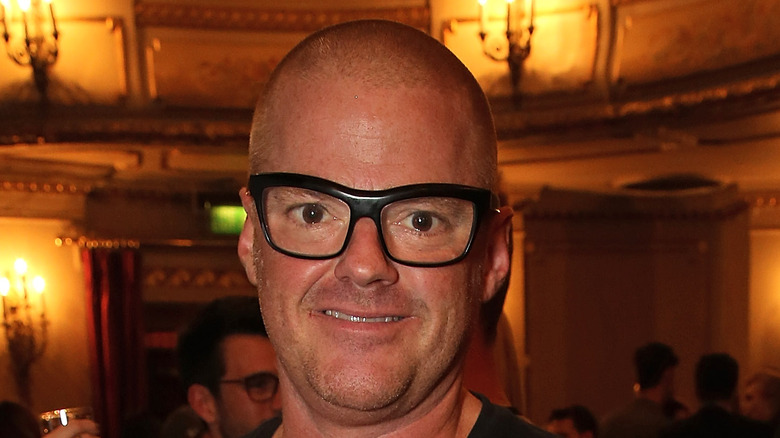 David M. Benett/Getty Images
The rise of reality TV and reality TV competitions in the early 2000s was the perfect storm — er, stew — to cook up our modernized notion of the celebrity chef. Seemingly overnight, many chefs were presented with the challenge of balancing the stress and grueling hours of running successful restaurants with the scrutiny that comes with being a television star. Throw in the looming pressures of receiving (and keeping) Michelin Stars, creating a personal brand, and everything else that accompanies this high-stakes lifestyle, and it's no wonder that some celebrity chefs decided that enough was enough and vanished from the public eye.
Unfortunately, many of the early 2000s celeb chefs who you don't hear much about these days did not bow out gracefully. In fact, far too many didn't disappear by choice but were ousted from their place at the top of the industry. Read: They were canceled. A mix of poor judgment, toxic behavior, and brushes with the law caused many of these celebs' reputations to nosedive, whereas others grappled with personal turmoil or addiction. From rising stars to established culinary names, here's a list of celeb chefs from the early 2000s who totally vanished.
Paula Deen's wholesome image was marred by racism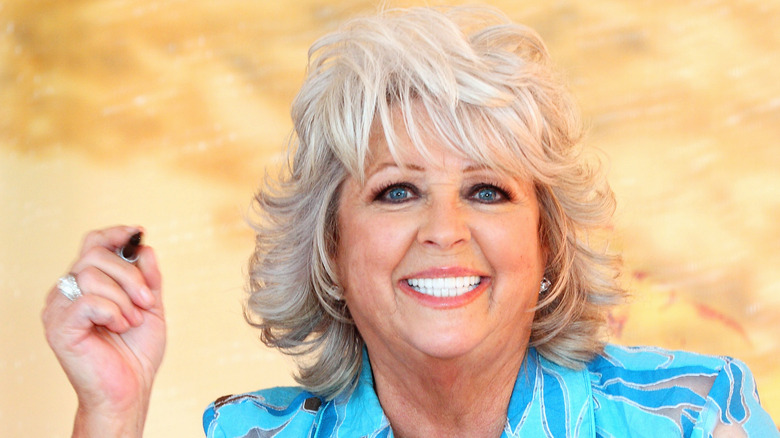 John Parra/Getty Images
No celeb chef captured the buoyant spirit of Southern cooking quite like Paula Deen. After the success of her Savannah, Georgia, restaurant The Lady and its subsequent cookbook, Deen caught the eye of Food Network and was given her own show "Paula's Home Cooking" in 2002. Despite the blatantly unhealthy nature of the majority of her recipes, viewers loved Deen's humor and charm. She hosted two more Food Network shows, "Paula's Party" and "Paula's Best Dishes," released best-selling cookbooks, opened restaurants, and created a line of kitchen products. 
But behind Deen's syrupy sweet TV persona lurked darker happenings. In 2012, Lisa Jackson, a former manager at one of Deen's restaurants, sued the celeb chef for racial discrimination. During a 2013 deposition, Deen was asked if she had ever used the n-word to which she replied, "Yes, of course," (via CNN). She went on to explain that she grew up in an era when the racial slur was more tolerated. As if this wasn't damaging enough, the deposition also revealed that Deen was behind the planning of a plantation-style wedding that included an all-Black waitstaff playing the role of slaves.
Food Network responded to the scandal by opting not to renew Deen's contract. A not-so-well-received turn on "Dancing With the Stars" in 2015 didn't help the unsavory situation. Today, Deen remains active on social media, but her TV career as a celebrity chef is firmly footed in the past.
Pat and Gina Neely were not the happy couple they pretended to be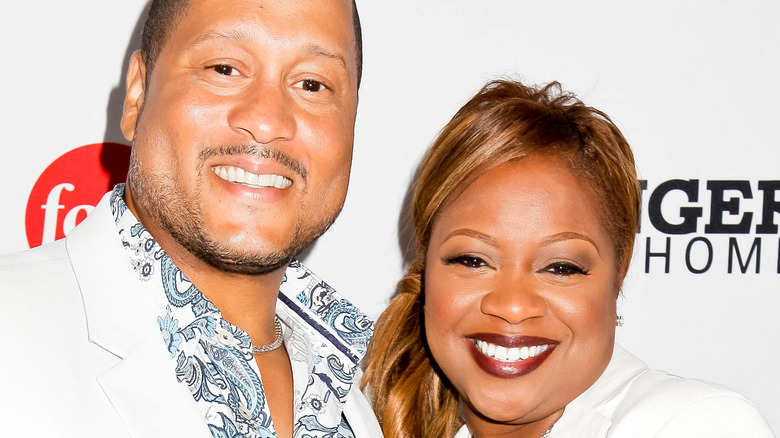 Tibrina Hobson/Getty Images
When Food Network debuted its show "Down Home with the Neelys" in 2008, high school sweethearts turned celebrity chef power couple Pat and Gina Neely quickly found themselves under the hot spotlight of fame. "Down Home with the Neelys" consistently brought high ratings, but the happy home they perpetuated on-screen wasn't a genuine reflection of their union. Six years and 143 episodes later, Pat and Gina Neely stated they were splitting up: "Today we announce that we are ending our marriage of 20 years for irreconcilable differences. This was a tough decision, but we believe it is the best decision for us. As parents of two beautiful adult daughters that we love dearly, we will continue to be involved in each other's lives as parents and friends," (via Memphis Action News 5). And with that, "Down Home with the Neelys" vanished from Food Network's lineup.
The Neelys' conscious uncoupling-inspired joint statement is the go-to move for divorcing celebrities, but fans were left wondering what really happened between the seemingly inseparable husband and wife. Gina Neely spoke more candidly about the divorce in a 2016 appearance on "Oprah: Where Are They Now?" saying, "I was thinking about divorce right before we got the TV show. We went to therapy 12 times. I tried to leave five times, and I just didn't have the strength, but the fifth time I held onto that." 
Paul Qui's demons overshadowed his talent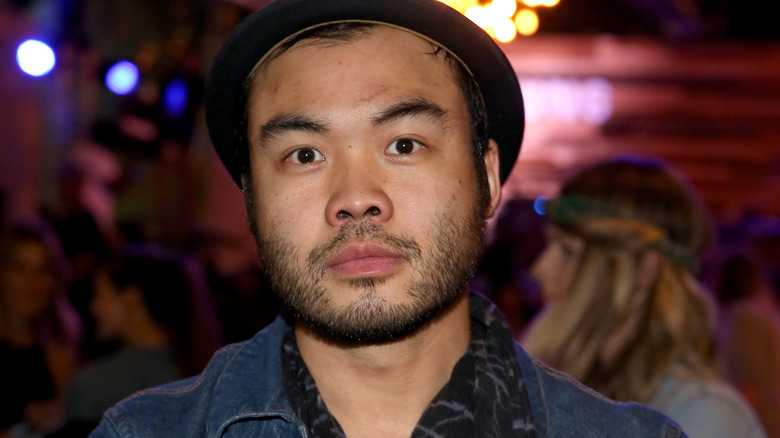 Jonathan Leibson/Getty Images
Few "Top Chef" contestants dominated their seasons the way that Paul Qui did on Season 9 of the popular Bravo show. Qui was already an emerging talent in the fine dining scene of Texas, but through his appearance on "Top Chef," he was able to showcase his seemingly effortless skill of creating imaginative, often Asian-inspired dishes week after week. Qui won eight of the 16 elimination challenges, prompting head judge Tom Colicchio to name the James Beard Award winner as "the most talented chef that we've ever had on the show," in a 2014 interview with HuffPost.
In March 2016, everything changed overnight for Qui when he was arrested for assault and unlawful restraint, after a drug-fueled party at the apartment he shared with his then-girlfriend and her young son turned into a scene of domestic violence. Qui checked into rehab immediately following the incident but admitted he had little memory of what happened that night. 
From there, his existing restaurants struggled and the ones he opened over the following years were short-lived. Initially, Qui requested privacy but after a 2019 DUI charge and another rehab stint, he decided to be more forthcoming about his mistakes. Qui has cut loose the idea of being a celebrity chef and is currently heading up Koko Ni, a high-end spot in Denver that serves an omakase-style Japanese American menu.
Juan-Carlos Cruz hired homeless people to kill his wife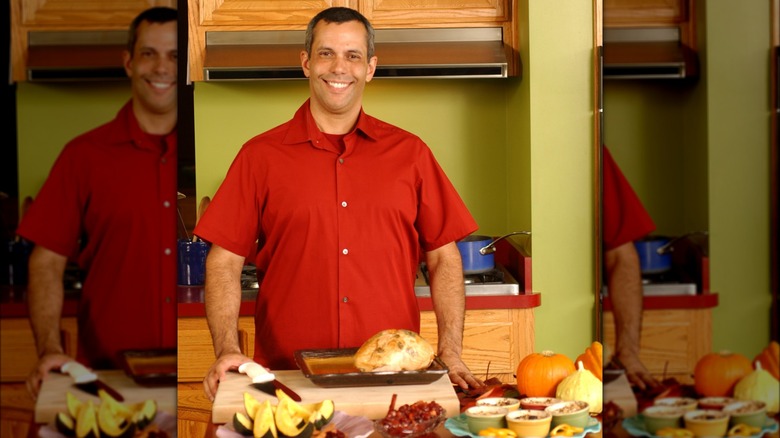 Myrna Suarez/Getty Images
He did what? In 2010, Juan-Carlos Cruz, known as the "Calorie Commando" (he hosted a health-centered Food Network show of the same name from 2004 to 2006), orchestrated a murder-for-hire plot to kill his wife that is nothing short of bizarre. The celebrity chef and cookbook author recruited homeless men in the Los Angeles area to cut his wife's throat in exchange for $1,000. Text messages obtained by TMZ indicate that Cruz was going to pay the men with 10 $100 bills ripped in half — they would receive half of the bills up front and the other half after the grisly deed was done. When the men expressed dissatisfaction with the odd payment method, Cruz texted: "Have 2nd party ready 2 take over if u dont want it r u in?"
Little did Cruz know, the homeless men had turned him into the police. Those close to the chef revealed that Cruz and his wife had been dealing with infertility issues for 20 years that had left his wife in a suicidal state. Due to her strong Catholic faith, she refused to commit suicide and Cruz was trying to end her suffering. Nevertheless, Cruz plead no contest in court and served a nine-year prison sentence. More than nine years have passed since his December 2010 sentencing, but Juan-Carlos Cruz has vanished from public life.
Michael Chiarello's downfall was his lewd behavior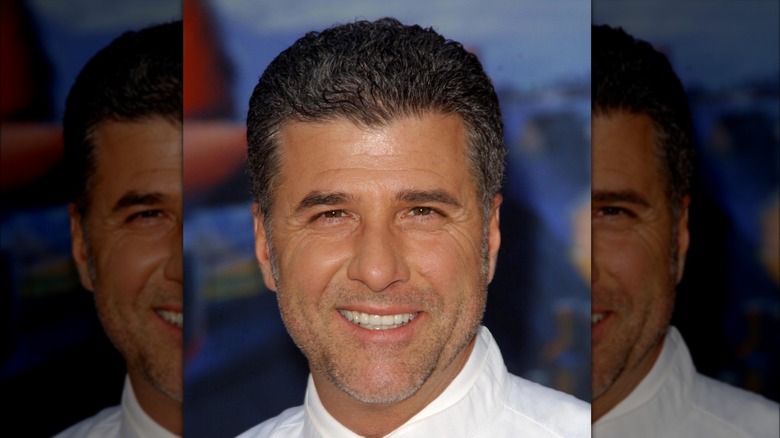 S_Bukley/Shutterstock
Another day, another celebrity chef sexual harassment lawsuit. Has ego befallen yet another male celeb chef from Food Network? Yes. Yes, it has. Michael Chiarello thrived in Napa Valley for years, but it was his Food Network show "Easy Entertaining with Michael Chiarello" beginning in 2003 that made him an Emmy-winning star. Appearances on "Top Chef Masters" and "The Next Iron Chef" bolstered his celeb status. All the while, Chiarello ran successful restaurants like Bottega in Napa Valley and Coqueta in San Francisco. 
Coqueta was the setting of Chiarello's misconduct, when two former employees filed a 2015 lawsuit against him and other members of upper management for sexual harassment and labor violations. Like several of his white, male contemporaries who saw their careers veer toward the chopping block, Chiarello was accused of promoting a toxic work environment, namely for female and homosexual male employees. Accusations included inappropriately touching them without their consent, making sexually explicit comments, and encouraging Coqueta's managers to follow his hiring policy of, "If you don't want to f*** them, don't hire them," (via Eater). These claims were made in conjunction with accusations that Coqueta unlawfully doctored timesheets and didn't pay employees overtime.
Chiarello denied these claims but wound up settling out of court. In November 2016, days after the settlement was reached, he was arrested for a DUI and drug possession. The once-popular chef continues to run his businesses in California but his public appearances are scarce.
At the height of his career, Jonathan Gushue suddenly vanished
Chef Jonathan Gushue may not be a Food Network alum but he became a celebrity chef in his native Canada through his outstanding work at Langdon Hall in Cambridge, Ontario. Langdon Hall is considered one of the most exceptional restaurants in the country and earned a spot on San Pellegrino's 2010 World's 100 Best Restaurants list — largely thanks to Gushue, which was all the more reason why his sudden disappearance in December 2012 was shocking news.
Gushue was reported missing after last being seen in Toronto on December 29. When he was a no-show for Langdon Hall's splendorous New Year's Eve dinner service, those close to him began to worry. His car and cell phone were located, but the chef — who was also a husband and father — had totally vanished. Gushue's disappearance was major fodder in the media, and a tipline was set up to help pinpoint his whereabouts.
Thirteen days later, the police found Gushue, unharmed, outside of Ontario. He left his job at Langdon Hall within months and didn't cook on the public stage for three years. In a 2015 interview with The Globe and Mail, Gushue said that he was struggling with alcohol addiction and disappeared due to a binge. As of June 2023, Gushue is the head chef and owner of The Vale in Toronto.
Pete Evans championed conspiracy theories over cooking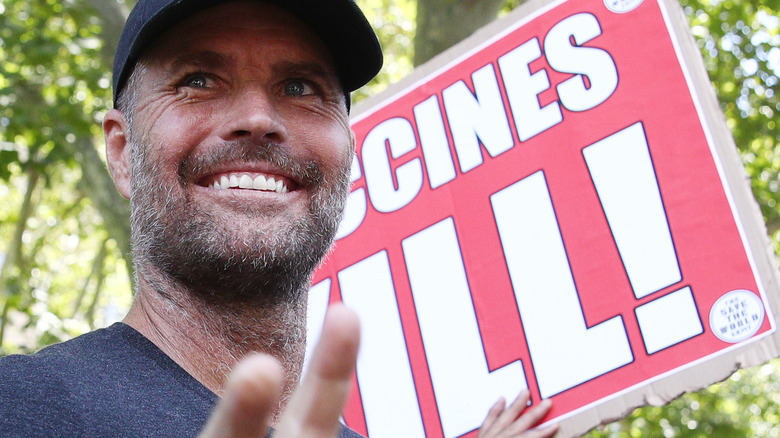 Don Arnold/Getty Images
Australian chef Pete Evans found fame as a familiar face on Channel 7 cooking shows in his homeland. Evans served as a judge on the show "My Kitchen Rules" for 10 seasons and authored cookbooks with minimalist names like "Fish" and "Pizza." With such an established presence in the culinary and media industries, it was a bit jarring to watch Evans throw it all away.
In the wake of the COVID-19 pandemic, Evans took such a staunch anti-vaccination stance, that his Facebook page (where he had 1.5 million followers) was removed after numerous posts were categorized as misinformation by the platform. At the same time, Channel 7 decided to distance itself from the former star. Being deleted from Facebook did little to deter Evans from continuing to take to social media to air his grievances with the COVID vaccine — he simply reverted to spouting his opinions on Instagram instead. 
Seeing that Instagram is owned by Facebook, it didn't take long for Evans' Instagram account to be penalized as well, and in early 2021, it was banned. In regard to the decision, Instagram stated, "We don't allow anyone to share misinformation about Covid-19," (via BBC). Evans took it even further by peddling phony cures for COVID and certain cancers. Come 2023, Evans has resurfaced on Instagram, but his appearances are scarce.
Heston Blumenthal's place in the celebrity chef realm has been touch and go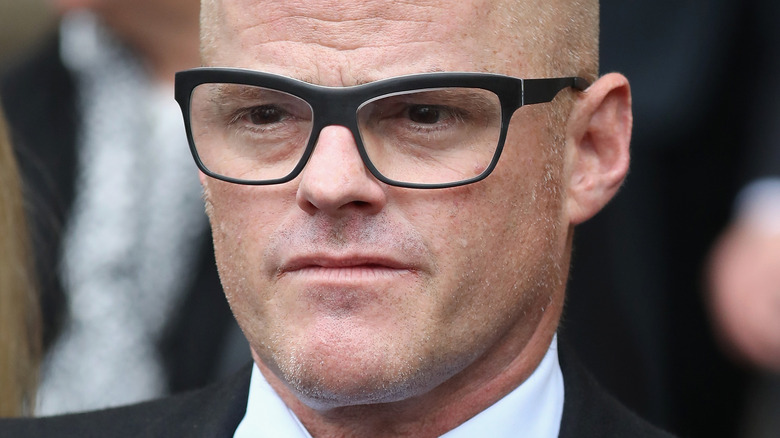 Mike Marsland/Getty Images
Heston Blumenthal's name is synonymous with molecular gastronomy — and Michelin stars. The British upstart's restaurant Fat Duck has piled on the awards over the years, making a segue into TV almost inevitable for the bespectacled chef. Blumenthal appeared as a judge on MasterChef Australia until 2020, when he was outed for underpaying his restaurant staff by around $4 million over a four-year period. 
In light of the scandal, MasterChef eliminated him from its roster. However, just a short while later in 2022, Blumenthal proved you can't keep a good chef down when MasterChef Australia invited him back. In 2023, British supermarket juggernaut Waitrose, which sold a line of luxury-end kitchen products under the name "Heston from Waitrose," announced it would be ending its partnership of 12 years with the celeb chef. These are just some of the many ups and downs for Blumenthal, who in recent years has peeked his head out of obscurity to open up about the loneliness that being an elite chef brings. 
George Calombaris made mistakes in business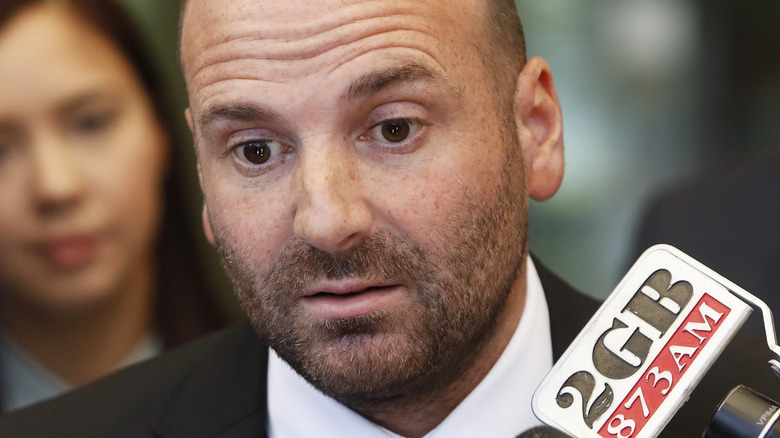 Daniel Munoz/Getty Images
Pete Evans and Heston Blumenthal weren't the only celebrity chefs dominating Australia's cooking shows — there was also George Calombaris. Once again, another judge on MasterChef Australia went from the upper echelons of chef stardom to media banishment when the public caught wind of his scandalous doings. Since 2009, Calombaris had been reaping the success of multiple restaurant ventures and media appearances thanks to his presence on MasterChef. However, in 2019, he found himself on the adverse side of fame when a $7.8-million wage underpayment lawsuit tested his resolve. 
In the wake of the controversy, Calombaris' restaurants faced financial difficulty. He proved he was cracking under pressure when he was caught on camera laying hands on a teenage soccer player during a match. The then 43-year-old admitted that his mental state was tried beyond reason during that time saying, "You just feel like the world is going to come to an end and you'll never enjoy anything again. I cried so much, it felt like every minute of the day when no one was watching me, I'd be in tears. I couldn't see a way out," (via Daily Mail). Calombaris no longer has the TV clout he did before the scandal but has found his footing as the culinary director at Australia's Sorrento Hotel, with no immediate plans to return to television. 
Johnny Iuzzini wasn't as sweet as his pastries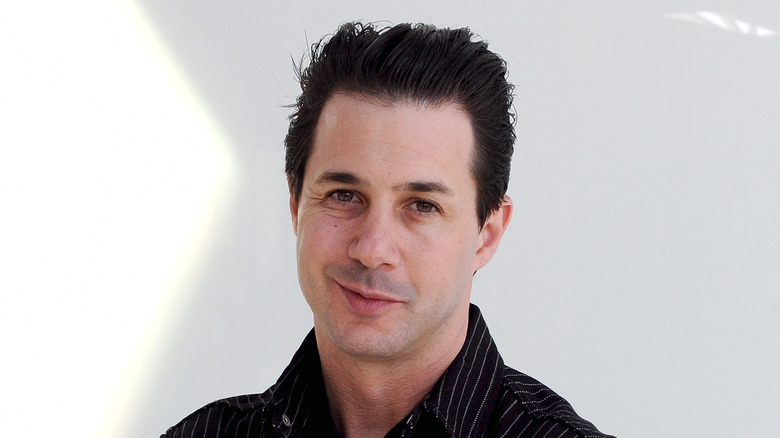 Pier Marco Tacca/Getty Images
Chef Johnny Iuzzini began his career as a pastry chef before rising to celebrity ranks. His turns on "Top Chef: Just Desserts" and "The Great American Baking Show" leveraged him toward TV greatness. From this success, Iuzzini oversaw the pastry kitchen at New York City's Jean-Georges, but come to find out, his management style was really problematic. Former employees and interns at Jean-Georges spoke out against Iuzzini in 2017, claiming that he exhibited sexual harassment toward his employees on numerous occasions. Such instances included accounts of Iuzzini sticking his tongue in the ear of a female staff member on repeated occasions, demanding shoulder massages from female workers at the end of shifts, as well as rampant verbal abuse. 
Iuzzini responded to the allegations saying that when he was coming up in the culinary scene there were few women and the men were trademarked by their bawdy behavior, but ultimately confessed that his behavior was wrong. The James Beard Award recipient left Jean-Georges in 2011 and was absent from the public life that was once a hallmark of his career. In 2021, Iuzzini was hired as the restaurant management operations consultant for ChoLon Restaurant Concepts in Denver, but his media persona is all but non-existent.
Delia Smith knew when to say when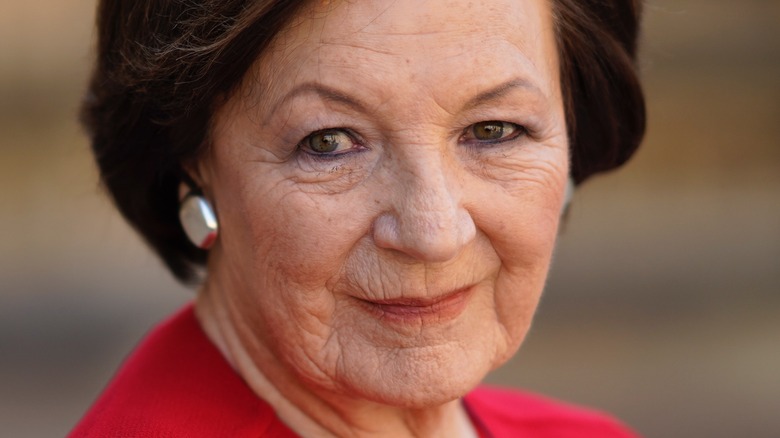 David Levenson/Getty Images
Let's breathe a collective sigh of relief on behalf of Delia Smith, who didn't torch her career over a severe lapse in judgment. The British chef and TV host was a beacon of modern culinary talent with televised cooking presentations beginning in 1973. Early on, Smith proved herself to be a darling of the BBC by helping the masses "cheat at cooking" with her step-by-step tutorials. For the Brit-rock enthusiasts out there, we'll have you know that she baked the cake displayed on the cover of The Rolling Stones' landmark album "Let It Bleed." But Delia Smith was no rock groupie; her aim in life was to teach people how to cook. Decade after decade Smith fronted cooking show slots and wrote cookbooks that were habitual bestsellers. So why did the grande dame of English cookery vanish out of sight?
She was tired. In 2013, the 71-year-old chef announced she was done with TV and would be using her culinary skills to help teach students online. Smith understands full well that the primary purpose of modern cooking shows is entertainment and she prefers a less scrutinized role by cooking away from the prying eyes of the general public. Upon her retirement, she stated to Platinum magazine that she had given her all and would prefer to let her 50-year-stint as a celebrity chef speak for itself.
Bernard Loiseau's legacy ended in tragedy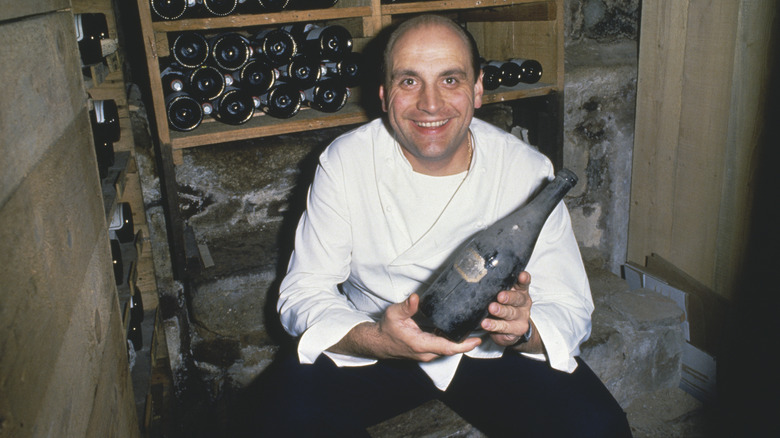 Roboth François/Getty Images
Esteemed chef Bernard Loiseau earned his first Michelin star in 1977 and a 19/20 rating in the prestigious Gault-Millau restaurant guide. Loiseau would continue to rack up these coveted stars over the next two decades, exemplifying the idea of both chef and artisan by taking the best and most rustic aspects of French cooking and infusing them with his heart and soul. By the early 2000s, his acute celebrity appeal was waning, but to his legions of admirers, this could never detract from his legacy.
In 2003, Loiseau lost a few points in his Gault-Millau ranking and was apparently warned by the Michelin Guide that he was on the verge of losing a star. According to the experts, his food was not as special as it once was. Thoroughly French as he was, the news was devastating to the 52-year-old Loiseau. His wife Dominique allegedly corresponded with Michelin Guide officials, assuring them that Loiseau would do whatever it took to maintain his top-tier culinary reputation. It wasn't enough. 
In February 2003, Loiseau committed suicide at his home with a hunting rifle. As the world mourned the loss of a great talent, speculation turned on Michelin, accusing the organization of using threatening tactics — which were vehemently denied. Regardless, the world was stripped of a modern-day culinary genius whose perfectionism could not live up to the microscope celebrity chefs are all too often held under.