Mountain Dew Skittles Are The Sweet Collab We're Craving To Be Real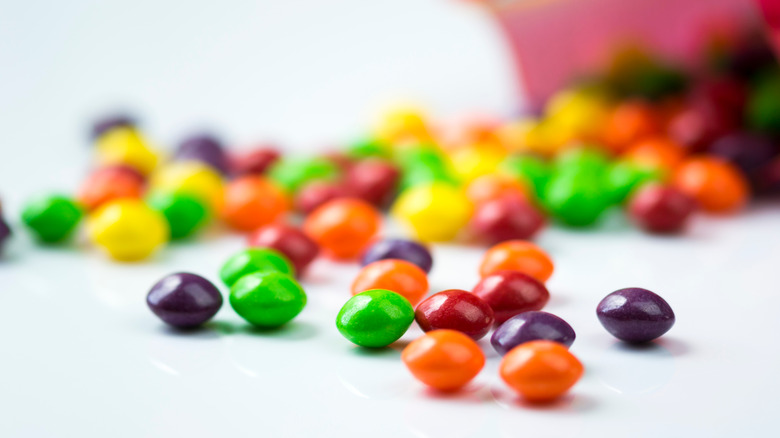 Justyna Troc/Shutterstock
To stave off any potential disappointment, we'll start out by stating upfront that Mountain Dew-flavored Skittles are not, as of yet, a real product. Nor does Mountain Dew have a Skittle flavor, although there are those who found 2020's limited edition VooDew Explosion to have a very Skittles-esque taste. (As well it might, since Mountain Dew later described the flavor as a "fruit candy explosion" on Twitter.) But there may be a small glimmer of hope for those who want to "chew the Dew," as Skittles itself recently floated the idea of collaborating with the soda brand in a tweet.
If Mountain Dew and Skittles were to have a baby, or rather, give birth to a sibling for that 2020 soda, it wouldn't be the first time Mountain Dew has veered out of its liquidy lane. While Mountain Dew pickles are still at the crowd-sourcing stage (as opposed to pickle-flavored Mountain Dew, which was the real dill in 2022), Mountain Dew Cheetos were available in Japan back in 2014. The following year, Buffalo Wild Wings debuted Zesty Citrus, a sauce that was actually made with Mountain Dew. Perhaps the best-known product flavored with the soda is Doritos Mountain Dew, a snack that made its debut in 2008 as a mystery flavor and was revived in 2020. Oddly enough, some six years prior to the second release, the reverse product was taste-tested at several Ohio colleges. It seems Doritos-flavored "Dewitos" soda was not a hit with the students, as it hasn't been released to the general public.
Skittles, too, has been known to follow its own path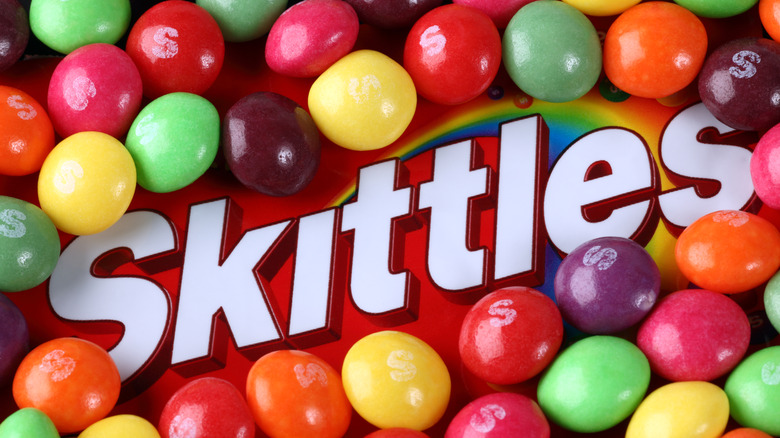 Ekaterina79/Getty Images
While the apparently Skittles-flavored Mountain Dew Voo Dew Explosion was not an official collaboration between brands, nor are Mountain Dew-flavored Skittles yet in the works, there have been several Skittles-branded products other than the familiar fruit-flavored pellets. Skittles ice cream bars have been sold in Europe in both berry and sour flavors, while Skittles cotton candy is available in the U.S. (Walmart shoppers give it mixed reviews: while some people like it, others compare the flavor to Pepto Bismol or stale bubble gum and complain of an unpleasant aftertaste.)
There have been a few out-of-the-bag Skittles flavors, as well. A 2019 Halloween release called Zombie Skittles featured a scattering of intentionally rotten-tasting candies, and in the very near future we'll see mustard-flavored Skittles, since a collaboration between the candy company and French's is set to be released in time for National Mustard Day (August 5, in case you want to mark your calendar).
Hey @MountainDew, I have a pitch for you... https://t.co/8dU1cl5LIz

— SKITTLES (@Skittles) July 26, 2023
If the tweet that prompted the Skittles collab offer — which suggests pairing mustard-flavored Skittles with Mountain Dew hotdogs — seems enticing, we have some bad news. The product, which is currently making its rounds as a meme, doesn't actually exist.