Saucy Apricot Chicken Recipe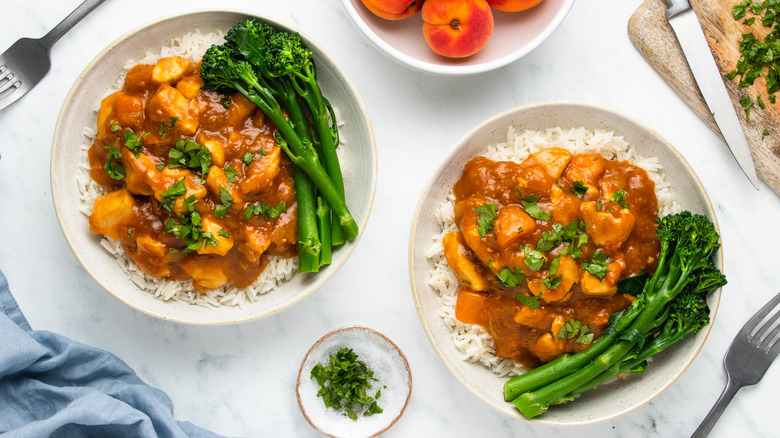 Catherine Brookes/Mashed
While chicken is a tasty and versatile protein, it's not exactly the most exciting one — at least, not on its own. Luckily, it's pretty easy to dress chicken up, be it with an assortment of spices, sauces, or side dishes. This recipe takes a saucy route and a sweet one at that thanks to the addition of fresh apricots and apricot jam. As recipe developer Catherine Brookes describes, "The sweet and sour flavors in this dish are so delicious, and using fresh apricots makes it taste amazing!"
If you tend to take the savory route when it comes to dressing up chicken, you may be scratching your head trying to figure out what the chicken and apricot flavor combo might taste like. Chicken pairs quite well with sweet flavors, as it turns out, similar to the way pork chops and applesauce make a dreamy duo. Brookes notes, "The sauce is tangy, sweet, and fruity. It pairs perfectly with the chicken!" 
Gather the ingredients for saucy apricot chicken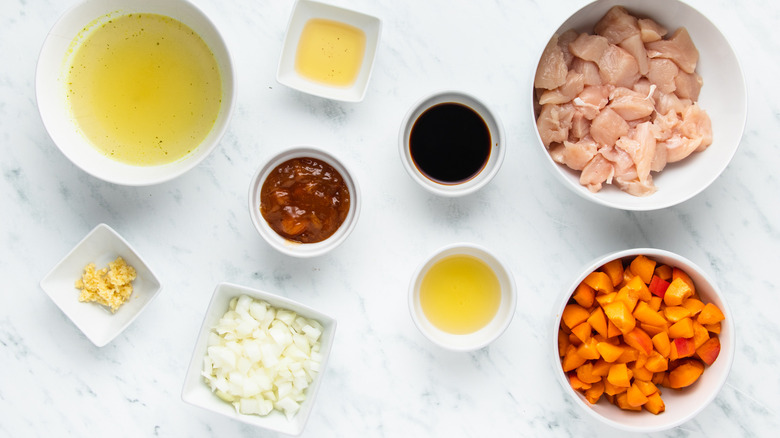 Catherine Brookes/Mashed
You'll need some chicken to make this recipe, and Brookes opts for chicken breasts — be sure to dice them up before you start cooking. You'll need fresh peeled, pitted, and chopped apricots and apricot jam for the sauce, and this combo provides quite a special flavor profile. "The apricot jam adds extra sweetness, whilst the fresh apricots give a deeper apricot flavor," Brookes explains.
Aside from the apricots and chicken, you'll also need olive oil, a diced onion, crushed garlic, chicken stock, soy sauce, apple cider vinegar, and salt and pepper to round out the dish.
Cook the chicken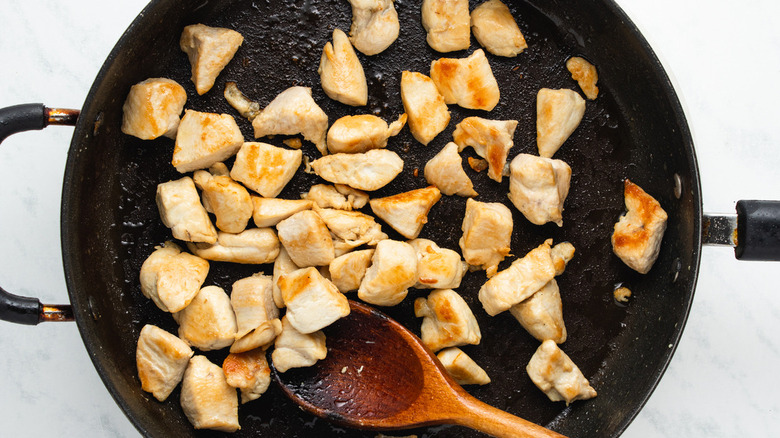 Catherine Brookes/Mashed
Place a large frying pan on the stovetop over medium-high heat and add in 1 tablespoon of olive oil. Once that has heated up, add in the chopped chicken and cook for 5 to 7 minutes, just until it's browned on the outside and cooked through. Then, remove the chicken from skillet and set it aside.
Make the apricot sauce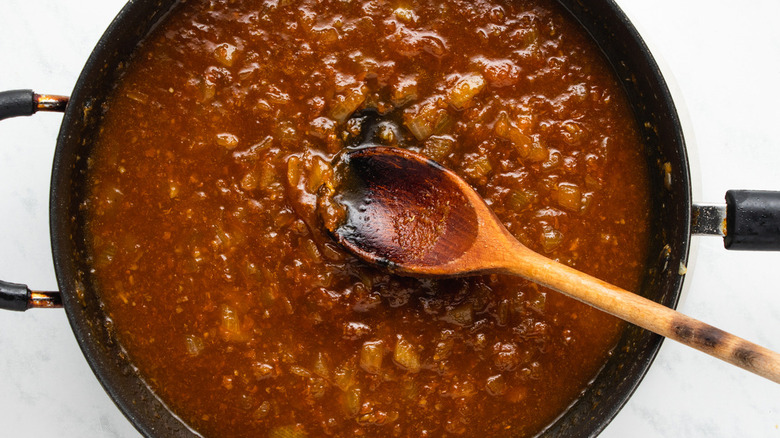 Catherine Brookes/Mashed
Add the remaining olive oil into the same skillet and add in the diced onion, cooking until softened, about 5 to 7 minutes. Follow that up with the crushed garlic and cook for just another minute or so, stirring constantly so as not to burn the garlic.
Meanwhile, add half of the fresh chopped apricots into a food processor or blender. Blitz the fruit until it becomes a smooth puree. Transfer the puree to the skillet along with the apricot jam, chicken stock, soy sauce, and apple cider vinegar. Bring the sauce to a boil before reducing it to a simmer, then leave it to cook for 25 minutes, giving it an occasional stir here and there.
Add the chicken to the skillet and serve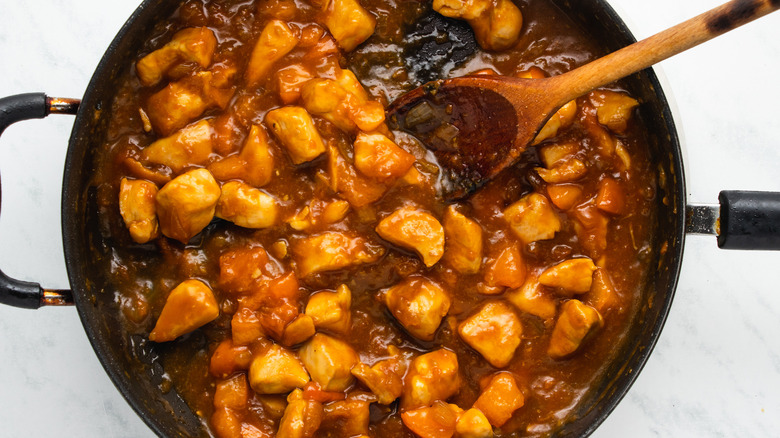 Catherine Brookes/Mashed
Once the apricot sauce has had a chance to simmer for a while, go ahead and return the cooked chicken and remaining fresh apricots to the skillet. Cook for another 5 minutes or so, just to warm the chicken back up and allow the fresh apricots to soften slightly. Finally, give your saucy chicken a taste and add any salt and pepper as desired.
This dish is wonderful on its own, with the savory chicken and sweet, tangy apricot sauce creating a dynamic flavor profile. Of course, you may want to pair your saucy chicken with a side dish to round out the meal. "This is great served over rice or noodles with some veg or salad on the side," Brookes recommends.
Saucy Apricot Chicken Recipe
Looking to punch up plain chicken breast? This recipe which uses fresh apricots, apricot jam, soy sauce, and vinegar to add a sweet an sour sauce to chicken.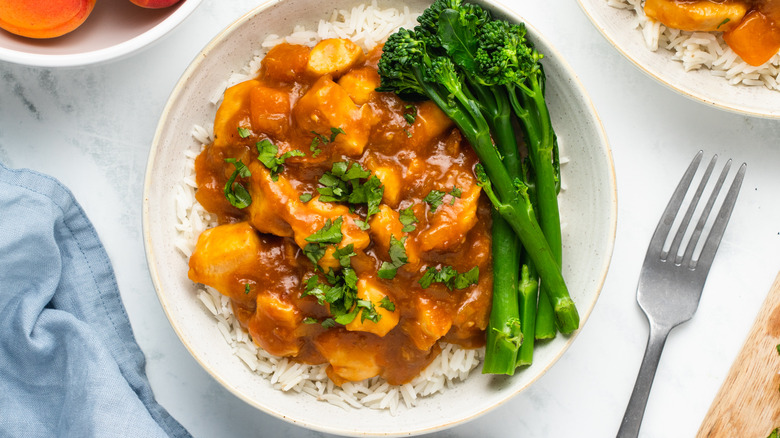 Ingredients
2 tablespoons olive oil, divided
1 pound chicken breast, diced
12 ounces fresh apricots, pitted and chopped, divided
1 small onion, diced
2 cloves garlic, crushed
½ cup apricot jam
1 cup chicken stock
2 tablespoons soy sauce
1 tablespoon apple cider vinegar
Directions
Add 1 tablespoon of olive oil to a large frying pan. Cook the chicken over medium-high heat until browned and cooked through, about 5 to 7 minutes. Remove from the pan and set aside.
Add another tablespoon of oil to the pan. Fry the onions on medium heat until softened, about another 5 to 7 minutes. Then add the garlic and cook for another minute, stirring constantly.
Add half of the chopped apricots to the bowl of a food processor or blender and blitz into a puree.
Add the apricot puree to the pan along with the apricot jam, chicken stock, soy sauce, and apple cider vinegar. Stir well.
Bring to a boil then simmer for 25 minutes, stirring occasionally.
Add the chicken back to the pan along with the remaining chopped apricots. Cook for another 5 minutes.
Season with salt and pepper to taste then serve.
Nutrition
| | |
| --- | --- |
| Calories per Serving | 492 |
| Total Fat | 14.6 g |
| Saturated Fat | 2.4 g |
| Trans Fat | 0.0 g |
| Cholesterol | 112.8 mg |
| | |
| --- | --- |
| Total Carbohydrates | 53.2 g |
| Dietary Fiber | 3.0 g |
| Total Sugars | 36.0 g |
| Sodium | 792.2 mg |
| Protein | 39.2 g |