Ditch The Board – Put Cheese And Charcuterie On A Slab Of Bread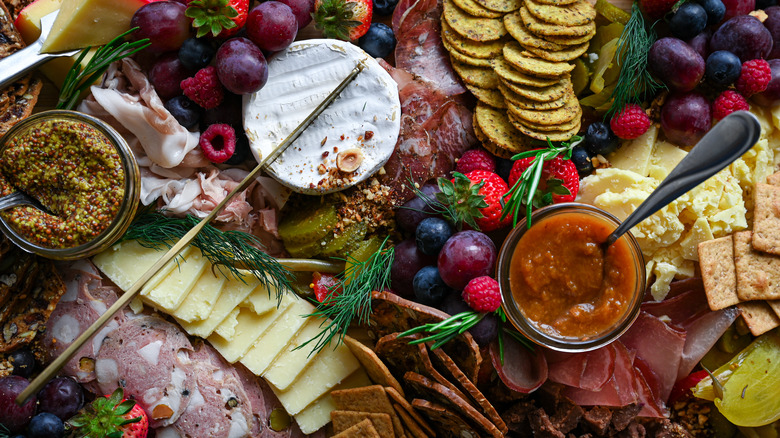 Michel Cellier/Shutterstock
Charcuterie boards have been all the rage in recent years, seen at practically every event where hungry guests can be found, from birthday parties to black-tie weddings to casual girls' nights. You might have caught yourself grazing on salami roses and sharp cheddar triangles, meticulously placed into a visually stunning tray that looks almost too good to eat. Building the perfect charcuterie board takes time, artistic vision, and perhaps multiple trips to the grocery store. From traditional meat and cheese platters to dessert trays and themed board nights, the possibilities are endless when you break out the board. 
Next time you're looking to really wow your dinner party guests, try switching your plain wooden board to something edible, like bread. TikToker Joe Sasto shared the ingenious creation aptly named a "focaccia charcuterie board." To create this delicious crowd-pleaser, you'll first cook your focaccia bread upside down. Oil up a sheet pan and add toppings that can bake into your bread, such as olives, tomatoes, and herbs. Place a few tin foil cups or balls around the pan, which will create indents in your dough for toppings. Fold the dough over your pan and bake until golden. Invert the loaf and top with your favorite charcuterie staples, or experiment with alternatives such as Nutella or a savory hummus spread — and enjoy bites of your bread board with the snacks. With this viral take on a charcuterie board, you can enjoy your meats and cheeses without the hassle of cleaning up your tray!
Innovative charcuterie boards are testing the limits of what it means to graze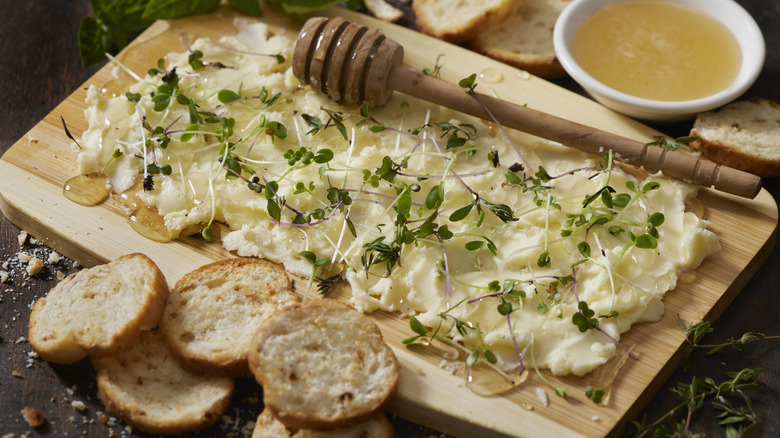 Lauripatterson/Getty Images
Viral recipes like charcuterie boards with a focaccia base encourage at-home chefs and professionals alike to push the boundaries of everyone's favorite grazing tables. But the carb-loaded board does have us wondering: Does this invention still count as a charcuterie board, or are we crossing into pizza or open-faced sandwich territory? After all, olives and herbs are being baked into this DIY board, giving us serious savory loaf vibes. But the spaces carved out for salami roses and mini wheels of brie do look a lot like a regular charcuterie board with a doughy twist. Either way, you won't see us complaining with a mouth full of bread and cheese.
Bread boards taught us that our finger foods don't need any dishes to be delicious, but they aren't the only way to switch up your charcuterie game. TikToker Justine Doiron blew foodies' minds with her butter board invention. She switched out the traditional cured meats and artisanal cheese for a velvety sea of butter, spread across a board and covered in herbs, spices, and honey to create a delicious spreadable appetizer board. Fellow TikTok creator Nicole Kendrick took her idea a step further, creating a peanut butter board complete with chocolate chips, dried bananas, and rice cakes for scooping. These elevated trays are just a few examples of how versatile charcuterie can be, as long as the key snacking elements are present when hungry guests enjoy them.