McDonald's New Restaurant Brand CosMc's Is Coming To A Galaxy Near You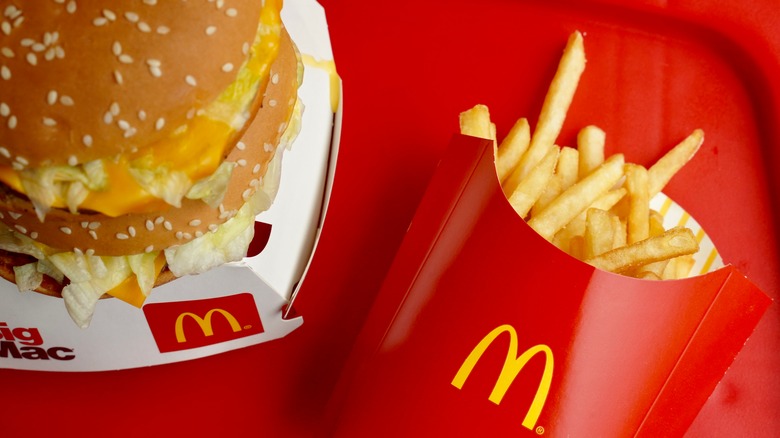 PJiiiJane/Shutterstock
McDonald's may have more than 40,000 locations worldwide as of 2022, but that doesn't mean the chain is anywhere near done expanding its reach. In fact, plans mentioned during a recent earnings call involve McDonald's branching out into outer space.
Encouraged by the reaction to its Grimace-themed shake and hamburger meal, McDonald's has decided to experiment with other retired McDonaldland characters — particularly alien character CosMc. CosMc appeared in various McDonald's advertisements in the mid-80s and early '90s, apparently visiting Earth solely to get a taste of the chain's food.
McDonald's president and CEO Chris Kempczinski explained during the Q2 earnings call on July 27 that the chain is now "developing a new concept we will call CosMc's," to be tested in 2024 at select locations. While CosMc's will bear some resemblance to the current McDonald's restaurants, it will also have its own aesthetic, and perhaps even a unique menu.
CosMc's may expand into previously unfavorable locations
Although many of us don't think too much about where fast food restaurants can and cannot set up shop, the space required for dining and drive-thrus dramatically limits expansion. In a statement to Restaurant Business, McDonald's operators said that properties large enough to accommodate their needs are expensive, let alone nearly impossible to find.
As a result, McDonald's has been testing smaller format locations, geared toward fulfilling only takeout and delivery orders. These smaller locations allow McDonald's to get into spaces that were previously inaccessible to large builds and bulky drive-thrus. In the Q2 earnings call, McDonald's CEO Chris Kempczinski noted that CosMc would be a similarly small-format situation, meaning it could build on smaller plots of land or even open locations inside malls or large supermarkets.
However McDonald's chooses to pursue its CosMc expansion, we can only hope it goes a whole lot better than the short-lived McDonald's pizza, and a lot less feral than the Grimace shake trend.