The Literal Take On TikTok's Girl Dinner Trend Has Us Cry Laughing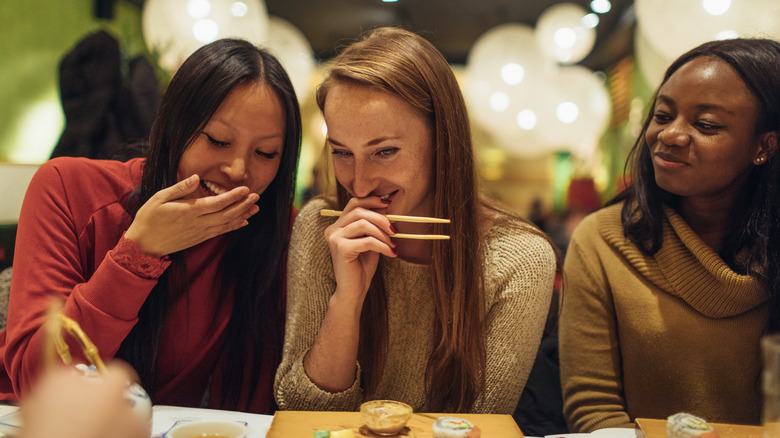 Aleksandarnakic/Getty Images
Whether they're shattering glass ceilings or raising their daughters to become future presidents, 21st-century women and girls are powerful, engaged creatures who might not always have time to cook a grand meal for dinner. Enter TikTok's girl dinner trend — the girl-powered viral sensation where women and girls share suppers made from an assortment of snack-like ingredients that were seemingly randomly selected to satiate their hunger after a long day of saving the world. From tinned fish with crackers and cheese to plates made of pickles, salami, and guac, these smorgasbord dinners are equal parts creative, relatable, and hilarious.
While most girl dinners consist of a series of haphazard ingredients, one comical creator on TikTok has us in stitches with her very literal take on the trend. Instead of the typical tapestry of arbitrary bites and snacks, this TikTok user made a meal into a real girl. Still using a strange combination of ingredients, the girl dinner expert pierced the tip of a pork sausage with dry spaghetti noodles and boiled the kindergarten-style sculpture until cooked. But it doesn't stop there — they braided the cooked noodle, giving the sausage what may look like an Ariana Grande-inspired high ponytail before smothering the feminine monstrosity with red pasta sauce.
One inspired TikTok user summed up our thoughts by leaving a comment that said, "We are in the presence of a genius."
Making girl dinner taste great
Although we're certainly laughing with the creator of the aptly-crafted girl dinner, we're not exactly jumping at the opportunity to eat it. Is there actually any way to enjoy this sauce-covered braided beauty without feeling repulsed by its flavor?
Let's get creative! You can stick with the pork sausage or replace it with seasoned chicken or turkey sausage for a lighter and more flavorful option. Stuff the sausage with ingredients such as spinach, feta cheese, and sun-dried tomatoes for a burst of Mediterranean flavor. Braid strips of pizza dough around the stuffed sausage, and brush it with garlic butter before baking until golden brown — et voila, braided sausage that you can stomach!
If you're feeling simple and saucy, use ground pork or beef instead of cased sausage, boil your favorite noodles, combine the ingredients, and smother with red sauce. Only instead of boring old spaghetti, you can infuse your sauce with edible glitter for a feminine aesthetic that still tastes good. Still want dinner with a good hairstyle? Consider baking a side of challah — braided bread — as a side dish.
Whichever way you choose to make your girl dinner, braided or not, just have fun with it! With girl power, you can do anything!