The Burger King Hack That Lands You A Cheaper (But Smaller) Whopper Jr.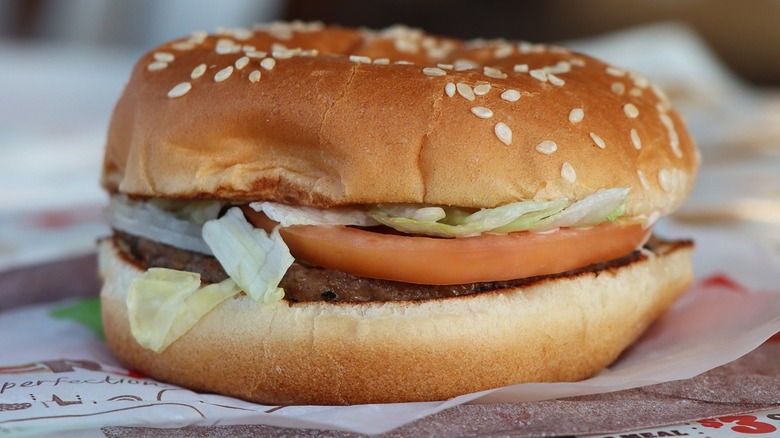 Deutschlandreform/Shutterstock
If it feels like you've been shelling out more at the drive-thru window lately, you probably have. In 2022, Pricelisto found that fast food menu prices skyrocketed nearly 13%, according to CNET, and the trend didn't stop there. Currently, Price Listo is reporting that the average fast-food restaurant item has seen a 30.89% price increase since November 2022. Yikes.
Luckily, most restaurants these days have mobile apps with deals that can help drive down the price of your favorite combo meal, but why stop at adding a single coupon to your order before checking out? Thanks to a beautiful thing called the internet, we're now privy to a number of price-slashing tips and tricks, as well. If you happen to be a royal subject of Burger King, you might find one of our most recent menu-hack discoveries to be particularly helpful when you frequent the chain.
Shared by TikToker Ashley Smith, a.k.a. @ash_loves_condiments, the food influencer claimed in a video that you can score a cheaper version of a Whopper Jr. combo meal by making a few customizations to the cheeseburger meal from the kid's menu. "I recommend ordering online because what you're gonna wanna do is select light onion, light tomato, light lettuce, and light mayo," Smith suggested, noting that the additions to the kiddie-sized sandwich come at no extra charge. "You're welcome," she quipped at the end of the clip – though you might want to hear the catch before giving thanks.
How much money might someone save with this Burger King hack?
Burger King's reign of being the most expensive fast-food chain ended last year when it was overthrown by the queen of fast food, Wendy's. However, that doesn't mean you should put a halt on all of your money-saving efforts when dining at the chain, and Smith's genius BK TikTok hack is one way to keep your costs low.
As the TikToker explained in her video, the cost of a medium Whopper Jr. meal — which includes fries, a drink, and the addition of cheese to the burger — came to $8.99 post-tax at her local Burger King in Toledo, Ohio. Meanwhile, the cost of her cheeseburger kid's meal, which also includes fries, a drink, and, of course, all the free toppings, rounded out to $5.19 after tax. That made Smith's total savings $3.80, though it is important to note that this can vary by location.
Unfortunately, there is one small cost to employing this hack – but it's not one you'll have to pay with your wallet. As you may have guessed, the portion sizes in the kid's cheeseburger meal are smaller (it has a 111-gram serving size while the Whopper Junior clocks in at 134 grams per serving). Therefore, this hack may not be useful in times of extreme hunger. However, if it's the savings you're after, it may be worth giving a try.