The Dutch Oven Lid Hack That Makes Chicken Pot Pie A Breeze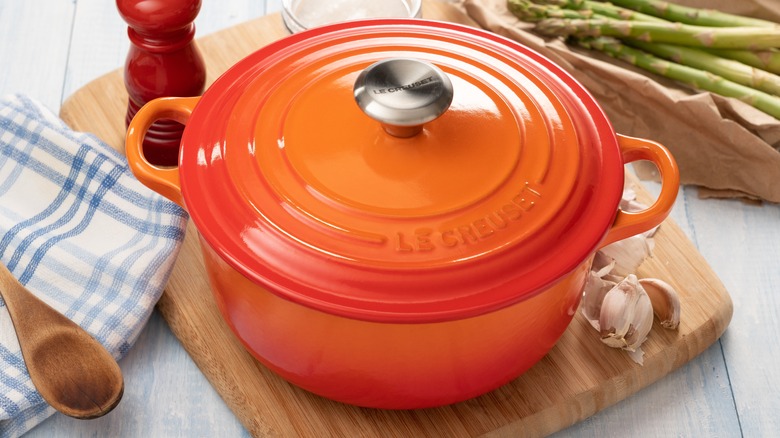 EGT-1/Shutterstock
If you want to make an easy yet delicious chicken pot pie, reach for your Dutch oven. The enameled cast iron holds heat, which is ideal for both browning the crust and simmering the stew. Not only can the pan cook your pie perfectly, but it's attractive enough to do double duty as a serving dish. If that still doesn't seal the deal for you, you may change your mind once you see this hack. 
Kitchenware brand Le Creuset shared a hack on TikTok from chef Justin Chapple that utilizes your Dutch oven lid to make the perfect pot pie crust. Once you see this, you'll wonder why you didn't come up with the idea yourself. First, roll out your dough to your desired thickness. You may use either homemade pie crust dough or even store-bought puff pastry. Use the Dutch oven lid as a stencil, then take a pizza wheel and precisely cut your dough so it's the perfect size to top off your creation. Place the dough on parchment paper, then add any garnishes you want to bake into it, like an egg wash, shallot circles, or a little sea salt. Then bake the crust, along with the parchment paper, right in the inverted lid at 400 degrees Fahrenheit. Finally, put the baked crust on top of your pie and enjoy. 
Why a Dutch oven is perfect for any pot pie
Not only will you get a crust that's the perfect size and shape — assuming you cooked the pie filling in your Dutch oven as well – it'll also be nicely browned and flaky. The technique sparked conversations on TikTok, with many people excitedly noting that they'd never considered doing such a thing before.
While this hack makes good use of both the Dutch oven and its lid, it isn't the only Dutch oven topping crust hack and is actually a spin on an already classic method. The other option is to make your pot pie filling in the Dutch oven and then build the top crust directly on the top of the filling to form an edible lid. Then, bake the whole pie until golden brown. Whichever variation of the hack you choose, using your lid to craft and bake your chicken pot pie topping makes it easier to create the perfectly sized topping for your pot pie. Feel free to adapt our easy pot pie recipe if you're ready to give this trick a try.