TikTok's Trendy Cottage Cheese Egg Salad Is The Cure For The Common Sandwich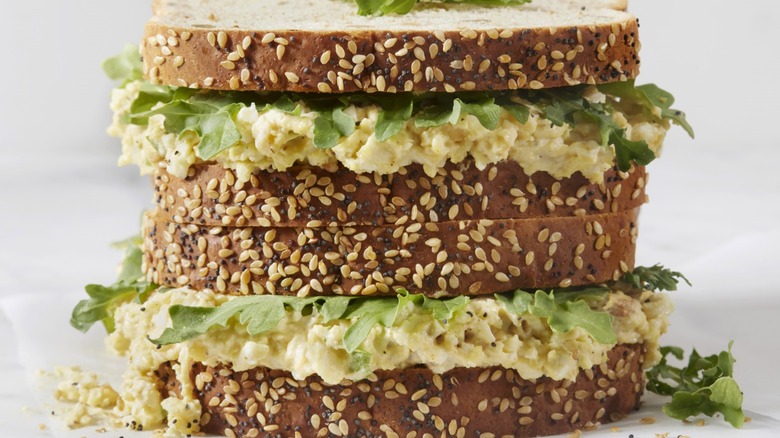 Lauripatterson/Getty
The sandwich has long been a lunchtime staple, but the same old combinations of bread and fillings can get boring. That's where cottage cheese egg salad steps in to save the day. You might be more used to seeing cottage cheese eaten on its own, with fresh vegetables, or even topped with fruit and honey, but a new trend circulating on TikTok takes the traditional egg salad sandwich up a notch by adding cottage cheese, and people are eating it up. 
There's no shortage of ways to make egg salad, but the inclusion of cottage cheese is definitely a new twist. Traditionally, egg salad is made with hard-boiled eggs and mayonnaise, but it's not uncommon to see additions such as Dijon mustard, mashed avocado, or Greek yogurt instead of mayo. Instead of these classic substitutions, TikTok creators have been adding cottage cheese to their egg salad recipes, with results that look absolutely delicious. 
How to make cottage cheese egg salad
TikTok users are sharing many flavor variations on the cottage cheese and egg salad trend. Creator @thisis_madness adds dill, hot honey, lemon, and red pepper flakes to their mixture. @healthyishfoods likes to add Dijon mustard and tops their egg salad with fresh jalapeños. These versions also include sliced or mashed avocado as a base for the egg salad. If you have a blender, try @diningwithskyler's take, which blends the cottage cheese with scallions before adding the mixture to the chopped hard-boiled eggs.
Regardless, the common denominator ingredients are hard-boiled eggs and cottage cheese spread on a toasty piece of bread. The cottage cheese acts as the binding agent in place of mayo or mustard. Adding cottage cheese to the mix makes the egg salad super creamy and adds another layer of tangy, salty flavors that a typical egg salad sandwich may lack.