Over-The-Top S'mores Dip Recipe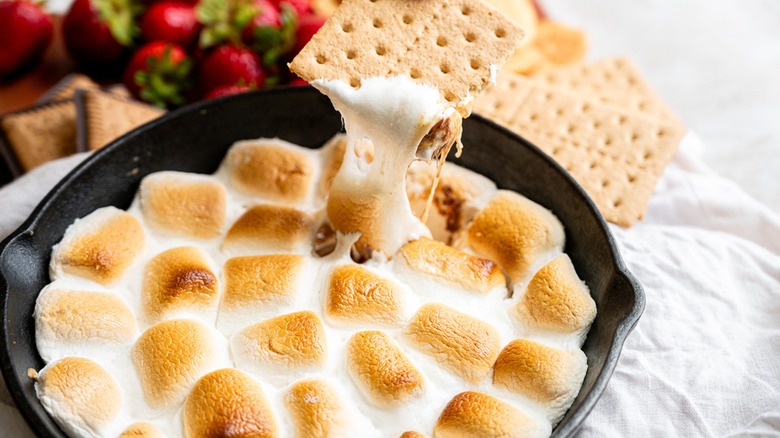 Christina Musgrave/Mashed
You don't have to go camping or build a fire to enjoy the toasty sweetness of homemade s'mores. In fact, all you need is an oven and all your desired s'mores fixings to enjoy this campfire favorite. With this over-the-top s'mores dip recipe (and trust us, it really is over the top), you'll get all the flavor of s'mores in a dip that's fit to serve a crowd. "I envision this as the main event of dessert," says recipe developer Christina Musgrave. "This would be great for birthday parties, a dinner party, or any time you need to bring something to a gathering." 
Best of all, because the s'mores are served in dip form, you actually have a lot of room for creativity when it comes to the layers and dipping devices that you choose to use. Here, Musgrave places graham crackers, as well as strawberries and cookies, on the serving board to give guests new and exciting options. "I love how easy this is and that it will feed a crowd," she emphasizes. And given that it just takes 10 minutes to make, it's the perfect over-the-top recipe for someone who doesn't have time to make a more involved dessert.
Gather the ingredients for this over-the-top s'mores dip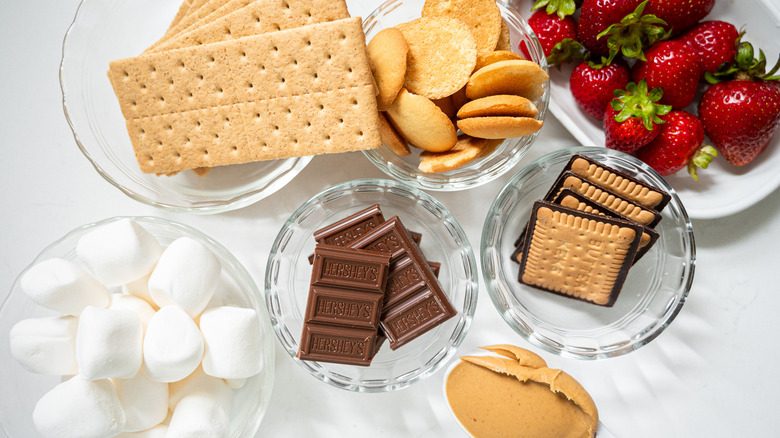 Christina Musgrave/Mashed
If you're familiar with s'mores, you're likely familiar with most of the ingredients you'll need to gather for this recipe. Of course, you have the standard items: milk chocolate bars, large marshmallows, and graham crackers. But given that this recipe is over the top, you'll need a few more supplies, including peanut butter, strawberries, and the store-bought cookies of your choice. The strawberries and cookies are for serving, but the peanut butter is part of the dip. "Peanut butter is a unique addition to this recipe — many other s'mores dip recipes only include chocolate and marshmallows," Musgrave explains. 
Prep the pan and add the first layer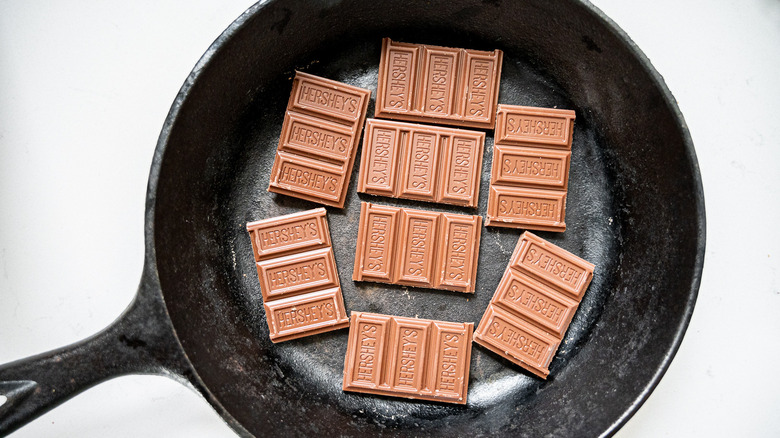 Christina Musgrave/Mashed
Given that the entirety of this recipe only takes 10 minutes, there's not much to prep. Simply preheat the oven to 425 F and grease a mini cast iron skillet or an oven-safe baking dish. If you have a cast iron pan, it's ideal for this recipe, as it holds heat very well and helps keep the dip warm. 
When the skillet is greased, break up the chocolate bars into pieces and layer them on the bottom of the skillet. Try to make a single, even layer.
Spread peanut butter onto the chocolate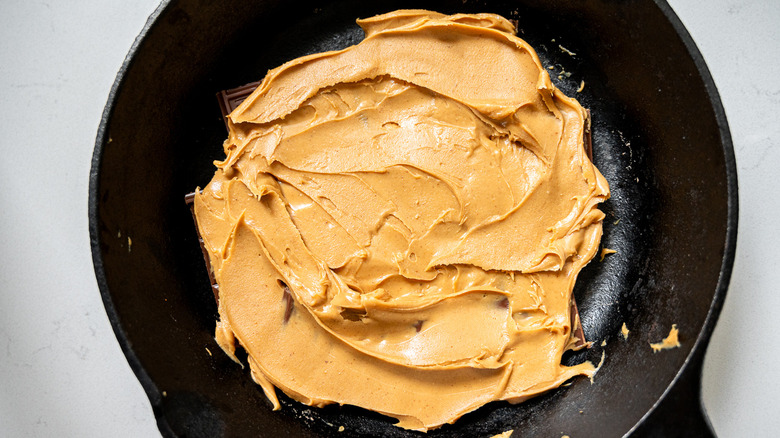 Christina Musgrave/Mashed
Take the peanut butter and spread it out over the top of the chocolate pieces. Again, try to make this layer as smooth and even as you can. And as far as the type of peanut butter? It's the baker's choice. "I used smooth, but you can use smooth or chunky depending on what you have on hand," says Musgrave. 
Add a layer of marshmallows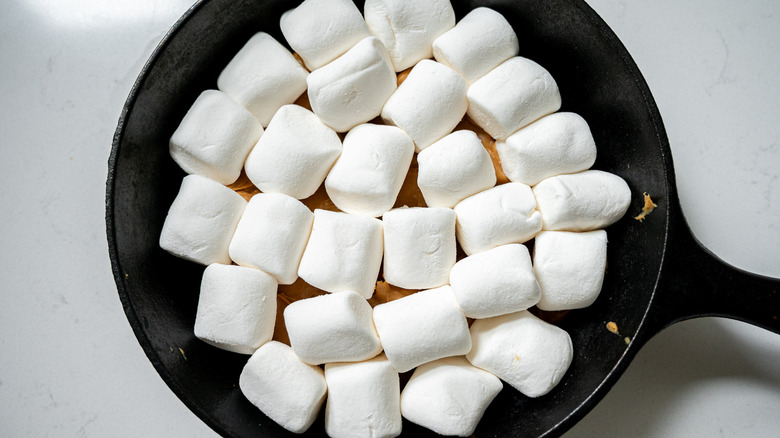 Christina Musgrave/Mashed
On top of the peanut butter, add your layer of marshmallows. Squish them in together so there isn't much space between them. Again, you have some leeway for creativity here. While Musgrave prefers the classic marshmallow flavor, she says you can experiment with different flavored marshmallows, if you're so inclined. 
Bake the s'mores dip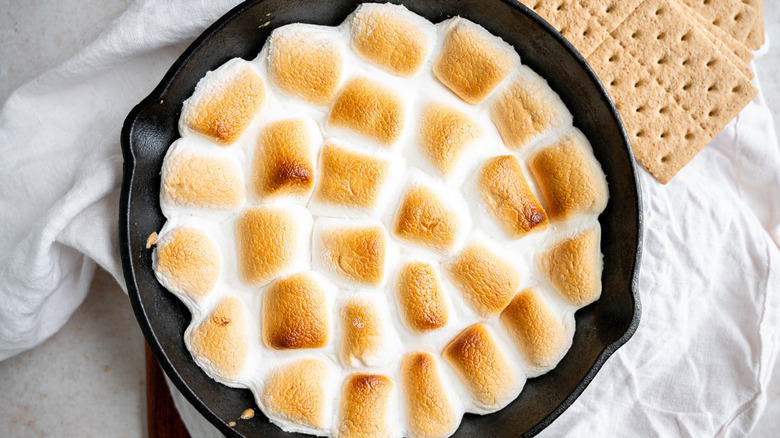 Christina Musgrave/Mashed
All that's left to do is roast those marshmallows and melt that chocolate! Pop the skillet in the oven and bake for 5-6 minutes. You can pull it out of the oven when the marshmallows have melted into each other and the tops have turned golden brown. 
Serve the dip with a variety of dippers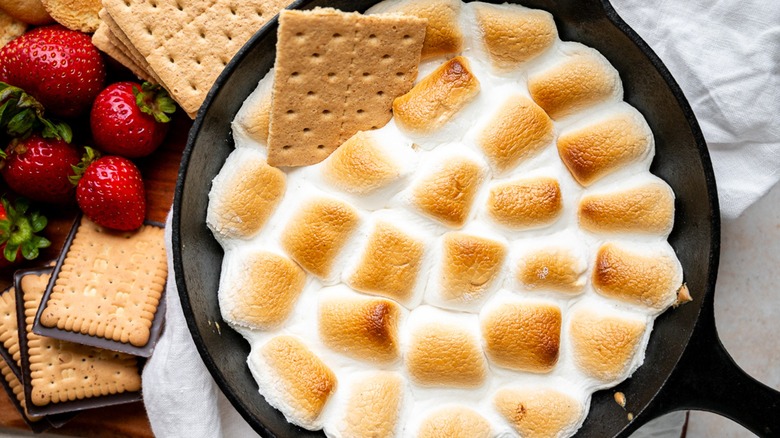 Christina Musgrave/Mashed
The dip is ready to serve as soon as you pull it out of the oven, so place the skillet on the table with a spread of all your dippers. It's important to keep the dip in the skillet so it stays warm, melty, and easier to scoop.
Graham crackers, strawberries, and cookies are an excellent place to start, but feel free to get creative with your dippers. Just keep in mind that this dip isn't one you'll want to save for leftovers, so encourage your family and friends to chow down and enjoy it while it's hot. 
Over-The-Top S'mores Dip Recipe
If your favorite thing about s'mores is the gooey texture, turn the classic campfire treat into a skillet dip so every bite is meltier than the last.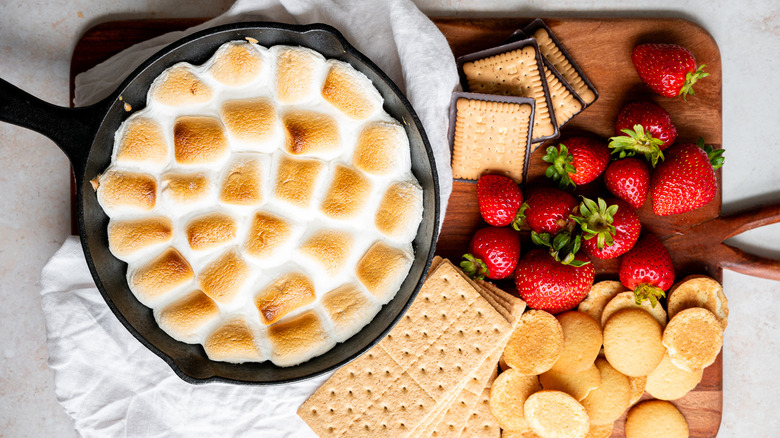 Ingredients
3 ounces milk chocolate bars, broken into large pieces
⅓ cup peanut butter
20-25 large marshmallows
10 graham crackers, for serving
1 cup strawberries, for serving
Cookies, for serving
Directions
Preheat the oven to 425 F and grease a mini cast iron skillet or oven-safe baking dish.
Add the chocolate to the skillet in a single layer.
Spread the peanut butter over the chocolate.
Add a layer of marshmallows.
Transfer the skillet to the oven and bake for 5-6 minutes, until the chocolate and marshmallows are gooey and the top is golden brown.
Serve the dip hot with graham crackers, strawberries, and cookies for dipping.
Nutrition
| | |
| --- | --- |
| Calories per Serving | 312 |
| Total Fat | 12.3 g |
| Saturated Fat | 4.0 g |
| Trans Fat | 0.0 g |
| Cholesterol | 4.0 mg |
| | |
| --- | --- |
| Total Carbohydrates | 48.7 g |
| Dietary Fiber | 1.7 g |
| Total Sugars | 26.7 g |
| Sodium | 146.8 mg |
| Protein | 5.4 g |