Croissant Chips Are The Perfect Way To Use Up Stale Baked Goods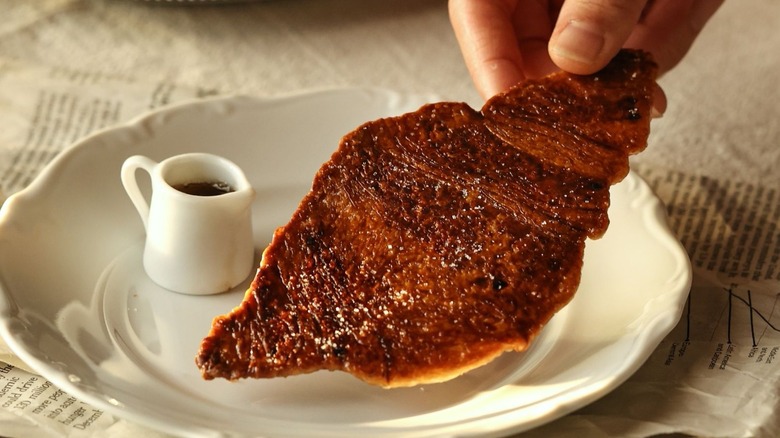 W Table
Everyone knows the feeling of having extra pastries on the kitchen counter, waiting to be eaten. Thankfully, "best when fresh" isn't necessarily true. When croissants are more than a few days old, it's time to explore creative options to bring them back to life. One fashionable way you can refresh stale croissants is by making croissant chips.
TikTok is a hub of cooking hacks and trends, so it's no wonder the concept of a flattened croissant chip rose to popularity on the app. Pan-frying croissants in butter and candying them in sugar results in a thin, crispy chip that makes the pastry taste new again! One TikTok creator showed viewers a quick and easy way to make croissant chips by melting butter in a pan, adding soy sauce, brown sugar, and maple syrup, then flattening the croissant until it crisped up. 
This recipe satisfies cravings for a salty bite, and adding a sprinkle of furikake — as the creator did — provides complexity. While the TikToker's savory twist is a fun route for this snack, there are many other ways to mix up the flavors and textures.
Other ways to make croissant chips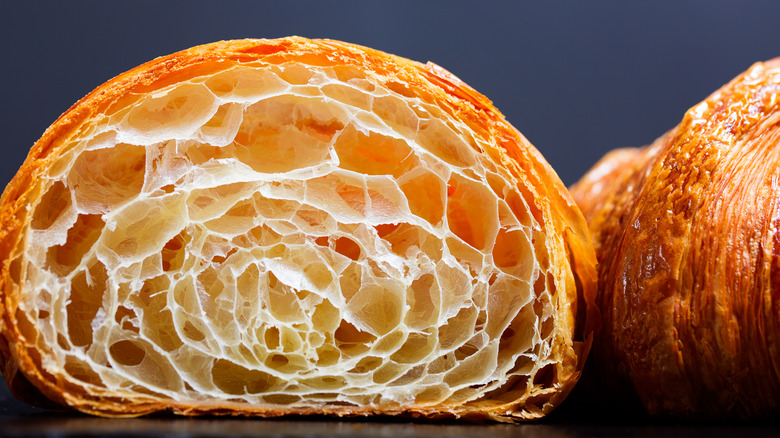 Noblige/Getty Images
When trying this recipe at home, the first thing to consider is how dense you want your chips to be. You can flatten a whole croissant or cut it in half length-wise first for a smaller snack. The most effective tool for flattening is a rolling pin. However, to keep it flat while it cooks, you can lay parchment and a heavy object, like a small cast iron skillet, over the top.
Next, decide what flavors you want your chips to be. Combine butter with white sugar, brown sugar, maple syrup, or honey for a simple, two-ingredient take. However, if you eat honey for its nutritional benefits, antibacterial properties, and enzymes, you may want to drizzle it over your cooked chips in its raw form. According to Bee Health, heat causes its nutrients to degrade. If you don't want extra sugar or want to preserve the croissant's flavor, you can achieve a crisp texture with melted butter alone. For a take on pain au chocolat, reach for chocolate syrup or Nutella for dipping or pouring. 
Whether you opt for sweet or savory, this croissant chip hack can help mask the signs of staleness. Although it might seem strange to reduce this French pastry's 55 layers of airy dough to ¼-inch, we think it's better — and more delicious — to reduce, reuse, and recycle than to let good croissants go stale.