Best Chain Restaurant Salads Ranked
Kajakiki/Getty Images
Salad may not be the first thing you think of ordering when you head out for a meal at your favorite local chain restaurant. But when it comes to maximizing fresh ingredients and engaging in some plant-forward dining, few eateries have better vegetable options than what you'll find in the salad section of the menu. The best chain restaurants make the most of the salad list by incorporating a variety of proteins and toppings that transform a simple plate of greens into a full-blown festival of flavor. There's no question we'd order these bountiful bites when our appetite cries out for something from the lusher side of the menu.
You might be committing a slew of mistakes when you make salad at home, but you can bet that some of the biggest restaurants on the block have selections that get the balance right. Which choices go beyond garden variety to give you something in a tastier shade of green? And which ones are more lackluster? We've ranked chain restaurant salads based on creativity, nutrition, and all-around appeal. These mixes may be heavy on the plant matter, but the best are anything but wilted. Take a look and see who has the grooviest salad in the patch.
14. Chili's – Quesadilla Explosion Salad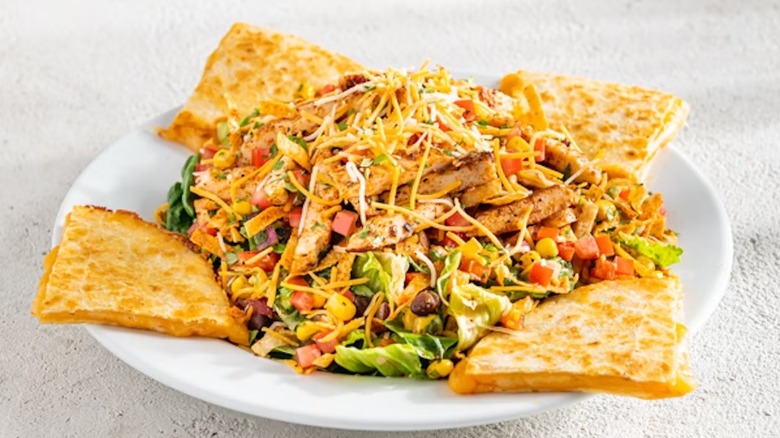 Chili's
Any time a salad comes with extra food on the plate, you know you're in for a good time. For its salad, Chili's added a quesadilla to the mix, transforming green dining into a fast casual celebration. The Quesadilla Explosion Salad provides a two-fer bowl with four gooey, cheese-filled tortilla wedges surrounding a mash-up of garden greens and Mexican-style toppings. You choose the protein for your salad, while Chili's throws in corn salsa, cilantro, tomatoes, tortilla strips, and citrus balsamic dressing. It boasts textures and flavors bold enough to draw non-salad eaters to the table, though it's hardly light.
However, with all the bells and whistles, this order comes with 1,411 calories and 94 grams of fat. Plus, some may wonder if quesadillas and salad really need to go together, though this may be more reasonable if you have a crew to split the meal.
13. Texas Roadhouse – Steakhouse Filet Salad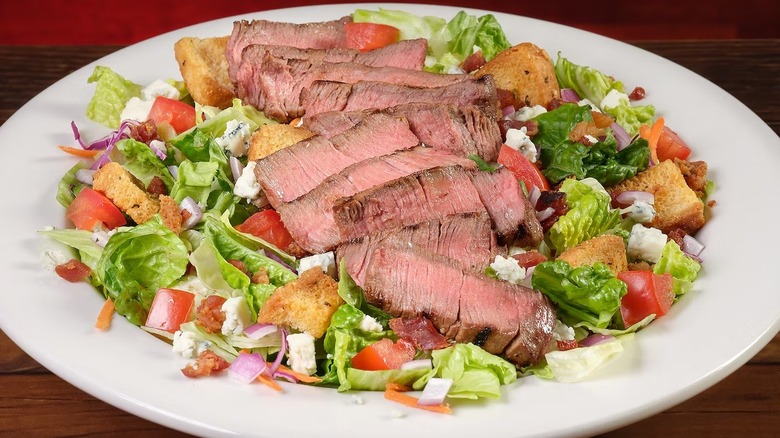 Texas Roadhouse
If steakhouse eating is your favorite mode of dining, Texas Roadhouse gives you steak and greens to keep you from having to work your way through multiple courses. The Steakhouse Filet Salad invites you to decide how your food arrives at the table by having the steak prepared to your liking, from rare to well-done, and choosing toppings and add-ins to assemble your salad. 
If you're watching your intake, however, beware. With 1,340 calories, Texas Roadhouse will have you bumping up to more than half a day's calories for the average adult eater. Its rather staggering 103 grams of fat is enough to make you think twice about your order on its own. But you're also getting 71 grams of protein, which makes this order a mixed choice for many. You can make it leaner by taking home half the steak and opting for a drizzle of lime juice rather than a richer dressing.
12. Claim Jumper — Cali Chicken Salad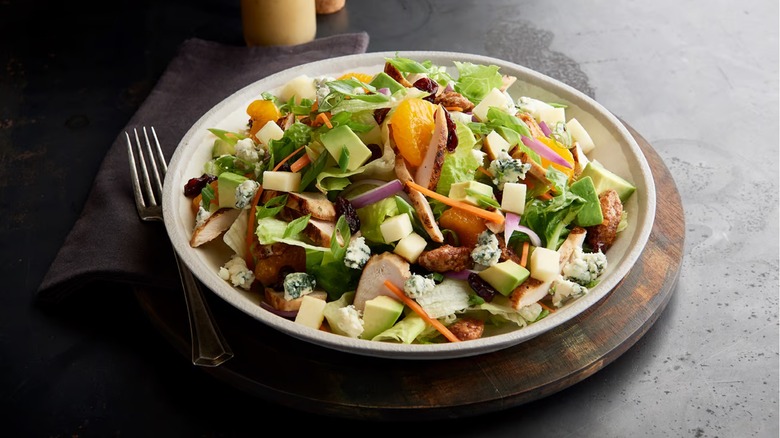 Claim Jumper
Stake your claim on a Cali Chicken Citrus Salad at Claim Jumper, and you'll be staring down a sizeable meal that will easily serve a small crew — that is, if you're so inclined to share. This chain is renowned (or infamous) for its oversized portions, and this colossal creation is no exception. For starters, mandarin orange slices and green apple cubes adorn crisp greens like glistening jewels. Red and green onions add aromatic charm and a bit of bite, while glazed pecans provide crunch, and crumbles of real bleu cheese bring in a creamy texture and a bit of funk. And of course, the crispy chicken pieces ramp up the texture. Everything in the bowl gets a honey lime vinaigrette dressing, merging the flavors into a medley of zest and zing.
Of course, this is a lot of salad. You may want to beware of the nutritional impact of a behemoth like this. You'll be taking in 1,276 calories, 674 of which are from fat. That's a hefty 75 grams of fat in a dish that's usually known for being healthy. If ordering solo, cut your serving in half at least by asking for a box so you can take home the rest.
11. Buffalo Wild Wings – Crispy Buffalo Chicken Salad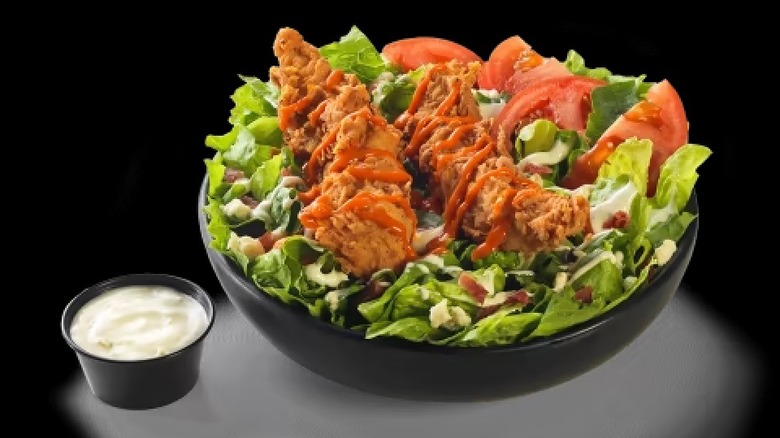 Buffalo Wild Wings
What better vehicle for enjoying the wings that made Buffalo Wild Wings famous than a crisp bed of greens to balance out the chicken's heat? The chain's Crispy Buffalo Chicken Salad brings the chain's well-known chicken wings to a salad that goes simple when it comes to the toppings, focusing on tomatoes, bacon, green onions, and bleu cheese dressing. It's a real Buffalo round-up that will please fans of the flavor and will wallop the greens with your choice of grilled or hand-breaded chicken. So long as you're really into Buffalo sauce, this salad is a decent option. Of course, this being Buffalo Wild Wings, you can take your pick of sauces to bring the right level of fire to the salad. 
The bottom line on nutrition here is a spicier picture than you might imagine. 1,130 calories take things pretty high for many people, and the 70 grams of fat in the standard version of this salad is worth remembering. If you're worried about those numbers, then stick with grilled chicken and go easy on the dressing or choose an alternative and reduce that to a more health-friendly number.
10. The Cheesecake Factory – Vegan Cobb Salad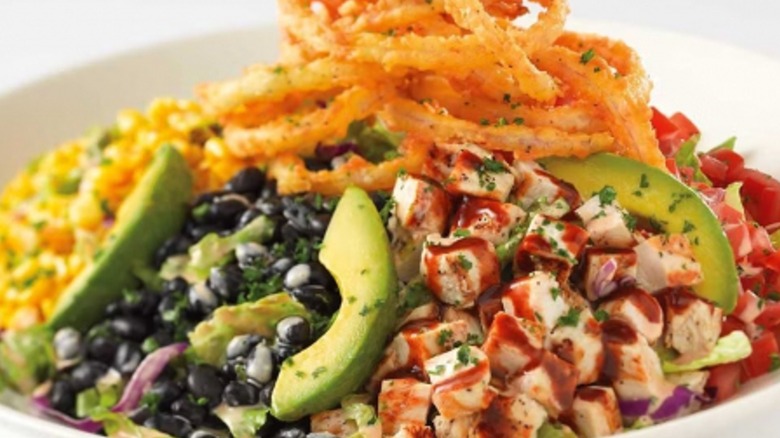 Cheesecake Factory
After leafing through the catalog of dishes available at The Cheesecake Factory, flip over to the salad section and aim your hungry eyes at the Vegan Cobb Salad. You'll hardly notice the lettuce under the incredible pile of toppings stacked on the plate, including grilled asparagus, smoky roasted beets, avocado, green beans, and tomatoes that share space with whole-grain farro and a toasted almond-pepita mix. For a company that trades in dessert as its main attraction, The Cheesecake Factory sure does itself proud with this super salad.
It may feel like a treasure hunt to find healthy dishes at The Cheesecake Factory, but this nutritious option keeps things more sensible than most. You'll get 1,080 calories on the plate, including 89 grams of fat. Yikes! Limit your intake of the avocado, keep the dressing as a side option, and plan on eating only a portion, and a Vegan Cobb Salad can keep you feeling like you made the right choice.
9. Red Robin – Southwest Salad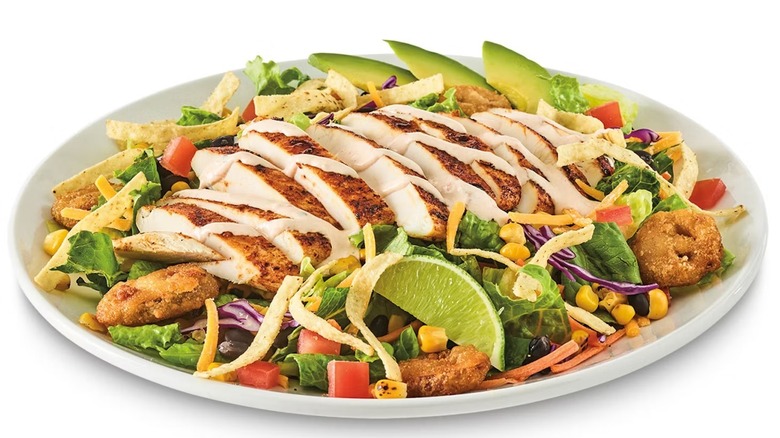 Red Robin
While Red Robin is widely considered to be a hoppin' stop for burgers, this chain does some interesting things with its salads, too. Take the Southwest Salad, our choice as one of the restaurant's best offerings. This banger of a lunch or dinner order tops mixed greens with an entire chicken breast that's been grilled with ancho chiles for a distinctive, peppery kick. Black beans, avocado slices, and fried jalapeño pieces snuggle in alongside shredded cheddar, corn kernels, and diced tomatoes. The salsa-ranch dressing that's served on the side lets you control the extra fire and fat. You can customize your plate further by substituting the chicken for other proteins and removing or adding any other salad toppings you like. Though we find it pretty delightful as-is, this is a combo that can only improve with a little tinkering.
When it comes to nutrition, the 910 calories and 61 grams of fat in the Southwest Salad may be a bill too high to pay on your own. This order easily breaks down into two meals, however, making it a great choice for a date night dish to split.
8. First Watch – Superfood Kale Salad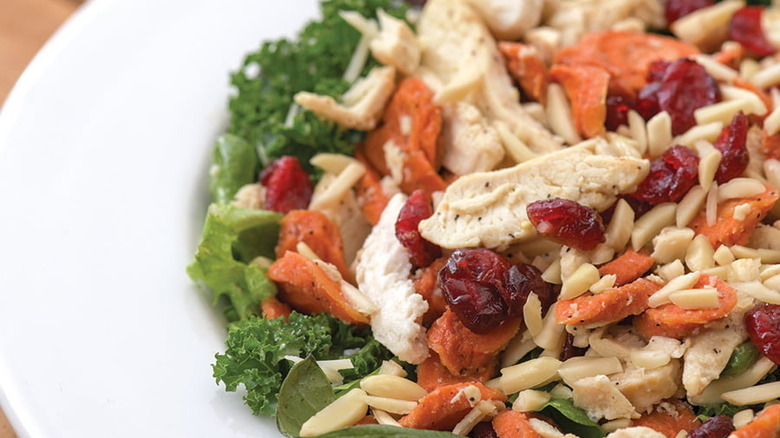 First Watch
You'll be hard-pressed to find a healthier salad in the mix than the Superfood Kale Salad at First Watch. This cafe chain is proud of its healthy offerings, and this salad epitomizes that. Anchored by kale, the much loved and sometimes maligned power food of recent decades, this minimalist salad gets a touch of sweetness from carrots that have been roasted with maple syrup, along with dried cranberries and a maple-lemon vinaigrette that's served on the side. Almonds and grated Parmesan finish off the blend, along with a sliver of toasted ciabatta. The balance of veggies, greens, protein, and carbs makes for a dish that's more filling than many other salads.
At 910 calories, this salad makes for a proper meal, providing 32 grams of protein and 53 grams of fat. 547 calories come from the dressing alone, which gives you control over those numbers. Pour carefully, and you'll be keeping the power in play while enjoying a fresh, veggie-forward dish.
7. Red Lobster – Classic Caesar Salad with Grilled Shrimp
It's no surprise that a seafood restaurant like Red Lobster would add shrimp to a green salad, blending surf with a more literal turf. The chain's Classic Caesar Salad with Grilled Shrimp takes two fan favorites and turns them into a unique Italian-style crowd-pleaser that's different from the usual sliced chicken or steak-topped chain salads. Diners who love fresh flavor will enjoy this salad, where the bright flavor of garlic grilled shrimp adds complexity to the meal. That helps to make the otherwise simple idea of greens and toppings seem more like a gourmet platter, even for an outlet as earthy as Red Lobster.
This is a 700-calorie salad, even including seafood, making this a nutritional bargain good enough to tempt the most casual eater to the greener side of the table. It contains 37 grams of protein that help offset the 54 grams of fat, which can be reduced by asking for lighter dressing or skipping it in favor of a squeeze of lemon.
6. Carrabba's – Johnny Rocco Salad
The Johnny Rocco Salad may conjure images of suave Vegas lounge lizards crooning in velvet suits, but get past the visuals and you'll find a top-notch Italian-style salad with succulent shrimp and tender sea scallops riding the crest of a romaine wave. Juicy kalamata olives and roasted peppers keep the Mediterranean vibes flowing, as does the vinaigrette dressing. Taken all together, you'll be dining on a plate filled with sunshine and sea flavors that trade places with every bite. With Carrabba's making something of a comeback, the big taste and texture combo of a Johnny Rocco Salad is a perfect reintroduction to some of the better aspects of this outlet.
Carrabba's delivers this powerhouse at 590 calories, though diners can double the protein while doubling the calorie count, too. By opting for the basic model, you can savor a dish brimming with promise on all fronts: flavor, nutrition, and balance.
5. Mimi's Café – Chicken and Quinoa Mediterranean Salad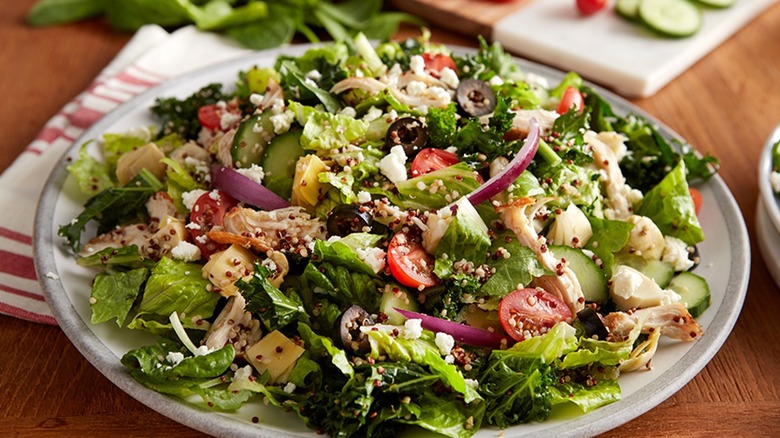 Mimi's Café
Leave it to Mimi's Café to celebrate robust coast flavors in salad form. The Chicken and Quinoa Mediterranean Salad is a Mimi-fied tribute to some of the best of global eating, with healthy ingredients that are piled together in a sunny super-salad that starts with romaine lettuce, followed by a heap of cucumbers, artichoke hearts, onions, olives, shreds of tasty roasted chicken, and a splash of red wine vinaigrette as a finishing touch. What you have on the table when all is said and done is a salad as gratifying as healthy eating gets.
At 570 calories and a super-trim 13 grams of fat, Mimi's works wonders with a salad that gives fresh vibes without maxing out your nutritional budget in a single meal. There's even room for a serving of the chain's well-known muffins or a slice of cornbread on the side.
4. LongHorn Steakhouse – Farm Fresh Field Greens with Grilled Salmon Salad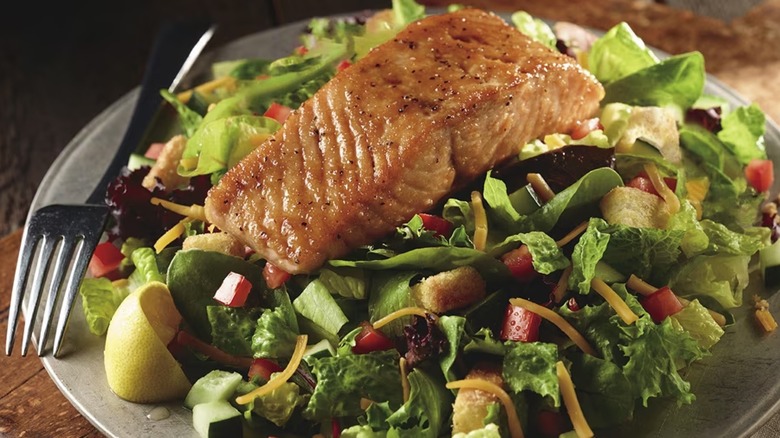 Longhorn Steakhouse
Try to find a more descriptive salad than the Farm Fresh Field Greens with Grilled Salmon Salad served up by LongHorn Steakhouse — we dare you. This mouthful of delicious-sounding words translates into a forkful of tender greens and flaky salmon that have been grilled to perfection. LongHorn leans into the salmon side of this meal, offering it with a bourbon marinade that imparts a smoky, sugary flavor. The salad is no slouch, however, as its greens, fresh cucumbers, diced tomatoes, and cheddar shreds keep things interesting without overpowering the protein.
LongHorn Steakhouse's Grilled Salmon Salad will cost you a modest 530 calories and 29 grams of fat. Considering the healthy fat content of the salmon, we think that you'll be sitting pretty with a dinner and salad mixture that keeps your dining light and lively, so long as you're a fan of salmon.
3. Salad and Go – Roasted Autumn Salad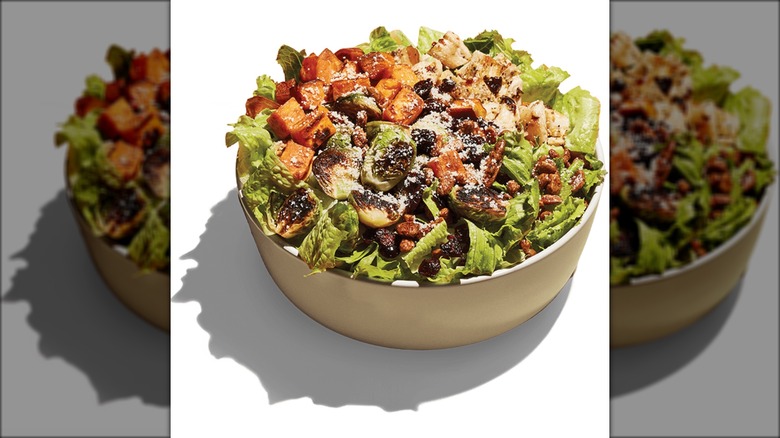 Salad and Go
The name of the Roasted Autumn Salad is enough to transport you to a hazy, sunlit field where a private table awaits with a personal harvest that's been carefully prepared just for you. There's more than just lettuce and croutons in this attractive assemblage from Salad and Go. You'll also find chunks of roasted sweet potato and Brussels sprouts nesting atop your choice of romaine, spinach, mixed greens, or a combination of the three. Select tofu, chicken, or steak for your protein and enjoy crunchy candied pecans and tart cranberry raisins with a sprinkle of Parmesan to add some umami-rich cheesy goodness, as well as balsamic vinaigrette as a dressing.
Salad and Go gives diners the chance to customize their salads, opening the door to a kaleidoscope of combinations to suit specific tastes. As the name of this fresh and tempting deal implies, however, it's a seasonal offering. This ramps up the special magic but also places it lower in the ranking since the possibility of indulging in it is temporary. But at 460 calories and 16 grams of fat, it's light and lovely dining through and through.
2. Ruth's Chris Steak House – Ruth's Chopped Salad
If you're expecting a bowl overflowing with food when ordering a salad at Ruth's Chris Steak House, think again. No chain delivers a more artful arrangement of greens than this one does with Ruth's Chopped Salad. What you'll get here is a column of ribbony greens merged with onions, olives, and hearts of palm creating a sculptural plate that you may hesitate to dig into. The crown of crispy fried onions and lemon basil dressing adds even more flavor and visual flair. It may be difficult to know how to slice into this striking display, but the care taken makes this highly unique selection the subject of copycat recipes that practically inundate the culinary side of the internet.
Rather than flattering Ruth's Chris with imitation, you can order your own for a reasonable $19, which may seem pricy for a salad but is reasonable considering the other expensive items on the chain's menu. Sure, at just 370 calories, you may not find yourself full after enjoying Ruth's Chopped Salad. However, you'll have eaten one of the most whimsical salads you've ever seen at a chain restaurant, and that may be satisfying enough.
1. Olive Garden – House Salad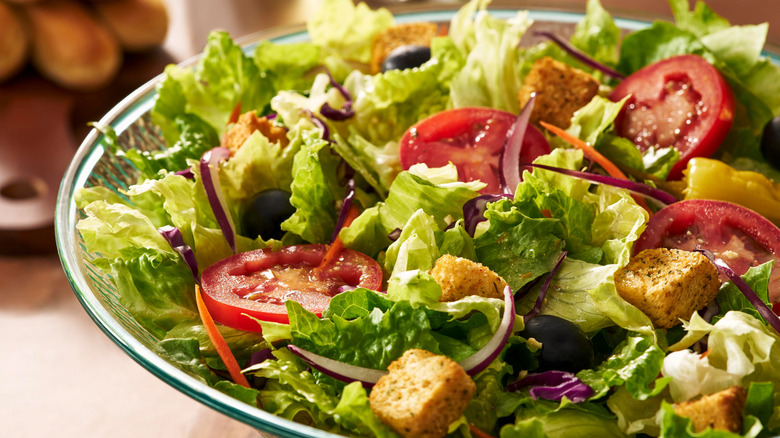 Olive Garden
Say what you will about Olive Garden's questionably authentic Italian fare, but surely we can agree that the house salad at this highly popular restaurant is a qualified hit. It's why the chain can offer an entire meal that consists of salad and breadsticks and nothing else, and customers will still come clamoring back for more. It's also why the waitstaff is prone to bring endless bowls of the stuff to the table, even after orders are served, so long as said table has a craving for more. There's nothing mindboggling about the base, really, which is a blend of lettuce, red onions, black olives, and pepperoncini like any salad you can toss together with a trip through the produce section.
So then ... what is the mouthwatering secret of Olive Garden's delicious salad? Flavor fans know it's all about the dressing, a concoction so popular that it spawned a bottled version that can now be found in grocery stores and online outlets. And with a nutritional profile that barely breaks 150 calories and 9 grams of fat per serving, you can have a few plates of this spectacular salad and a breadstick or two without worrying that you've gone to far.