5-Ingredient Smoked Fish Dip Recipe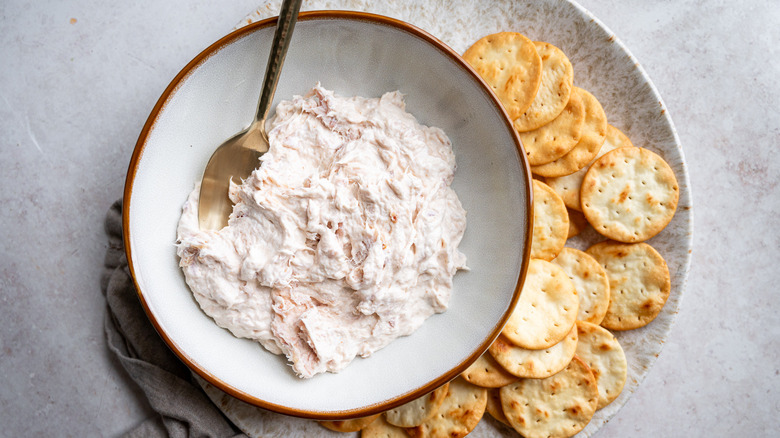 Christina Musgrave/Mashed
Welcome to the world of culinary simplicity, where flavor meets ease. Recipe developer Christina Musgrave brings us this 5-ingredient smoked fish dip. With just a few simple ingredients, you can effortlessly  whip up this deceptively delicious dip for any occasion. Musgrave tells us, "This is great for entertaining or for a quick snack" served with crackers, making it an ideal appetizer for gatherings or cozy nights in.
Smoked fish, the star of this dish, infuses every creamy bite with a smoky aroma that transports you to the shoreside. Musgrave has balanced this handy pantry staple with creamy mayonnaise and tangy sour cream, ensuring a velvety texture that lingers on the palate. To add a kick of heat, there's a good amount of hot sauce included, as well as a small dash of Old Bay seasoning, which provides a spicy savoriness that complements the richness of the fish. Start now and get it done in half an hour — and that estimate includes your grocery run.
Gather your 5-ingredient smoked fish dip ingredients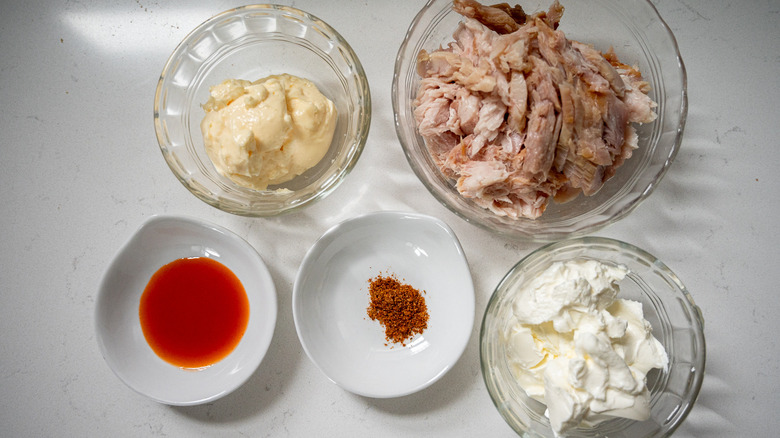 Christina Musgrave/Mashed
Start by gathering your ingredients: smoked whitefish, mayonnaise, sour cream, hot sauce, and Old Bay seasoning. In terms of ingredient substitutions, if you are looking for a way to make this recipe dairy-free, Musgrave tells us, "You can use non-dairy sour cream if you'd like."
Flake up the smoked whitefish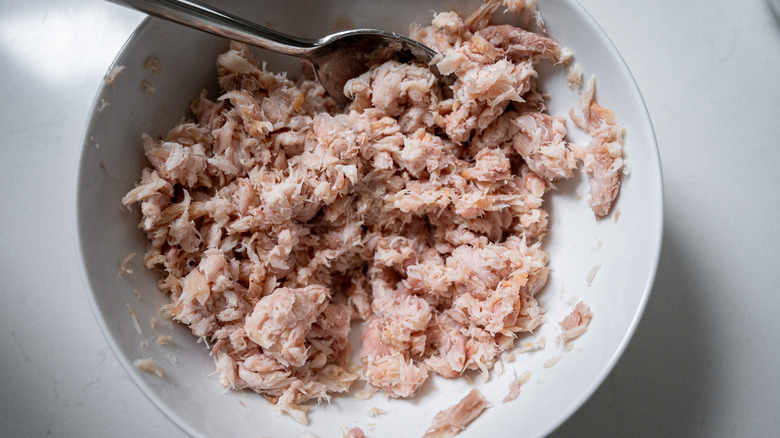 Christina Musgrave/Mashed
To a large bowl, add the smoked whitefish and use a fork to break it up into somewhat equal-sized flakes. Musgrave notes, "You can use any type of smoked fish in this recipe. Smoked salmon or smoked trout would also be great." Smoked salmon is available in various forms, from thinly sliced to whole fillets, and it can be found in different types such as hot-smoked and cold-smoked. One of the standout features of smoked trout is its tender and moist texture, which lends itself well to this type of dip. Like smoked salmon, it can be found in both hot-smoked and cold-smoked varieties.
Add the remaining ingredients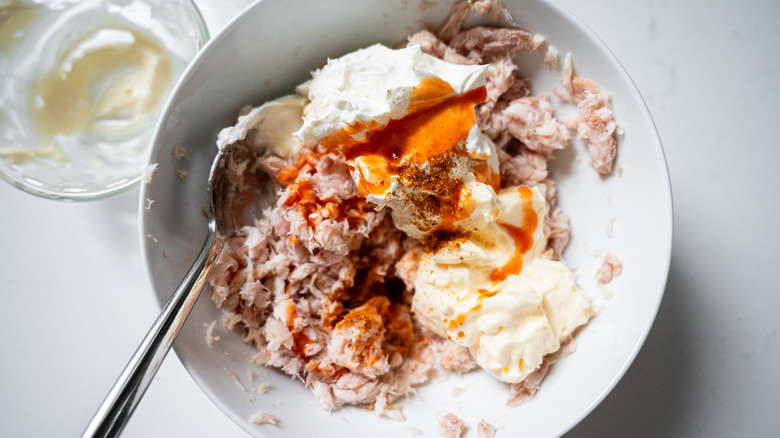 Christina Musgrave/Mashed
Next, add the mayonnaise, sour cream, hot sauce, and Old Bay seasoning to the bowl. Stir up the ingredients to ensure they are fully incorporated.
We know that everyone who loves their spice is very loyal to their favorite hot sauce brands. Feel free to use whatever you have on hand for this recipe. As far as what Musgrave chooses, she says, "I typically use Frank's hot sauce, but any brand is just fine!"
Chill the dip before serving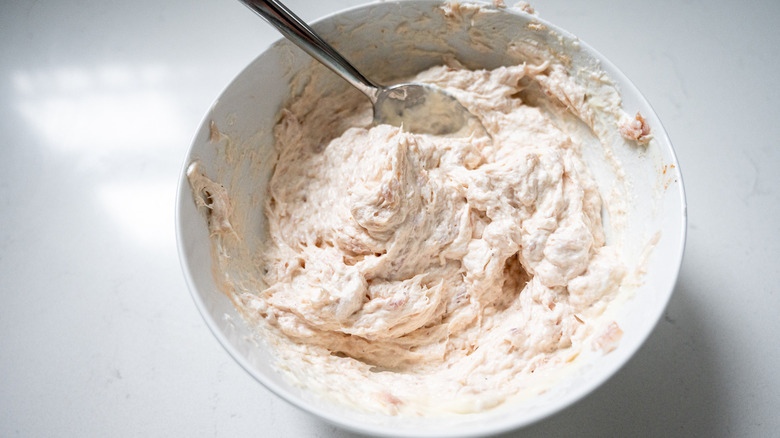 Christina Musgrave/Mashed
Finally, be sure to chill the dip in the fridge for at least 15 minutes before serving. We know you are dying to dive in and enjoy, but trust us, it's important to wait: "Refrigerating helps the flavors mesh together while ensuring the dip is cold before it's served," Musgrave says. Once the quick 15 minutes are up, get out those crackers, and enjoy. Be sure to use up any leftovers within the next 3 days.
5-Ingredient Smoked Fish Dip Recipe
If you have a tin of smoked fish hanging out in the pantry, put it to good use by making this creamy, subtly spicy dip.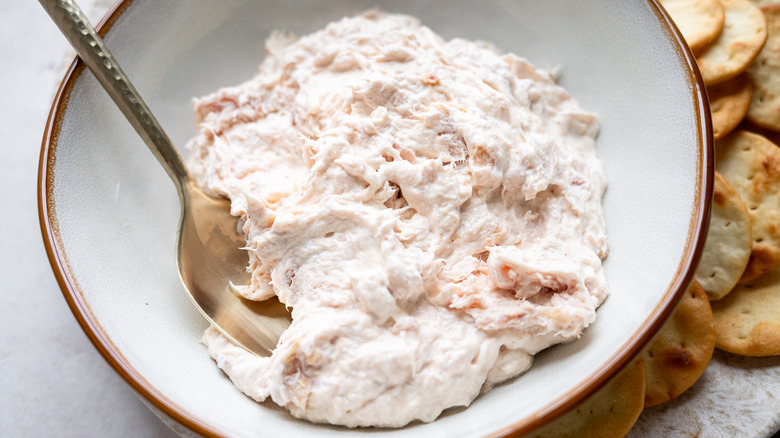 Ingredients
1 cup smoked whitefish
¼ cup sour cream
2 tablespoons mayonnaise
¼ teaspoon hot sauce
⅛ teaspoon Old Bay
Crackers, for serving
Directions
Add the whitefish to a large bowl and flake into small pieces with a fork.
Add the sour cream, mayonnaise, hot sauce, and Old Bay to the bowl, and stir well.
Let refrigerate for 15 minutes, then serve with crackers.
Nutrition
| | |
| --- | --- |
| Calories per Serving | 105 |
| Total Fat | 7.2 g |
| Saturated Fat | 1.9 g |
| Trans Fat | 0.1 g |
| Cholesterol | 15.0 mg |
| | |
| --- | --- |
| Total Carbohydrates | 3.8 g |
| Dietary Fiber | 0.1 g |
| Total Sugars | 0.8 g |
| Sodium | 307.2 mg |
| Protein | 5.9 g |