Spanish Fried Eggs Are The Savory Dish Basted In Olive Oil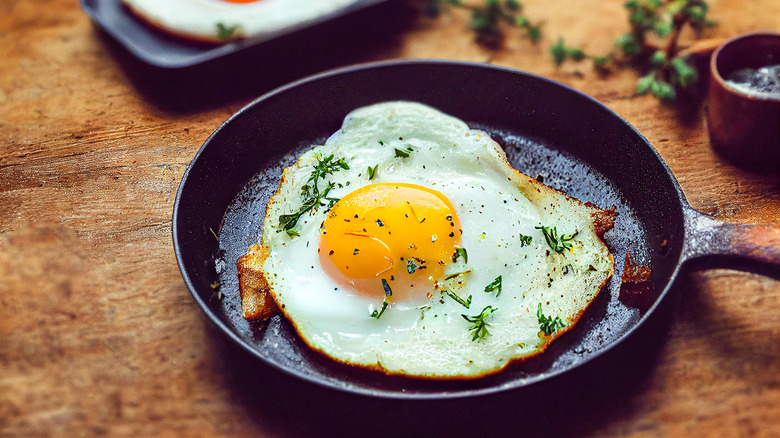 Ilya Binus/Getty Images
There are countless tips circulating the culinary world that focus on cooking the perfect eggs, whether you like them sunny-side-up, scrambled, or anything in between. For breakfast lovers, frying eggs by basting them in a generous amount of slowly heated butter is one deliciously easy way to fry them up. This egg frying method infuses them with that slightly sweet, salty richness that only butter can achieve. Drowning your eggs in butter isn't the only way to baste them. When you swap it out for olive oil, the dish you're making transforms into huevos fritos — a savory, Spanish-style fried egg that is equally as simple to make.
Eggs aren't commonly found in a typical Spanish breakfast, and are mostly spotted on breakfast menus in more tourist-centric areas. However, at lunchtime and dinner, eggs are served as part of a traditional tapas menu, in a variety of styles that feature Spanish fried eggs cooked to perfection. If you like your eggs on the crispier side, frying them in butter has the potential to burn if left sitting for too long. When using olive oil, you get those golden, lacy outer edges that crumble to bits in your mouth when you take that first bite. The key to making them just right is to quickly heat up your oil to high temperatures rather than slowly heating the pan, like you would when making butter-basted eggs.
Huevos frito method and variations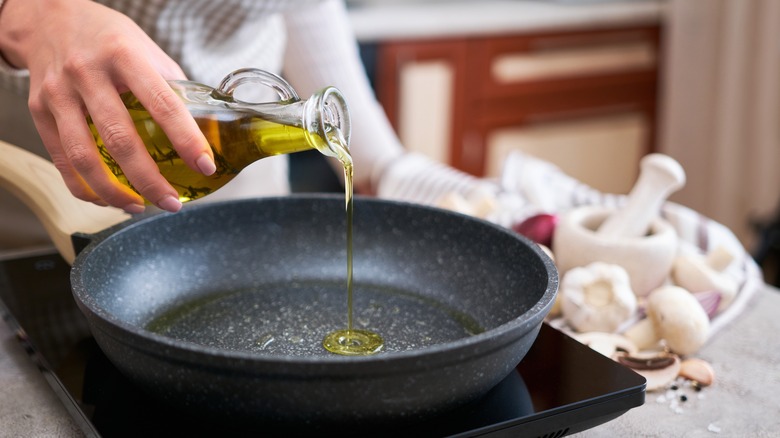 RESTOCK images/Shutterstock
It's important to use enough oil when frying eggs, especially Spanish-style ones that require at least ¼ inch of oil. This dish calls for extra virgin olive oil, fired up quickly on a medium-high heat setting. Use a good olive oil, preferably Spanish, as the fruity flavor will infuse the rest of the dish. Add the egg to the pan as the oil begins to smoke and cook for 1-2 minutes, basting them by spooning oil over the top, so you end up with a slightly-set yolk without ever flipping the egg. You'll know you're doing it right if the whites start to bubble immediately.
A light sprinkle of salt and pepper is a simple way to season the eggs, but there are lots of creative tapas dishes that call for the addition of a Spanish fried egg. You can make huevos con ajos with by adding garlic and parsley. As your huevos fritos are cooking, brown some sliced garlic in the oil for 30 seconds before spooning it over the yolk. Sprinkle with parsley and drizzle over a sauce made from garlic and parsley. To make Madrid's signature huevos rotos (broken eggs), fry up the egg but leave the yolk runny. Then slide your egg atop a pile of French fries and break the yolk so that it runs down over the fries. If you want to do as the Spanish do, then be sure to toast up some bread to enjoy on the side.