Pumpkin Spice Oreos Are Back To Sweeten Late Summer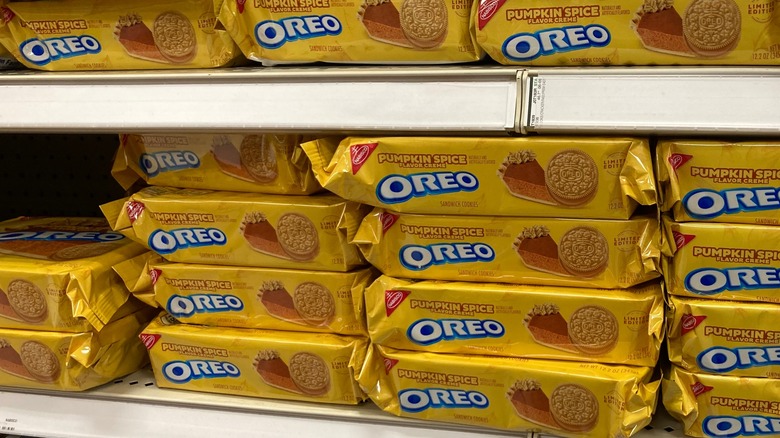 Emma'sPhotos/Shutterstock
Pumpkin Spice is back earlier than ever. While Starbuck's famous latte flavor originally debuted as an autumn offering, its immense popularity has nudged it further up the calendar and encouraged more food manufacturers to expand their products into "PSL" territory. This year, Oreo is back on the bandwagon. The company just relaunched its Pumpkin Spice Limited Edition cookies. These Oreos feature pumpkin-spice cream sandwiched between two vanilla cookies.  
The Pumpkin Spice Oreo cookie was first introduced in 2014. However, the company hasn't made them available every year. They returned to store shelves in 2017, but Oreo waited another five years before re-releasing them in August 2022. Fortunately for fans, they're here for the 2023 season, just in time to add them to the school lunches. 
Oreos are the best-selling cookie in the U.S., and according to their maker, Kraft Foods, the world. The original Oreo's sales dwarf the competition, far outselling Double Stuf Oreos and its skinny cousin, the Oreo Thin. Still, the company has found new markets by releasing limited edition and specialty flavors like Red Velvet and Peanut Butter.
Variety is the spice of life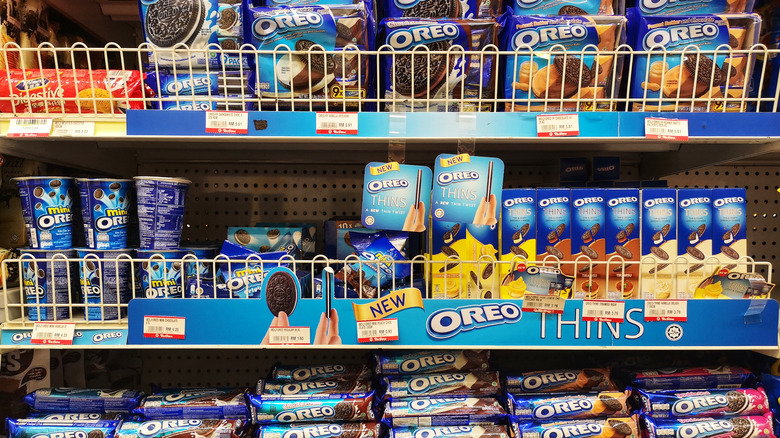 Zety Akhzar/Shutterstock
While none of the limited editions have quite the same pull as the original, they help the brand maintain a lively market presence and court customers who aren't enthusiastic about chocolate. Oreo has developed a strong social media presence over the past decade, and their Twitter post announcing the re-release of Pumpkin Spice was met by several responses from people requesting the relaunch of their favorite limited edition cookies and hopefuls suggesting new Oreo varieties.
Fresh from the patch…OREO Pumpkin Spice is back on shelves now! 🧑‍🌾 pic.twitter.com/GdTyHcxVZY

— OREO Cookie (@Oreo) August 14, 2023
Oreos especially appeal to Gen Z, which may be attributed to their great nostalgic value and the company's interest in attracting younger consumers with their special edition cookies, collaborations, and vibrant social media presence. 
One of the most surprising and quirkiest lines evoked names from the hugely popular "Game of Thrones" series and involved clever use of videos, an impressive pre-release campaign, and the opportunity for consumers to choose their preferred "GOT" house. The best part? The cookies were original Oreos with new packaging. Some things don't need to change.