One-Pan Chicken And Stuffing Casserole Recipe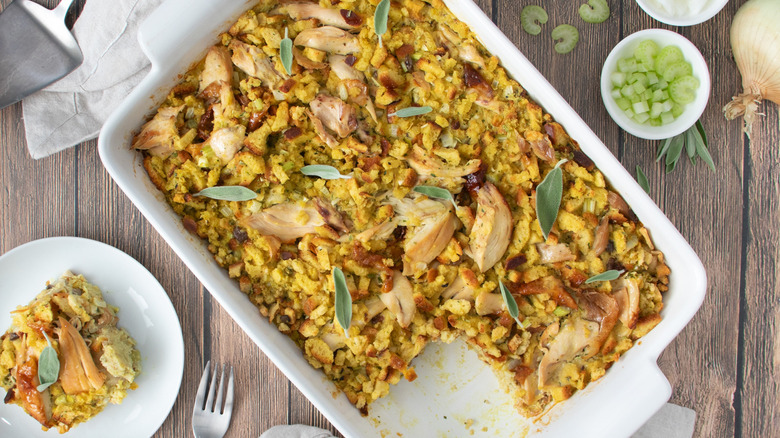 Patterson Watkins/Mashed
While stuffing is generally a side dish served with poultry, here recipe developer Patterson Watkins turns the beloved Thanksgiving staple into a "rounded-out meal." She does this by bulking up boxed stuffing mix with canned mushroom soup, milk, and sour cream and stirring cooked chicken right into the stuffing along with celery and onions. As Watkins describes her creation, "If you're looking for an improved presentation, improved flavor profile, and improved prep (with a little more meaty oomph) of the classic box stuffing, this is it." 
While this dish can stand on its own as a casserole, you could also use it to replace both the turkey and stuffing in homemade Thanksgiving leftover egg rolls, pizzas, or sandwiches. Other ideas for making use of this meaty stuffing include frying it up with eggs for breakfast, cooking it in a waffle maker, or using it to make a chickeny version of Ross' famous Moist Maker sandwich from "Friends."
Collect the ingredients for this one-pan chicken and stuffing casserole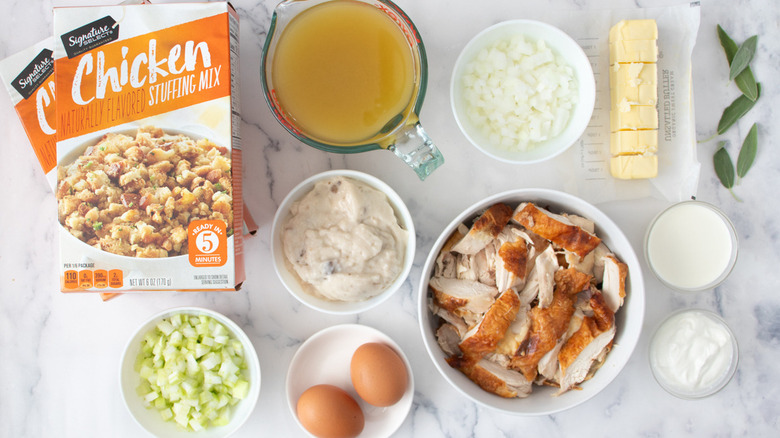 Patterson Watkins/Mashed
This casserole is made with store-bought stuffing mix and a rotisserie chicken to keep things as simple as possible. You'll also need butter, cream of mushroom soup, milk, chicken broth, eggs, and sour cream to moisten the dried mix, as well as onions and celery to add a little extra flavor and texture. Watkins also likes to use fresh sage leaves as a garnish.
Cook the vegetables in the oven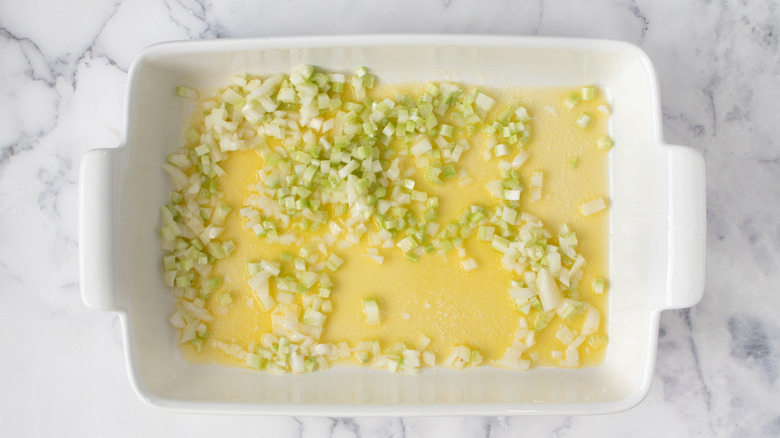 Patterson Watkins/Mashed
Preheat the oven to 375 F. As it is heating, take the stick of butter and chop it into chunks, then put these butter bits into a 9x13-inch pan. Stick the pan in the oven (it won't really matter if it has heated all the way up quite yet) and give it about 5 minutes or so to melt the butter.
When the butter has melted, put the onions and celery into the pan and stir everything up. Put the pan back in the oven (which should be 375 F by this time) and roast the vegetables for 10 minutes.
Add the rest of the ingredients, and bake the casserole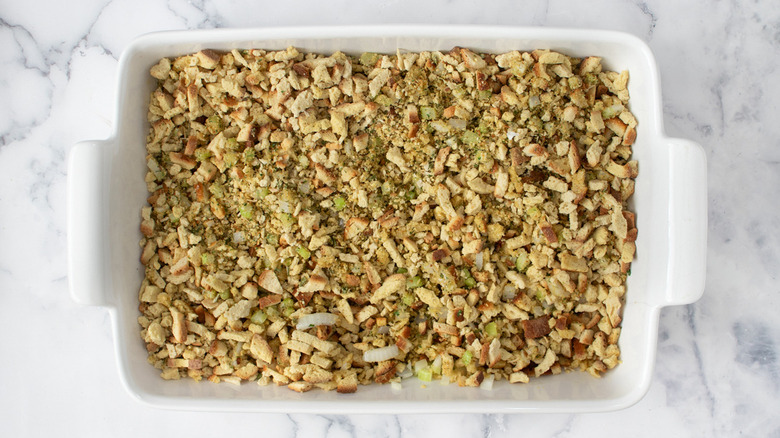 Patterson Watkins/Mashed
Open the oven and take out the pan of vegetables so you can stir in the stuffing mix. In a bowl, combine the cream of mushroom soup with the milk, broth, eggs, and sour cream, and pour this into the pan. Add the chicken, and stir everything together.
Put a piece of foil over the pan to serve as a cover, then bake the casserole for 20 minutes. Once the time is up, take off the foil, then bake the stuffing for another 20 minutes. Once the casserole is done, the top and sides will appear light brown in color. Since the dish contains eggs and dairy, "you definitely want to make sure it is thoroughly cooked," Watkins says. Her advice is to treat the stuffing like a cake, poking it in the middle to make sure it's not soggy or simply using a meat thermometer to check that the center has reached at least 160 F.
Dress the dish up with a green garnish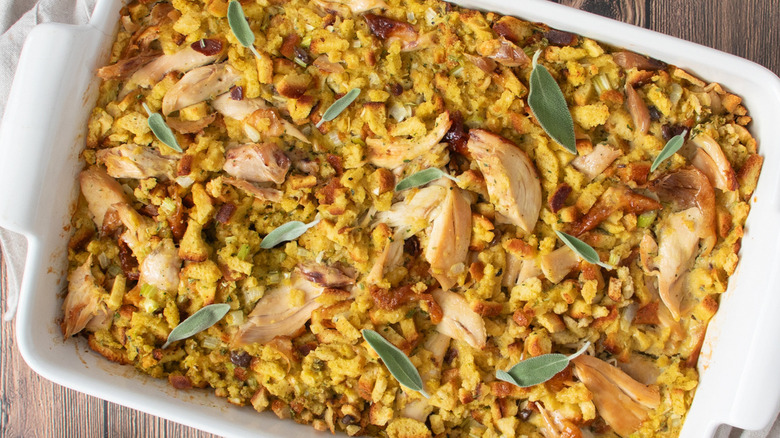 Patterson Watkins/Mashed
Once the casserole is cooked, take it out of the oven and leave it alone for 5 minutes. At this point, you can strew it with sage leaves, then scoop it up onto your plate.
Like most casseroles, this chicken and stuffing mix makes for good leftovers. Watkins notes that "reheating is a breeze" and recommends covering it with foil to re-bake at 375 F.
One-Pan Chicken And Stuffing Casserole Recipe
Dedicated to those of us who could eat stuffing for their whole meal, this recipe contains rotisserie chicken for extra oomph.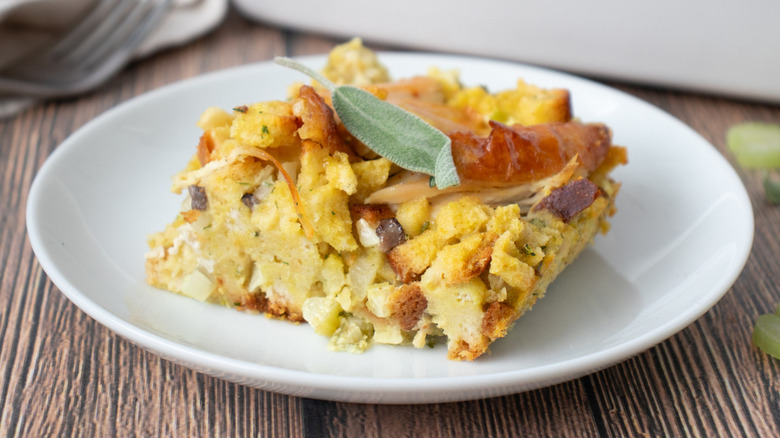 Total time: 1 hour, 5 minutes
Ingredients
½ cup (1 stick) unsalted butter, cut into 8 tablespoon-sized chunks
⅔ cup chopped onion
⅔ cup chopped celery
1 (10.5-ounce) can condensed cream of mushroom soup
¼ cup milk
2 ½ cups chicken broth
2 eggs
¼ cup sour cream
2 (6-ounce) packages stuffing mix
1 whole rotisserie chicken, deboned and cut into bite-sized pieces
6-8 fresh sage leaves
Directions
Preheat the oven to 375 F.
Melt the butter in the oven in a 9x13-inch casserole. (This should take about 5 minutes.)
Stir the onion and celery into the melted butter and cook in the oven for 10 minutes.
Meanwhile, combine the cream of mushroom soup, milk, chicken broth, eggs, and sour cream in a bowl.
Stir the stuffing mix into the cooked vegetables, then add the soup mixture and chicken pieces. Mix well.
Cover the pan with foil and bake the casserole for 20 minutes.
Remove the foil and bake for 20 more minutes, until the top and sides turn lightly brown.
Let the casserole sit at room temperature for 5 minutes before serving.
Garnish the stuffing with sage leaves, and serve.
Nutrition
| | |
| --- | --- |
| Calories per Serving | 688 |
| Total Fat | 41.3 g |
| Saturated Fat | 15.9 g |
| Trans Fat | 0.2 g |
| Cholesterol | 190.7 mg |
| | |
| --- | --- |
| Total Carbohydrates | 40.4 g |
| Dietary Fiber | 2.3 g |
| Total Sugars | 6.2 g |
| Sodium | 1,094.4 mg |
| Protein | 37.2 g |