Thanksgiving Leftover Egg Rolls Recipe
Erin Johnson/Mashed
If you attach any negative connotation to the word "leftovers," then let this recipe reset your thinking. For chef and recipe developer Erin Johnson of Probably in the Kitchen, the leftovers are arguably the best part of what is debatably the most important meal of the year: Thanksgiving Dinner. "My husband told me he's ready for Thanksgiving just as long as I make more egg rolls," Johnson jokes.
It's no joke, the taste here is amazing. It totally makes sense because these unique egg rolls bring together several of your favorite classic Thanksgiving foods, then cheese gets added, and they're fried. In other words, it's just one win after another. Sure, you should still go ahead and enjoy dinner on that fourth Thursday of November, but it's okay if you're secretly more excited for the dining options the next day. Or just plan ahead and serve some Thanksgiving leftover egg rolls right there on Turkey Day itself. It's an American holiday after all, and in America, you're free to cook and eat how, what, and when you want.
Gather your ingredients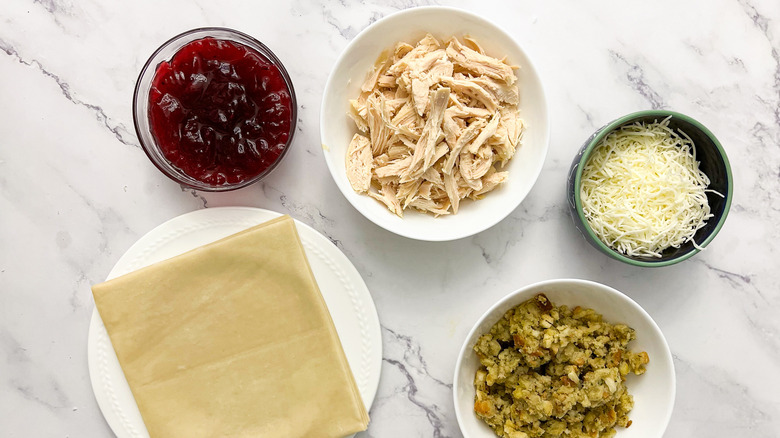 Erin Johnson/Mashed
It doesn't take many ingredients to make great egg rolls, and what's better is that based on the nature of this dish, you'll have everything on hand around the holidays. Well, maybe not the egg roll wrappers, but you can easily find those.
All told you'll need egg roll wrappers, about ½ cup of shredded mozzarella cheese, 1 cup of stuffing, 1 cup of shredded turkey, ¼ cup of cranberry sauce, and plenty of oil for frying.
Fill and roll the egg roll wrappers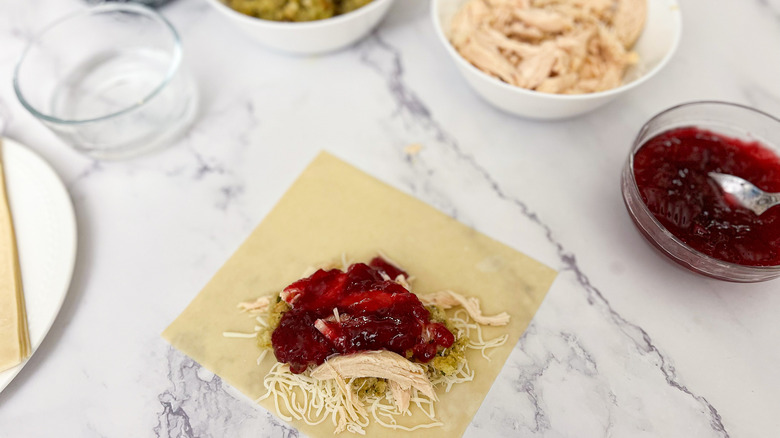 Erin Johnson/Mashed
Spread out each egg roll wrapper (or work on one at a time if space is tight in the kitchen), and then fill them as follows: First, sprinkle on a layer of cheese, then add approximately 2 tablespoons each of stuffing and turkey, and 1 teaspoon of cranberry sauce. Try to spread the ingredients out evenly.
Now roll the wrappers up following the instructions on the package — typically you will fold in the opposite corners and then carefully form a tube. Last, dip your fingers in water to seal the ends.
Fry the egg rolls in oil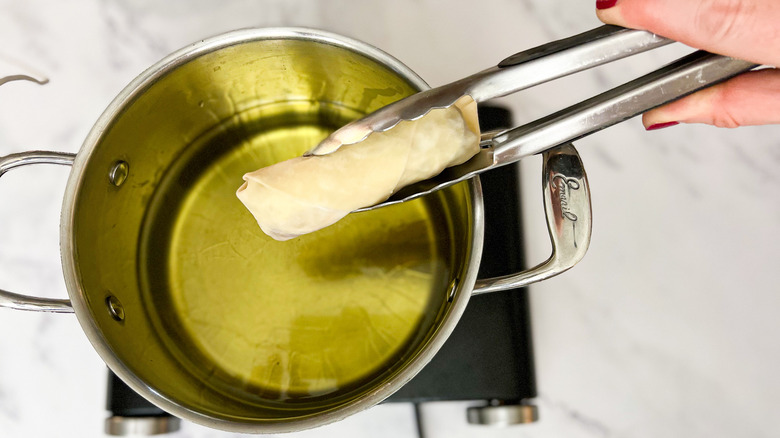 Erin Johnson/Mashed
With your egg rolls wrapped up and ready, go ahead and heat the oil. To do this, you should use a heavy pot with high sides to keep the heat even and reduce splatter. Cast iron works well, as does a thick steel pot. 
Add about 3 inches of cooking oil, then heat the oil until a food thermometer reads 320 F. Now, add the egg rolls into the hot oil and if need be, work in batches so they don't touch.
Fry the egg rolls, then enjoy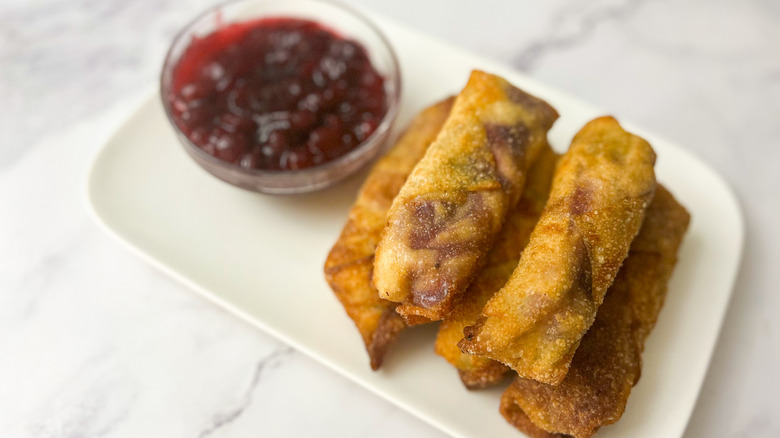 Erin Johnson/Mashed
Let the egg rolls cook in the hot oil until they are golden brown, turning them as they fry to make sure they cook evenly. Carefully retrieve the egg rolls from the oil and set them on a paper towel-lined plate to drain briefly, then serve and enjoy immediately. Ironically, these egg rolls are best fresh, not as leftovers!
Want to up the flavor even more? Johnson says: "You can serve these with cranberry sauce for dipping. I like to mix cranberry sauce and mayo for my dipping sauce, but gravy is also an awesome dip."
Thanksgiving Leftover Egg Rolls Recipe
No need to figure out what to do with your Thanksgiving leftovers thanks to this tasty egg roll recipe. Enjoy the crispy rolls with cranberry sauce or gravy.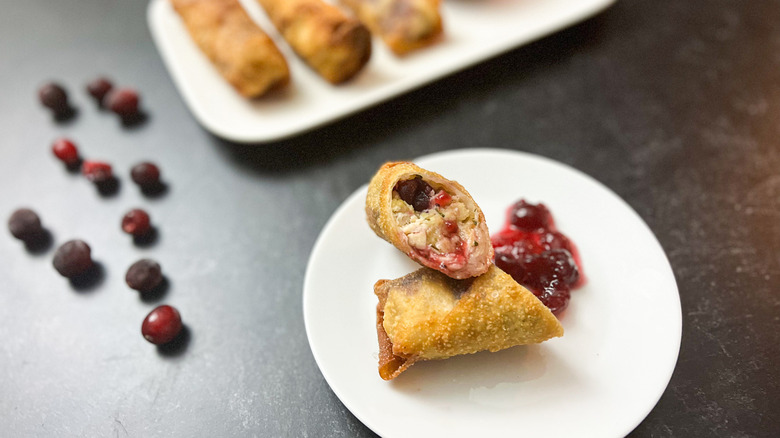 Ingredients
8 egg roll wrappers
½ cup mozzarella cheese
1 cup stuffing
1 cup shredded turkey
¼ cup cranberry sauce
oil for frying
Directions
Set out 8 egg roll wrappers.
Layer a sprinkling of cheese, approximately 2 tablespoons each of stuffing and turkey, and 1 teaspoon of cranberry sauce on each wrapper.
Roll them following the package instructions, sealing the ends with your fingers after dipping them in water.
Heat 3 inches of oil in a heavy pot until it reaches 320 F.
Add the egg rolls to the pot and fry until golden brown. (Work in batches if necessary so that they do not touch.)
Serve the rolls immediately with cranberry sauce or gravy.
Nutrition
| | |
| --- | --- |
| Calories per Serving | 359 |
| Total Fat | 22.5 g |
| Saturated Fat | 4.4 g |
| Trans Fat | 0.1 g |
| Cholesterol | 29.9 mg |
| | |
| --- | --- |
| Total Carbohydrates | 27.7 g |
| Dietary Fiber | 1.4 g |
| Total Sugars | 4.0 g |
| Sodium | 440.2 mg |
| Protein | 11.2 g |