The Best Fair Foods, According To Mashed Staff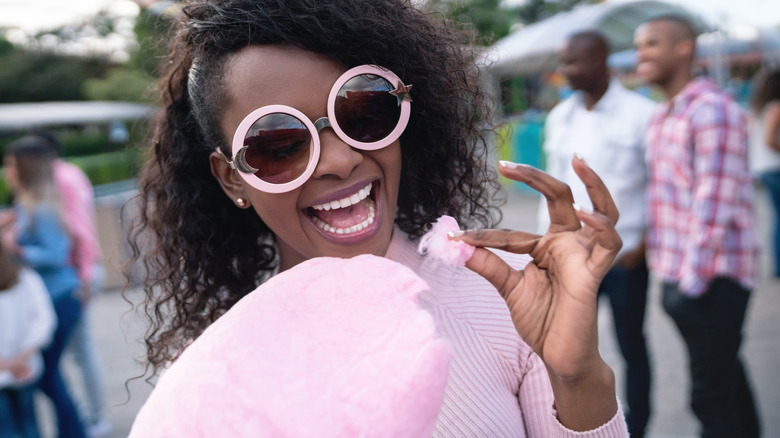 Andresr/Getty Images
From corn dogs to cotton candy and deep fried creations of all kinds, there's something almost magical about the culinary delights that await at a fair. Maybe it's the environment of spinning carnival rides and flashing bulbs everywhere you look that add to the appeal, but fair food is truly in a category its own. Fairs have been around for thousands of years, and the community gatherings have been happening around the United States on an annual basis since before the U.S. declared its independence from Great Britain.
While the food found at local county or state fair today is undoubtedly going to be different from fairs of centuries past, it's no less enticing to fair attendees. In between rides on the Ferris wheel, the Mashed staff chimed in with our favorite fair foods. Whether sweet or savory, these are the fair foods worth waiting in line for while deciding which carnival ride to check out next.
Sausage dogs with the works - Mary White
When we think of classic fair food, surely a sausage dog is one of the very first images that comes to mind. It seems that every fair has at least one vendor — probably several — offering these uniquely tasty sandwiches. Truly, no visit to a state fair (or any festival, for that matter), is complete without noshing on at least one sausage dog — preferably after you're finished with thrill rides designed to spin you around and around for the night.
Sure, sausage dogs are popular cookout items to enjoy at home, but bratwurst and kielbasa cooked on a grill at home are nothing like the oh-so-greasy, but oh-so-tasty, sausage dogs available from vendors at the fair. The ultimate fair food sausage dog is topped off with a big pile of bell peppers and onions cooked on the very same griddle (and in the same grease) where the sausage is fried, along with a generous squeeze of yellow mustard (and a fist full of napkins).
If there's a blue ribbon prize at your fair for the ultimate in classic festival fare, sausage dogs are sure to be in the running. Once you polish off a sausage dog (or two — who's counting anyway?), then it'll be time to move on to dessert. What pairs perfectly with a sausage dog at the fair? Nothing less than a funnel cake will do. Enjoy!
Lobster corn dogs - Ellie Barbee
At its core, a lobster corn dog is just what it sounds like; a big chunk of shelled crustacean meat which is skewered on a stick, battered, floured, and deep fried just like its hot dog or sausage-based counterpart. Throw some seasonings like salt and pepper, garlic, onion powder, or paprika into the mix, and you've got a unique and oddly satisfying seafood-forward take on the classic fair dish. Paired with onion rings, corn fritters, coleslaw, or fries, a savory, memorable meal which will make standing in line for the ferris wheel much more bearable is born.
While more often found at the fairs of states which border the coasts and have the greatest access to fresh seafood, such as Oregon or California, some central and landlocked states have begun to catch on to the greatness of deep fried lobster, as well. In Texas, for example, the corn dog twist is set to make an appearance on September 24 of this year at the State Fair of Texas. The difference? The Lone Star State will be putting its own, additional spin on the dish, breading lobster cakes instead of fresh chunks before frying them to perfection. Another take on an already established corn dog take? We're here for it.
Loaded baked potato - Becki Robbins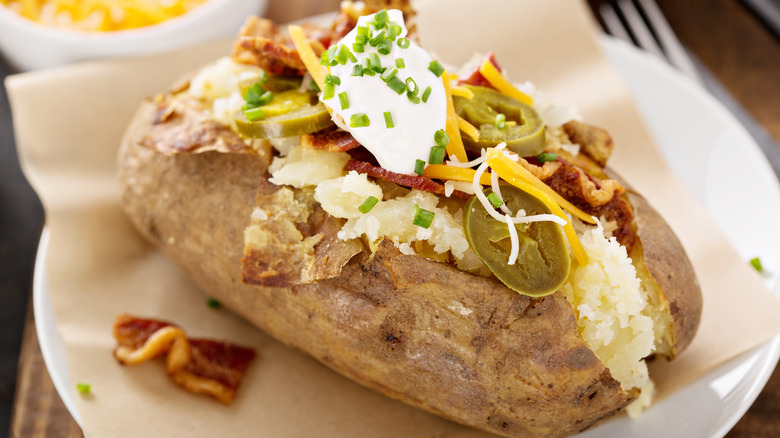 Elena Veselova/Shutterstock
Forget the deep-fried Oreos, hush-puppies, and funnel cakes. The best fair food you can buy is a baked potato, and not for the reasons you think.
Imagine walking around the fairgrounds in triple-digit temperatures with four kids, and one of them discovers that he's now tall enough to ride the Zipper. The last thing you want his stomach to be full of is deep-fried Oreos and corndogs. The best possible thing you could put inside that kid is a mostly-bland baked potato, easy on the sour cream and bacon. His fellow Zipper-riders, the carnies who are unfortunate enough to be on barf-detail, and everyone standing in the spray zone will thank you.
Baked potatoes are not just great for vomit prevention, they are also delicious. Unless you're also going to ride the Zipper, feel free to order yours "loaded" with heaps of sour cream, butter, bacon bits, and green onions. Your fair's baked potato booth might even serve a loaded baked potato loaded with other great stuff, like barbecue brisket, pulled pork, pickled jalapenos, or mac-n-cheese. These are not super great additions for your Tilt-o-Whirl-riding offspring, but they are tasty and filling options for you. If you can finish a whole loaded baked potato with all the fixin's, you may even be capable of turning down those heartburn-inducing, calorie-filled fried Oreos and/or funnel cakes, though no one is saying that loaded baked potatoes are diet food.
Corn dogs - Brian Boone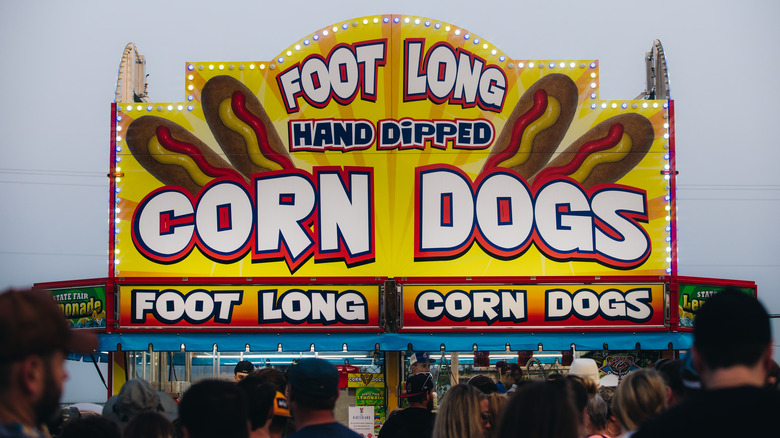 Rich Fury/Getty Images
Somehow, some intrepid inventor with access to a vat of hot oil, found a way to turn something already wonderful — the hot dog — and make it even better. The corn dog is really quite a simple dish: it's a wiener, slathered in seasoned, sweetened, and airy corn meal, deep fried until it's an appetizing shade of brown, and served on a stick to allow for safe and easy munching on the go. It can and is offered virtually everywhere, but it's uniquely suited to the fair. The corn dog stays warm on the inside and crispy on the outside for a good long while as the individual who paid a relatively small amount of money wanders the fairgrounds, gaping at livestock and prize-winning tomatoes and queueing up for thrill rides, munching away.
It's got all the meaty, savory, salty goodness of a hot dog, and all the sweetness and wholesome corniness of a fritter, too. The corn dog elevates every ingredient, and it's greater than the sum of its parts. A little squiggle of ketchup and/or mustard adds some extra flavor and visual stimulus, too, making for the quintessential fun, fair food. The state fair is also the location most likely to serve gigantic, or foot-long corn dogs, adding to the embarrassment of riches.
Smoked turkey leg - Adam Swierk
I've always been partial to fair foods that won't slow me down while meandering around the grounds. So while I can certainly understand the appeal of the many excessively rich — and often cloyingly sweet — foods found at fairs, well ... my body's reaction to ingesting, say, deep-fried Oreos or Twinkies makes me prefer something more amenable to an active, on-the-go activity (like going to the fair). Hence, when I take a trip to the fair (or an amusement park), nothing can top the carnivorous glory that is a smoked turkey leg.
Is anything more American than devouring a Flintstones-sized piece of poultry — with your bare hands – while taking in over-the-top festivities among a sea of fellow fair-goers? I think not. Add in the fact that a smoked turkey leg is neither deep-fried nor sugar-soaked, and its preeminence among fair foods becomes all the more apparent (at least from where I'm sitting).
Thanks to the wonders of the world wide web, you don't need to wait until your next trip to King Richard's Faire to indulge in a smoked turkey leg. Of course, it's just not the same sans the magical, festive-like atmosphere, or elbow-to-elbow crowds — meaning I'll choose to wait patiently for my next chance to wrap a hand around this caveman-approved delight.
Fried Oreos - Kenan Dudley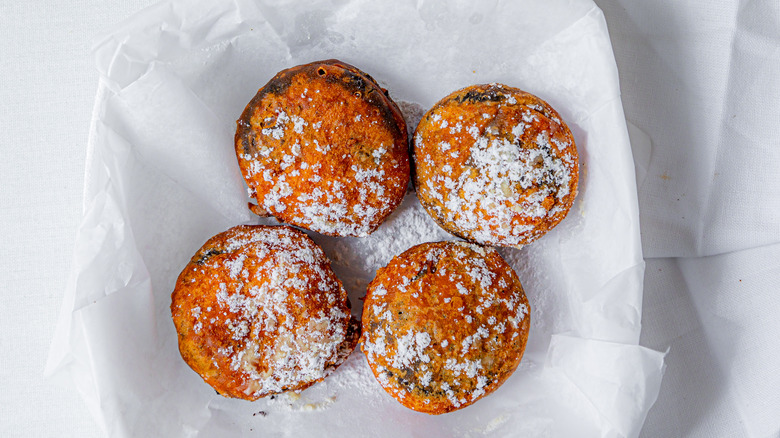 Fdastudillo/Getty Images
When I was young, I used to make Oreo sandwiches by squishing the accidentally vegan treat between two Lays chips for a sweet and salty dessert. The flavor profile was enticing, but it left something on the table. The first time I tried a fried Oreo at Saluda, North Carolina's Coon Dog Day in 2006, I knew what it felt like for a dream to come true. Combining simple Oreos, a pancake-esque batter, and a healthy amount of hot oil creates an entirely new dessert whose gooey crunch is indescribable to the uninitiated. Ever since that fateful day, you only needed two words to convince me a fair is worth the price of admission. If fried Oreos were on the marquee, I was there.
Fried ice cream, butter, and Twinkies are pretty good. I'll absolutely try them once for the sake of it. But nothing has pushed the fried dessert world further than this classic. When August turns to September, I don't think of pumpkin spice. I dream of fried Oreos. They're the ultimate fair food, devoid of anything remotely healthy but also nothing short of incredible. Easy enough to eat with one hand while you're meandering a crowd and checking out the world's largest watermelon and perfect for sharing. Delicious and satisfying, but without filling up your belly too much for the Gravitron. Without fried Oreos, I'd call it an unfair.
Cotton candy - Kirstie Renae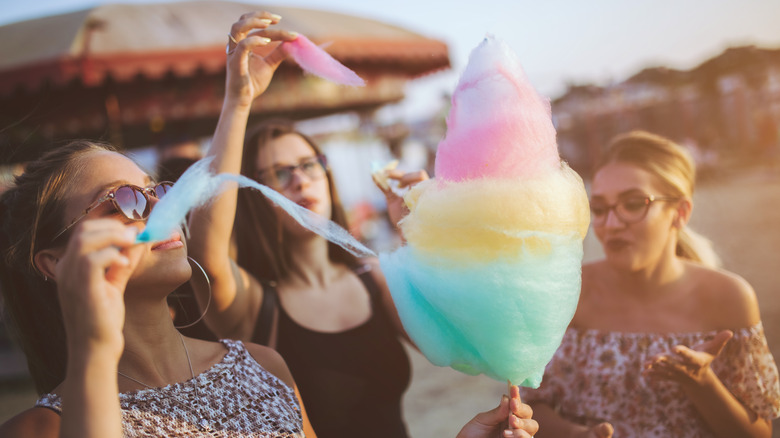 Urbazon/Getty Images
Is there a more iconic fair food than cotton candy? We don't think so. Made of a single sweet ingredient — sugar — this soft-spun candy treat is everything you want in carnival fare. It's portable, so you can easily go from booths for classic fairground games to rides like a spinning carousel, all while enjoying your sweet snack. It's easy (and relatively mess-free) to eat, making it perfect for kids of all ages. It comes in a variety of flavors and colors, so your treat can match whatever mood you're in. It's lightweight, so it won't take up too much valuable tummy space, ensuring you can enjoy more delicious foods like corn dogs and fried Oreos. Most of all, cotton candy is just delicious.
Cotton candy has been around for generations, making it a nostalgic must-have for any festival or event. Simply take a lick or a bite of the soft, pillowy cotton sugar and let it melt in your mouth. The instant texture change of cotton candy is almost has hard to resist as the pastel colors it comes in, whether you're a child or a full-grown adult.
Tornado potatoes - Crysta Coburn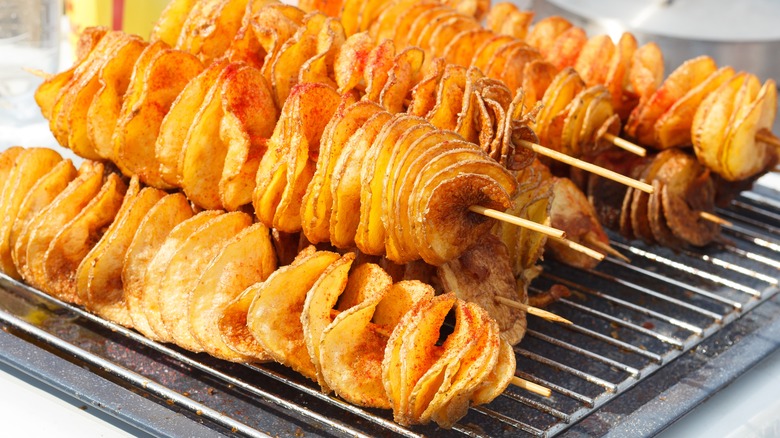 29lara/Shutterstock
Tornado potatoes have many names — butterfly potatoes, chips on a stick, wavy chips, and more. No matter what you call them, they are delightful and delicious. Invented as a way to use smaller sized potatoes in South Korea, these spiral cut spuds have started to catch on around the world. Impressively, the thickness of each spiral is only about one tenth of an inch (or 2.8 millimeters).
A special device is used to cut them so thin while maintaining the spiral shape. Once sliced, the potato is speared with a stick and spread out along the stick so that each spiral is exposed as the potato deep-fries. After cooking, various seasonings can be sprinkled over the spirals, which can be eaten from the stick or, as I first had it during a street festival outside Detroit, removed from the stick and put into a bowl. Either technique makes tornado potatoes an ideal carnival food and a terrific break from other, more sugary fair foods.
Funnel cakes - Jennifer Goldsmith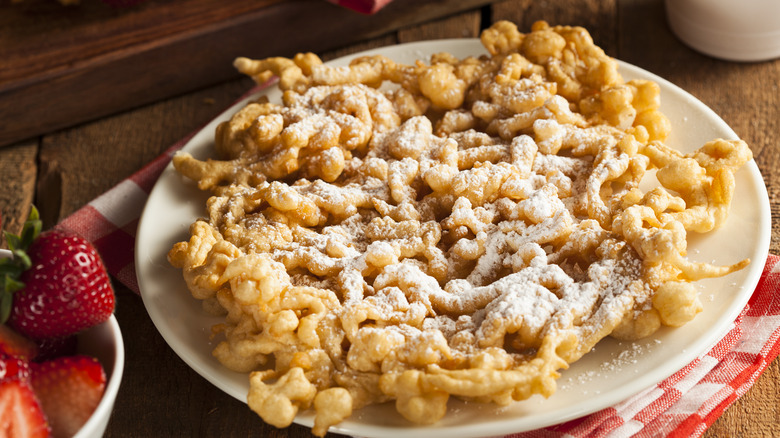 Bhofack2/Getty Images
When it comes to fairground foods, nothing is quite as iconic as a deep fried, sugary funnel cake. This lattice of fried dough dates back to the early 19th century in Pennsylvania, where German immigrants would munch on this mouthwatering treat for breakfast or as a mid-morning meal. It wasn't until 1950 when this feast of dough layered in powdered sugar became a fairground institution at the inaugural Folk Festival in Kutztown, Pennsylvania. Held in honor and support of the Pennsylvania Dutch culture and history, the Folk Festival served up funnel cakes for 25 cents per cake.
The name for this deep fried fairground delicacy comes from the technique used to make the interlocking strands of dough that are crispy on the outside, with a warm and gooey center. Most funnel cake recipes start with a pancake-like batter made up of flour, baking powder, eggs, salt and milk, which is poured into high-temperature oil through a funnel in a figure eight pattern until it rises to the surface of the liquid and sticks together. You'll numerous toppings to smother on top of their funnel cake at most fairs, like strawberry preserves, caramel sauce, chocolate fudge, or whipped cream, but the only true Pennsylvania Dutch topping is confectioners sugar.
Cheddar nuggets - Jenny Kellerhals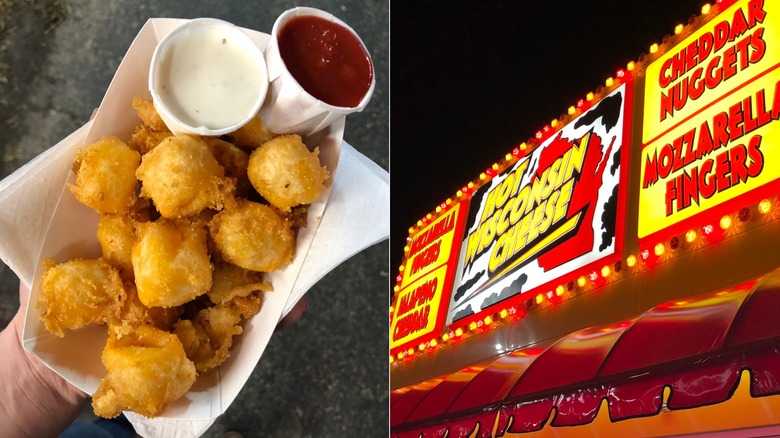 Jenny Kellerhals/Mashed
There isn't really a scenario where I'd turn down the opportunity to eat fried cheese, but by the end of October in Charleston, it's finally cool enough to walk around outside at the Coastal Carolina Fair and actually enjoy it. Located about 20 miles outside of historic Charleston in Ladson, South Carolina, the Coastal Carolina Fair has been a fall tradition in my family since before I was born. Growing up, I was far too awestruck by the tents full of goats, pigs, horses, and cows to care about fair food — especially when there were so many funhouses to run through, exotic rabbits to pet, and pig races to cheer on. But these days, I'll pass on the funhouses to squeeze in some deep-fried treats, before attempting to win a giant stuffed Pikachu at a midway water gun race.
And if at all possible, I will stop at every single fried cheese booth I can find — especially the Hot Wisconson Cheese stand that sells Cheddar Nuggets along with Mozzarella "Fingers," and Jalapeños Cheddar. All of the cheese options are fried to order, coming out lava-hot with two dipping sauces (ranch and pizza sauce) to round out the whole experience. The batter on the Cheddar Nuggets is more delicate than the breadcrumb crust on typical mozzarella sticks, making for a shattering crunch that just barely contains the salty and gooey cheddar cheese inside. Make sure to grab extra napkins and wash it all down with a super-sweet rainbow slushy ... for balance.