Deep-Fried Oreos Are A Relatively New Invention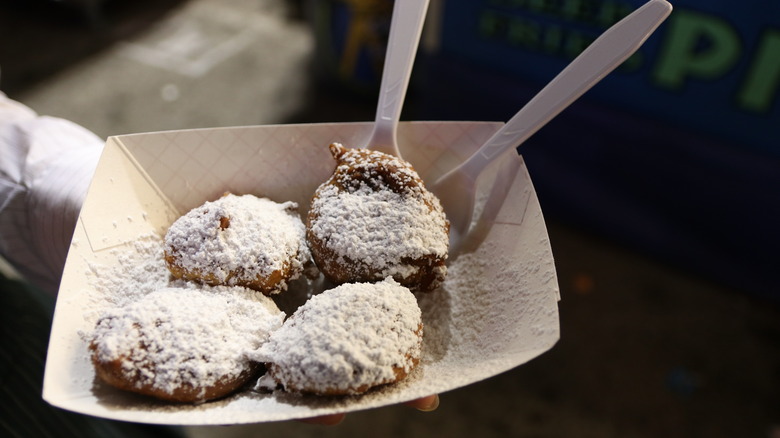 minzzihyun/Shutterstock
County fairs are synonymous with deep-fried foods, offering a welcome chance to ditch the diet for a day and surrender to your inner glutton. Some fair mainstays such as funnel cakes are believed to date back centuries, albeit in slightly different versions, but others like deep-fried Oreos are relative newcomers on the festival scene.
Depending on what you read or who you talk to, deep-fried Oreos were either invented in the mid-1990s or the early 2000s. Many, including Forbes, credit Charlie Boghosian, aka "Chicken Charlie," with creating the deep-fried snack. Boghosian reportedly got the idea for deep-frying Oreos in 2002. He decided to dunk an Oreo not in milk but in pancake batter. He told Forbes, "To get the customers' attention, I invented deep-fried Oreos. I had no idea what I did at the time until the media kept asking me what is next!"
However, Boghosian's claim to the carnival food's origins is contested. There are competing claims to the deep-fried Oreo throne, as two other individuals have proclaimed that it was they who first devised this decadent indulgence
From radio gimmick to fair staple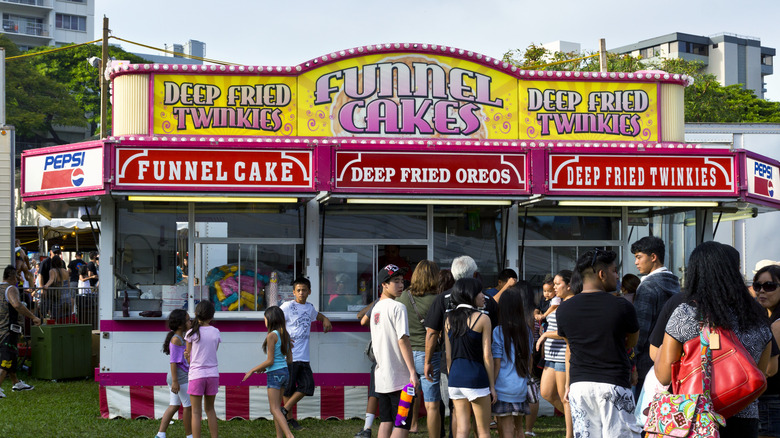 cleanfotos/Shutterstock
Another person linked to the possible creation of deep-fried Oreos is Terrence Neuzil, a former radio DJ in Johnson County, Iowa. In an interview with the Iowa City Press-Citizen, Neuzil claims that he and his radio show co-host invented the treat in 1995, several years before Chicken Charlie. According to Neuzil, the two decided to experiment with deep-frying a hodgepodge of foods and sampling them on air. They planned to serve the best-tasting items at the Johnson County Fair. 
Deep-fried Oreos were one of the foods to make the cut, and according to Neuzil, it became a huge hit at the fair. They eventually gave other fair vendors permission to run with the concept, and as the story goes, it began appearing at the state fair by the early 2000s. However, there's yet another person who claims ownership of the food. 
In a 2008 interview with the Calgary Herald, George Barnard, treat trailer manager of Jack's Fries in Florida, declared that he invented the deep-fried Oreo while tinkering around at a county fair in the mid-1990s. He dropped them in batter, fried them, and topped them with powdered sugar. Regardless of who may have actually made them first, deep-fried Oreos haven't been around very long. There are different vendors debuting their own recipes at fairs all the time. They remain a fan favorite with kids and adults alike, so this is one confection that appears not to be a flash in the fryer.