Chick-Fil-A Caramel Crumble Milkshake Review: A Frosty Treat With Appeal Reaching Beyond The Fall Season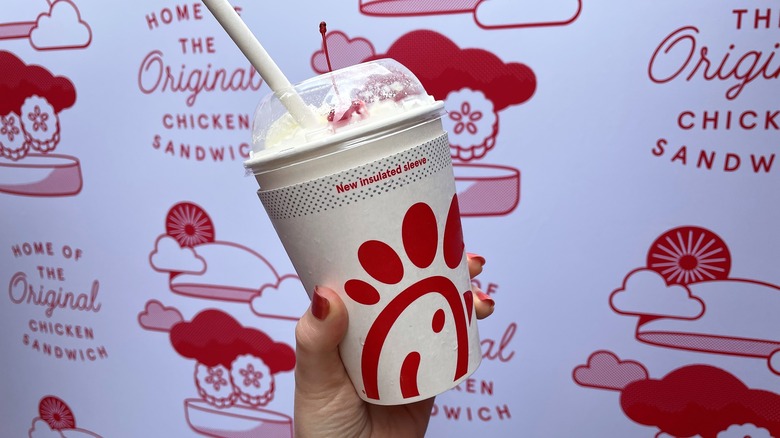 Jenny Kellerhals/Mashed
Earlier this week, Chick-fil-A announced that it would be releasing two new menu items for the fall season, including a brand-new twist on the company's iconic fried chicken sandwich — the Honey Pepper Pimento Chicken Sandwich — and the new Caramel Crumble milkshake. Both the sandwich and the milkshake spent several years in development, making their respective releases especially exciting for Chick-fil-A fans.
The Caramel Crumble milkshake made a brief appearance in the spring of 2021 in restaurants throughout the Salt Lake City area where Chick-fil-A reportedly sells more milkshakes than anywhere else in the country. In 2020 alone, Salt Lake City restaurants sold more than 1.5 million milkshakes. So, when the company decided to test the new milkshake flavor (which was called the Butterscotch Crumble milkshake at the time), that's where it went for feedback.
We were invited to try both the new sandwich and milkshake before they make it to stores later this month and got the scoop on everything you can expect from the new Caramel Crumble milkshake.
What's in the new Caramel Crumble milkshake?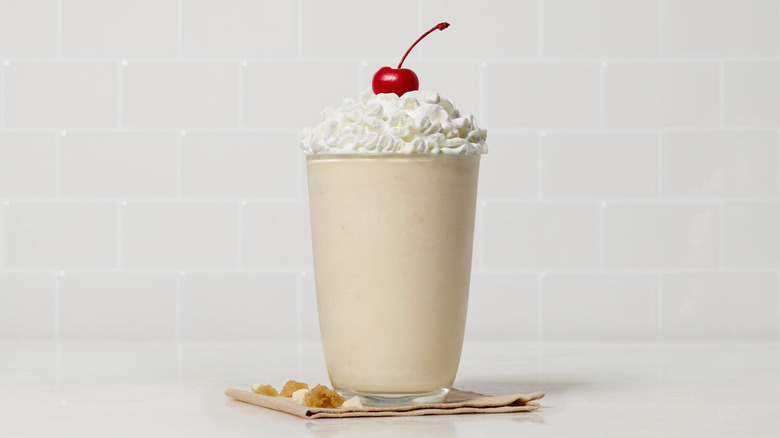 Chick-fil-A
Like the rest of the Chick-fil-A milkshakes, the Caramel Crumble milkshake is made with the restaurant's signature Icedream soft serve as the base. From there, it's blended with caramel, and pieces of crunchy blondie crumbles and white chocolate confectionery pieces are added to the shake. You can have your milkshake topped with whipped cream and a maraschino cherry if ordered in the store or through the drive-thru, but toppings typically aren't included on delivery milkshake orders. Online menus also list the option to add strawberry syrup and chocolate cookie crumbles to shake orders, although we're not entirely sure they're necessary with the Caramel Crumble milkshake flavor.
Since the milkshake hasn't officially been released as of this writing, the nutrition information for it isn't available yet. But from looking at the shakes that Chick-fil-A currently offers, we're estimating that the Caramel Crumble milkshake will likely have around 600 calories or more per shake. That estimate is based on the 630 calories in the Cookies & Cream milkshake, which also has crunchy cookie bits in it, similar to the blondie bits in the new milkshake.
When and where you'll be able to order the seasonal milkshake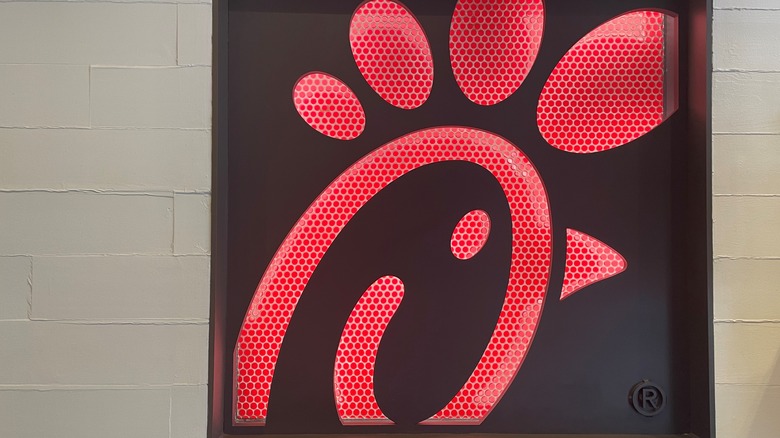 Jenny Kellerhals/Mashed
Mark your calendar for Monday, August 28th, which is the day the two new fall menu items will be released at Chick-fil-A restaurants across the country. Until then, the wildly popular peach milkshake is slated to be on the menu until August 26th. Both the Honey Pepper Pimento chicken sandwich and the Caramel Crumble milkshake will only be available for a limited time in the fall — about 11 weeks. At that point, both menu items will likely come off the menu to make way for holiday or winter offerings in November.
With that said, don't wait till the last minute to get your hands on this limited-edition milkshake if it's something you're excited to try. Chick-fil-A representatives have told us that availability will depend largely on demand, and if the drink is especially popular in your area, it may run out before the 11-week menu is officially over. Milkshake prices vary by location, but we expect the price of the Caramel Crumble milkshake to start around $4.95 before taxes and increase from there.
What other milkshake options does Chick-fil-A offer?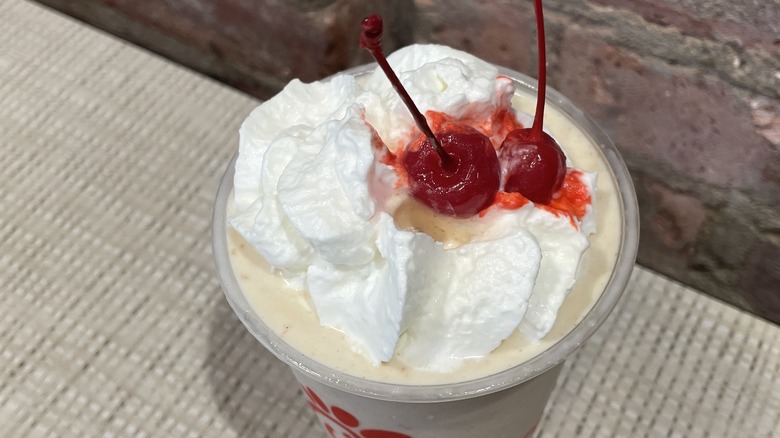 Jenny Kellerhals/Mashed
Chick-fil-A introduced milkshakes to the menu in 2006, which has seen a revolving cast of seven seasonal flavors and four permanent flavors on the menu. The regular menu flavors are exactly what you'd expect them to be: Vanilla, chocolate, strawberry, and cookies and cream. According to Chick-fil-A, the Cookies & Cream Milkshake is the second most popular treat the restaurant chain sells, coming in just behind its Chocolate Chunk Cookies. The Chocolate milkshake is also a popular choice for an indulgent treat any time of year.
If you have time to drop in (or drive-thru) your local Chick-fil-A between now and August 26th, we'd absolutely suggest grabbing a peach milkshake before it comes off the menu until next summer. But if a whole milkshake seems like a little much, consider just grabbing a cup or cone of Chick-fil-A's vanilla-flavored Icedream soft serve dessert. The Icedream is also one of the most popular items on the Chick-fil-A menu, and only has about 140 to 180 calories per serving.
Our verdict: A creamy and smooth caramel flavor that's fit for any season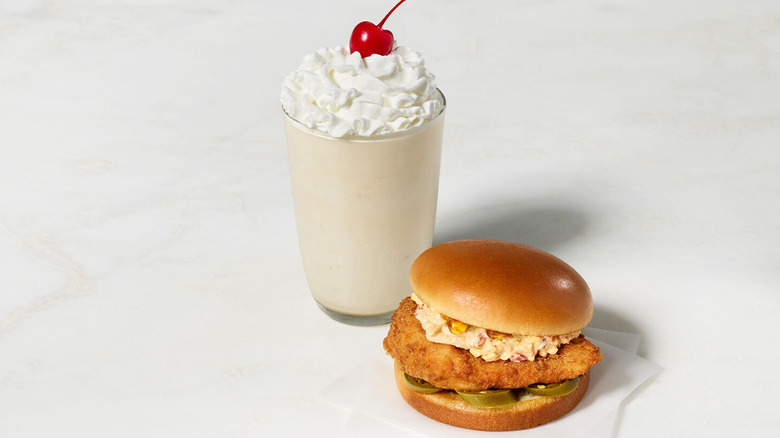 Chick-fil-A
We'd never turn down a chance to enjoy a Chick-fil-A milkshake, no matter what time of year it is, but since this year's fall flavor went in a different direction than last year's Autumn Spice milkshake, we were especially excited to try something new. The Caramel Crumble milkshake succeeds in being creamy, and the toastiness of the caramel flavor is clear, but not overpowering. We were initially wondering how large the blondie bits mixed into the milkshake would be, but we didn't have any issues with them clogging up the straw while we were drinking the shake. Each of the buttery, crunchy pieces that came through without fail. Surprisingly, none of the crunchy bits got soggy in the shake, even after we took our time to enjoy it at our own pace.
Since the beverage is already quite creamy, the whipped cream on top seems a little redundant, but it doesn't detract from the overall experience. Caramel lovers should find that the Caramel Crumble flavor is particularly lovely, and we can see enjoying it any time of year, not just in the fall. Not that we need another pumpkin spice or apple drink to mark the season, but there doesn't seem to be anything about this drink that's specifically fall-themed. Either way, we're still going to drink it since it's still brutally hot outside most days and we're not entirely ready to give up on summer yet, anyway.