Oreo Kicks Off Spooky Season Ridiculously Early With Returning BOO Cookies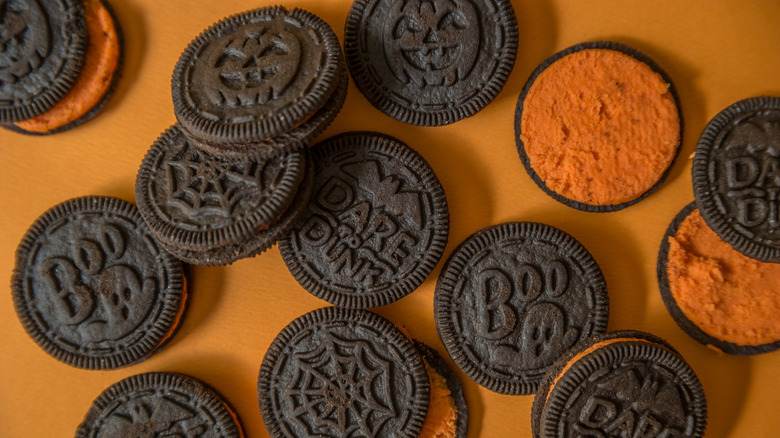 Sandra Burm/Shutterstock
It may not feel like it quite yet, but fall is approaching fast. Fall brings plenty of exciting seasonal fun, and snacks play no small role in these events. Cooler temperatures usher in the right vibes for pumpkin-spice-flavored everything and highlight festive versions of our favorite year-round snacks. Folks can now make their sweet tooth happy with something a little spooky, since a Halloween-themed Oreo is already here — way ahead of the season's usual schedule. 
Last year's Oreo Boo! cookies have officially returned. If you didn't get a chance to try the limited-edition cookie previously, it's important to note these festive treats don't taste too different from the Oreos that everyone knows and loves. Instead, the seasonal appeal of Oreo Boo! comes from its orange-colored creme and patterned cookies. These cookies have a festive look and classic taste intended to deliver a dose of nostalgia with a spooky, scary twist.
Oreo Boo! is back and ready for a festive fall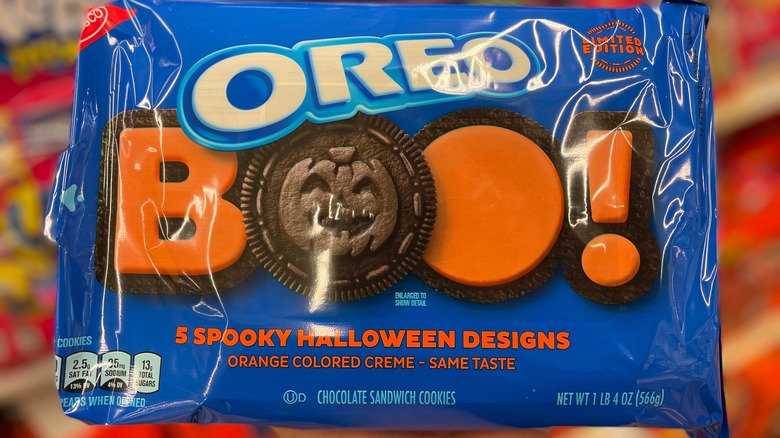 Billy F Blume Jr/Shutterstock
By releasing the cookies early, the brand is probably attempting to get ahead of the Halloween treat rush. On August 17, Oreo's Twitter account posted playful photos of folks in ghost costumes and sunglasses enjoying classic summertime activities while posing with their packs of Oreo Boo! cookies. The caption reads, "Ghost confirmed: OREO BOO! is back on shelves...Halloween starts now!"
Ghost confirmed: OREO BOO! is back on shelves...Halloween starts now! 👻 pic.twitter.com/5ii67bcem5

— OREO Cookie (@Oreo) August 17, 2023
The colorful cookies feature various designs, including cobwebs, ghosts, bats, pumpkins, the phrase "dare to dunk," and, of course, "boo." For anyone looking for a fall flavor profile or something that sets the cookies apart from the original in any way other than aesthetics, these seasonal Oreos don't offer much. Still, some people seemed to be fans last year; one Influenster review says, "These are the best. The flavor and texture is better [than] the original. Even when you take them out of the packaging it's a good decorative food." Another reviewer wrote something similar, although they confessed not comprehending why Oreo Boo!s seemed to taste better than original Oreos, considering they're essentially the same cookies. It says "Same Taste" right there on the package. Maybe there's something about Halloween food that triggers a subconscious response and enhances the reactions in human taste buds?   
While Oreo's aesthetically spooky cookie is back for fall 2023, there's been no word about its other fall-flavored cookies from years past. While the brand has offered a pumpkin spice variety before, it's unclear whether it will also be returning. Luckily, there's still plenty of time before fall really begins.