Krispy Kreme's Strawberry Glazed Donuts Are Making A Delicious Return
While some of its competition like Dunkin' has already turned to autumn and everything pumpkin spice, Krispy Kreme is closing out the summer with one last celebration of the season. And, to do so, the popular donut chain is bringing back a seasonal favorite for another hurrah, or as they describe it, one "perfect last bite of summer" (via Buisinesswire). 
To the delight of many, strawberry-glazed donuts are back on the menu. However, similar to McDonald's and the McRib, these donuts are sticking around for only a short time. In fact, Krispy Kreme may be taking limited to the extreme, selling the donuts for just a single extended weekend. Strawberry glazed donuts will be available nationwide from September 1 to September 4. You can't wear white after Labor Day, and apparently, you can't have strawberry-glazed donuts either. 
The donuts will be making their grand return after skipping out on 2022 altogether. Krispy Kreme first introduced the donuts for a limited time in 2020 before bringing them back for a second helping the following year. They're obviously popular enough to make a third, if brief, return to menus, so some customers may be wondering why they can't have strawberry-glazed donuts year around. After all, original glazed and chocolate glazed have permanent places on the menu. So why not their pink counterpart?
An eventful weekend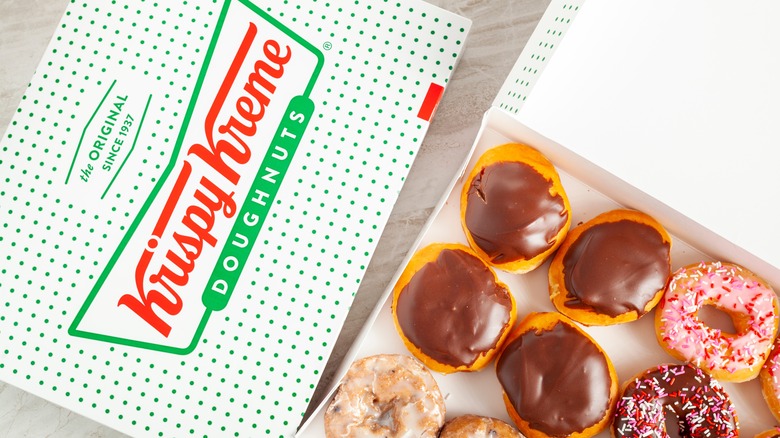 grandbrothers/Shutterstock
Krispy Kreme hasn't given an official reason why it's yet to make strawberry glazed a permanent menu item, but restaurants often have limited-time offerings to both cut down on production costs and to bolster enthusiasm for their brand. Nothing quite draws customers in like the sense of urgency of getting a food item before it disappears — they're driven by something psychologists call anticipatory regret. For that reason, Krispy Kreme seems to be staging a can't-miss event around Labor Day, the official end of summer and a time when people will be eager to hold onto their last memories of summer — and what a Barbie-pink summer this has been! 
But it turns out Barbie wasn't the inspiration for this comeback, but rather a new strawberry glaze lip treatment introduced by Hailey Bieber's skincare brand Rhode. The lip treatment is also getting a limited edition run and was announced on Rhode's Instagram as a celebration of Krispy Kreme's sweet donut-shaped take on the flavor.
The summery pink donuts will be available at participating Krispy Kreme stores and for online ordering. While we can lament only having a single weekend with the strawberry-themed donuts, fans can instead celebrate that their favorite donuts are returning at all. And if you find yourself craving some strawberry summer memories after labor day, Krispy Kreme will still offer its cheerful strawberry iced doughnut with rainbow sprinkles.