Dunkin' Is Bringing Back A Slew Of Pumpkin And Maple Fan Favorites This Fall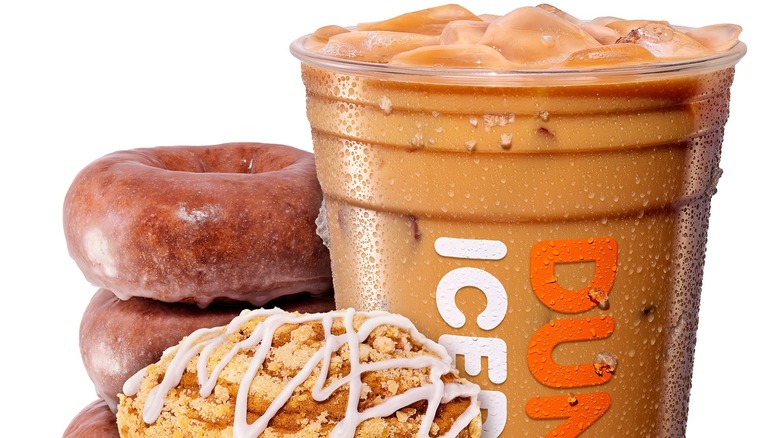 Dunkin'
Even though it's August, autumn is in the air. Well, at least, it is for Dunkin' customers. The popular coffee and donut chain announced its fall menu, which launches nationally on August 16. At this point, coffee aficionados should know what to expect when it comes to the colder months. That's right — plenty of pumpkin spice! This year, Dunkin' is pumping up the pumpkin themes with multiple drinks and snacks centered around the fall flavor.
Dunkin' is bringing back its Pumpkin Spice Signature Latte, which is available both hot and iced. The drink is Dunkin's take on the popular pumpkin spiced latte (created by Starbucks in 2003) and has been popular with customers since its revamped introduction in 2020. The drink combines pumpkin, expresso, caramel, and cinnamon sugar. However, you may want to limit how many you order in a single day, according to one registered dietitian.
Pumpkin Spice Signature Latte isn't the only pumpkin-themed drink that Dunkin' is bringing back. The restaurant is also bringing back Nutty Pumpkin Coffee, which is also available in hot or iced options. The drink proved successful enough after its 2022 introduction for Dunkin' to bring it back to the menu this year. Nutty Pumpkin Coffee features hazelnut flavoring without caramel or cinnamon sugar. 
Pumpkin flavored snacks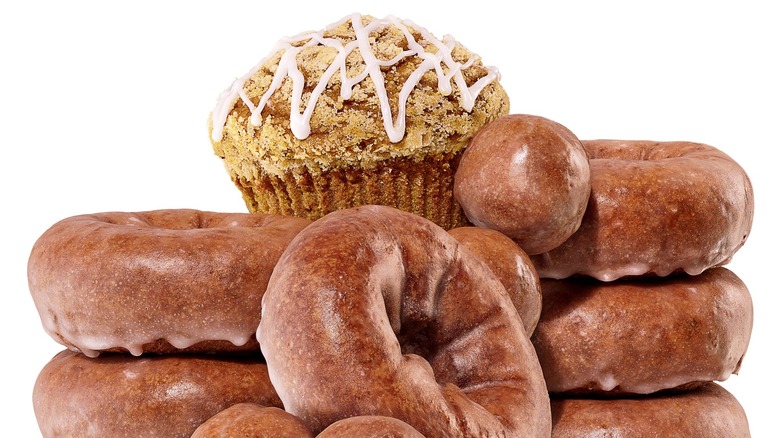 Dunkin'
On the food side, Dunkin' has a host of pumpkin-flavored treats, including Pumpkin Cake Donuts, Pumpkin Munchkins Donut Hole Treats, and Pumpkin Muffins. The company is also reintroducing its Maple Sugar Snacking Bacon and Maple Sugar Bacon Breakfast Sandwiches. Finally, for those who like to snack on the go, Dunkin' is bringing back Goldfish Dunkin' Pumpkin Spice Grahams for a limited time (which you can also purchase online). 
Based on this lineup, Dunkin' is focusing more on old successes than reinventing the wheel this year. While that may be disappointing to some hoping Dunkin' would introduce a new fall flavor, it does make sense to concentrate on classics that connected with customers in the past. 
This year, Dunkin' struck first and got the jump on its competition with its fall menu. Neither Tim Hortons nor Starbucks has announced their autumn lineup, but it's rumored that Starbucks may be spotlighting apples with a new drink and food offering. Time will tell. For now, coffee drinkers can rejoice. Pumpkin spice season is officially back!