Homemade Oat Milk Recipe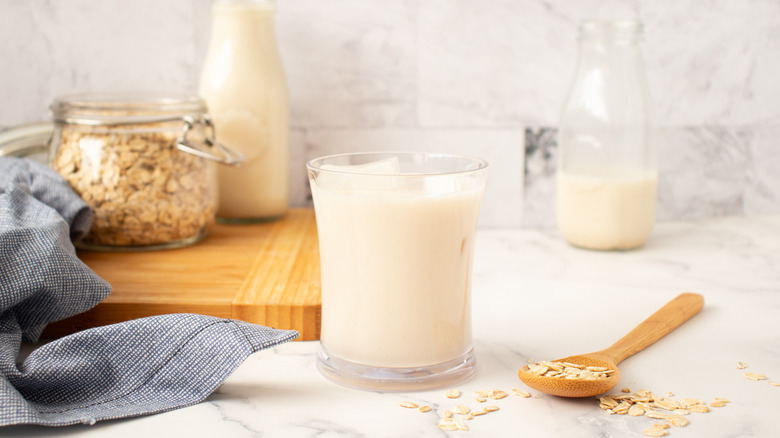 Patterson Watkins/Mashed
Indulge in the creamy goodness of homemade oat milk with this simple and wholesome recipe from developer Patterson Watkins. Whether you're seeking a plant-based milk alternative, a luxurious addition to your morning coffee, or a versatile ingredient for cooking and baking, this recipe promises a delightful and customizable option.
Making your own oat milk is not only a cost-effective replacement for store-bought options, but it also allows you to control every aspect of the recipe, from the quality of the oats to the sweetness level and flavor enhancements. While this beverage is very quick to prepare, Watkins notes, "I would definitely recommend making this over the weekend, that way you have your oat milk ready to go for those busy weekday mornings."
With just a few basic ingredients and a trusty blender, you'll be able to craft a silky-smooth elixir that's as satisfying to drink as it is easy to make. Now, ditch the carton and embrace the joys of crafting your own oat milk from scratch.
Gather your homemade oat milk ingredients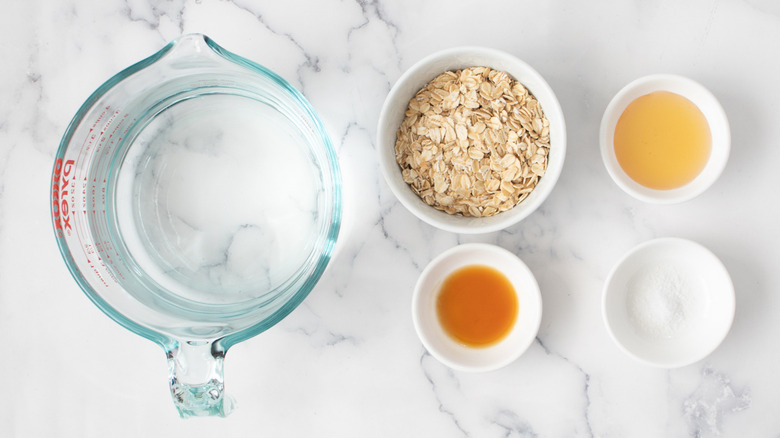 Patterson Watkins/Mashed
To make this homemade oat milk, you can start by gathering your ingredients, which are oats, water, honey, vanilla extract, and salt. As far as ingredient substitutions, Watkins has many ideas, making this recipe highly versatile. "If you'd like to make your oat milk vegan, feel free to substitute the honey in this recipe for agave," she says. "You can also substitute the extract. Instead of vanilla, feel free to use almond or coconut extract for a different spin. I could even see peppermint extract being a nice substitution too, full of wintry flavors for seasonal coffee drinks."
Combine all the ingredients in a high-speed blender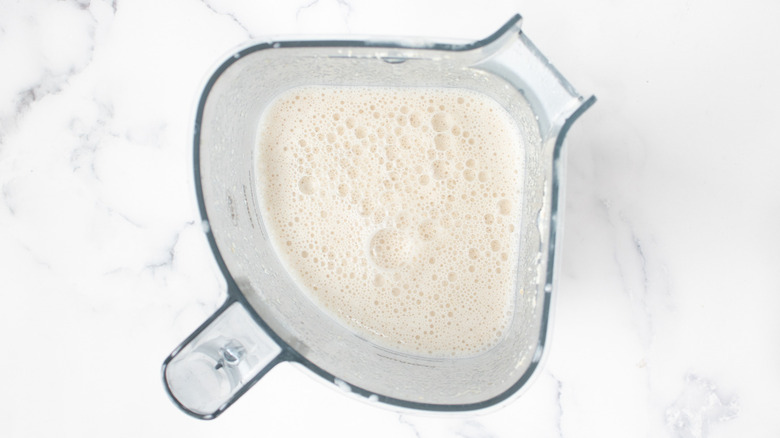 Patterson Watkins/Mashed
Into a high speed blender, add the oats, water, honey, vanilla, and salt, then blend for 30 seconds at high speed. The mixture should be completely smooth.
It's critical to use a high-speed blender for this process. If you use a less powerful blender, you will likely end up with a coarse mixture, preventing the oats from releasing their starches. Starches are complex carbohydrates made up of glucose molecules linked together, and they play a significant role in thickening and lending body to your oat milk.
Strain out the chunky pieces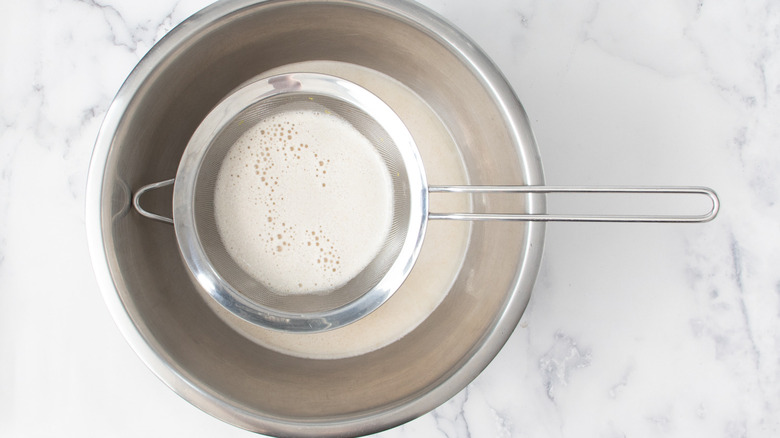 Patterson Watkins/Mashed
Next, it's time to strain your oat milk of any chunky bits using a fine mesh strainer or cheesecloth. After this key step, you should be left with a silky smooth oat milk.
Watkins adds, "Oat milk tends to be just a little thicker than your average cow milk, almond milk, etcetera, making it my favorite for creamy coffee drinks." Because of its rich consistency, oat milk is known for its incredible ability to froth. We love it in a copycat Starbucks pumpkin spice latte.
Chill in the fridge until ready to use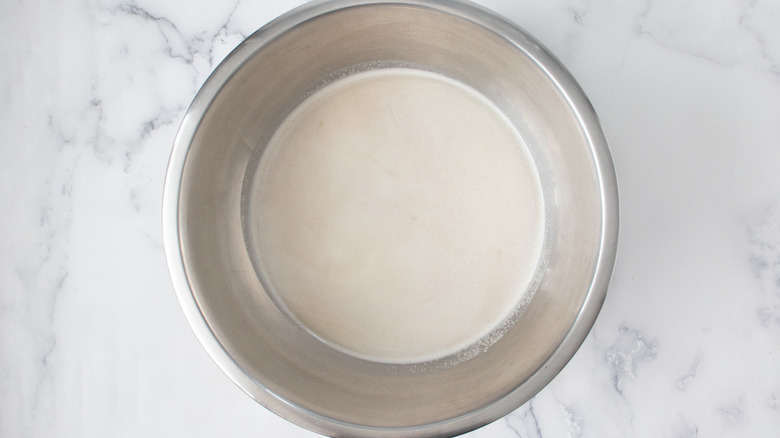 Patterson Watkins/Mashed
Lastly, pour the oat milk into an airtight container with a lid, and chill it in the fridge until cold. When you're ready to use your oat milk, simply remove it from the fridge and give it a good shake. 
You can use oat milk in much more than just coffee drinks. Watkins tells us, "I also enjoy it with my oatmeal and cold cereal. I've even used it a time or two as a creamy addition to smoothies and milkshakes."
Homemade Oat Milk Recipe
With just five staple ingredients and five minutes, you can make your own oat milk in less time than it takes to grab some from the store.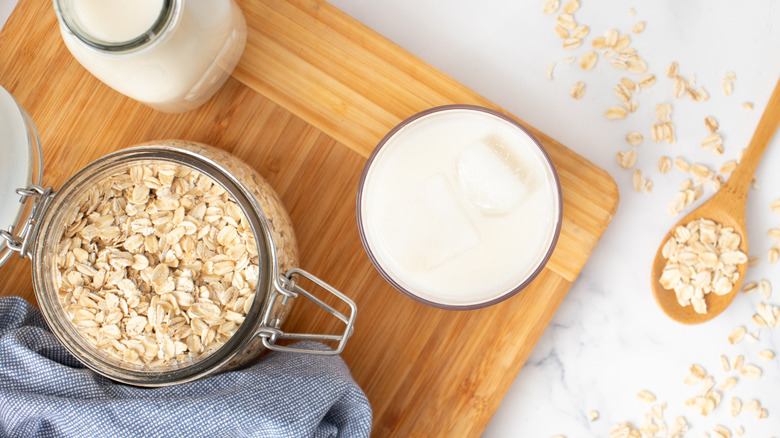 Ingredients
3 cups water
½ cup oats
1 tablespoon honey or agave
1 teaspoon vanilla extract
Pinch of salt
Directions
Place water, oats, honey, vanilla, and salt in a blender. Blend until smooth (about 30 seconds on high speed).
Pour the mixture through a fine mesh strainer into a bowl. Strain, without stirring, but swirling so as to not force any chunky pieces of oats through the strainer.
Pour the oat milk into a resealable container and refrigerate until chilled. Shake or stir before serving.
Nutrition
| | |
| --- | --- |
| Calories per Serving | 63 |
| Total Fat | 0.9 g |
| Saturated Fat | 0.2 g |
| Trans Fat | 0.0 g |
| Cholesterol | 0.0 mg |
| | |
| --- | --- |
| Total Carbohydrates | 11.6 g |
| Dietary Fiber | 1.4 g |
| Total Sugars | 3.0 g |
| Sodium | 29.8 mg |
| Protein | 2.2 g |