The Best Blenders Of 2022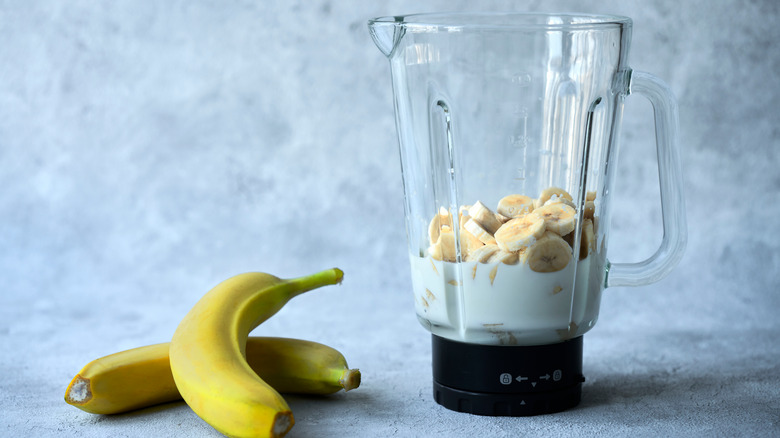 S_Photo/Shutterstock
We may receive a commission on purchases made from links.
Having a great blender can be a total game-changer. Whether you're making smoothies, soups, sauces, purées, salad dressings, milkshakes, or anything else that needs a quick mix, a well-designed blender can do most of the work for you, conveniently delivering satisfying results in just a matter of minutes. Not only are blenders the ultimate time-savers, but they also offer a path to a healthier lifestyle by providing an easy way to eat fresh fruits and vegetables.
These days, blenders come with a wide range of modern features and extra attachments that open up even more possibilities. Multiple functions like friction-heated blades, noise shields to muffle sound, and cordless options with rechargeable mobility offer more control and can help customize your blending experience. Other factors like blender size, motor wattage, jar material, and speed control should also be taken into consideration to ensure that you're buying the right blender to suit your specific needs.
How we selected products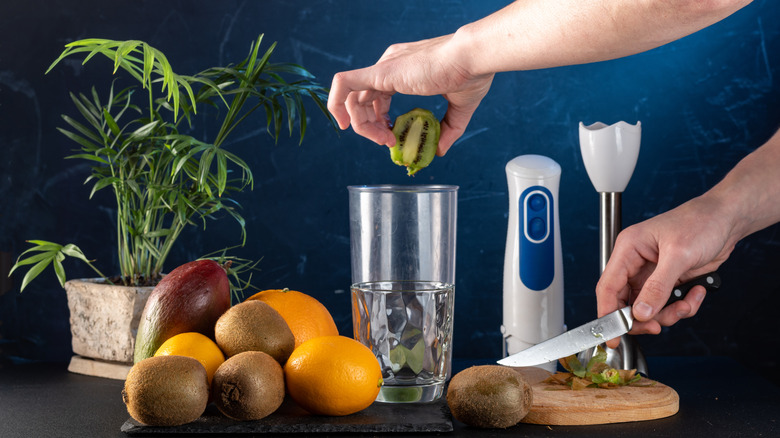 vzwer/Shutterstock
Different lifestyles, kitchen spaces, and cooking habits call for different blenders. We've selected a wide range of options to ensure that there is an exceptional blender model on this list for everyone, regardless of budget, desired size, or cooking experience. We formed this list through extensive research by carefully analyzing user reviews and press coverage, making sure to include a collection that provides diverse purposes and functionalities.
Even though all blenders on the market share a common purpose, there can be significant variations in each model's performance. These deviations depend on many factors such as blade construction, jar material, noise level, durability, and mixing settings. Below you'll find a carefully curated list of the best option for several common blender categories. From simple blenders with a modest price tag to more luxury models that offer top-notch accessories with impressive efficiency, there should be a blender on this list for everyone. You can confidently choose any of the blenders below and know that it's been used and thoroughly inspected by countless satisfied buyers.
Best overall blender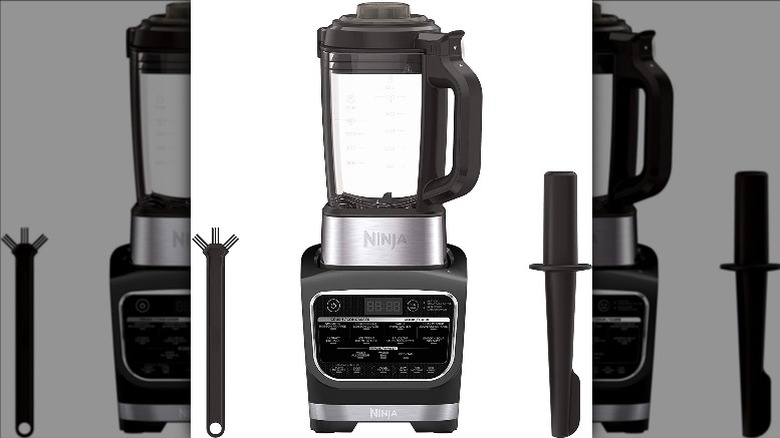 Ninja
These days, a truly exceptional blender provides more than just convenient mixing. It provides versatility. It seamlessly harnesses modern technology to open up a whole new world of culinary possibilities. And it also has an affordable price tag that makes it accessible for everyone. With impressive high-tech features and remarkable ease of use, the Ninja Foodi Heat-iQ blender checks all of these boxes and knocks it out of the park performance-wise, making it one of the best blenders on the market right now.
What really sets the Ninja Foodi apart from other blenders is the 800-watt heating element situated down in its base. Unlike other cooking blenders, the Ninja Foodi can hit temperatures hot enough to reach a full boil. This means you can not only make a deliciously fresh soup in the Ninja Foodi, but also use the heating feature to cook and reduce it to your desired thickness and serve it piping hot straight out of the blender. If you're worried about cleanup, the Ninja Foodi has you covered with a one-touch heated cleaning program.
With sharp blades powerful enough to crush ice into snow, 12 different mixing settings, a 64 oz. glass pitcher with nonstick coating, and a complimentary guide with 25 recipes to try out, the Ninja Foodi has just about everything you could possibly want in a blender.
The Ninja Foodi Heat-iQ blender is available from Amazon for $211.
Best budget blender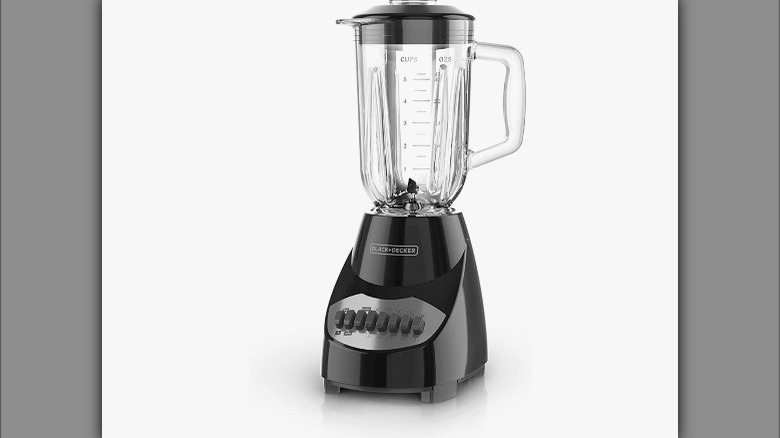 Black & Decker
It's always important to consider affordability when shopping for new appliances. The good news is that Black & Decker understands that everyone deserves quality equipment in the kitchen and makes sure to offer good deals on great products with a very reasonable price tag. At only about 40 bucks, the Black & Decker countertop blender is a prime example of a high-quality product that's widely accessible due to an inclusive price point.
The Black & Decker countertop blender is incredibly well-designed considering how dirt cheap the price tag is. With a durable five-cup glass jar, 10 different speed settings, and removable parts that are all dishwasher safe, this blender comes equipped with all of the essentials. The Black & Decker countertop blender's four-tip stainless steel blades can easily produce results that are worthy of comparison to far more expensive models. It also has non-skid suction feet and a smartly-designed spout that reduces any chances of messy spillage to ensure a smooth and steady pour.
At the end of the day, sometimes you just need a simple bargain blender than can efficiently pull off basic tasks. There's no doubt that this Black & Decker model is one of the most affordable blenders on the market that will give you the most bang for your buck.
You can buy the Black & Decker countertop blender on Amazon for $40.
Best quiet blender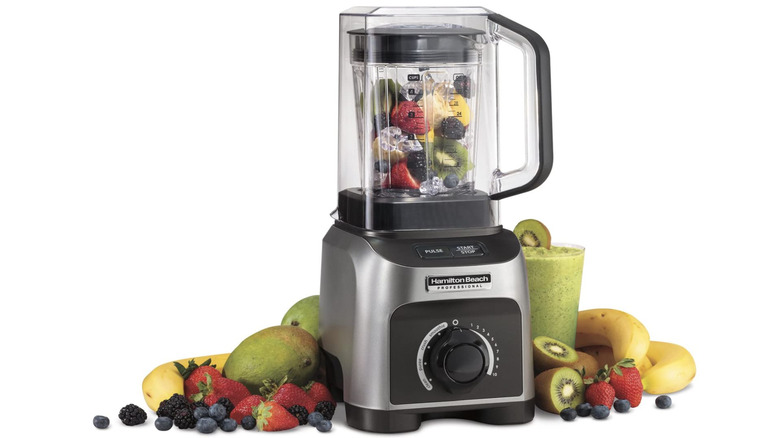 Hamilton Beach
Let's face it: Most blenders are obscenely loud. The intense grinding of those metal blades can be so utterly deafening that it drives you and everyone you love out of the kitchen to desperately seek escape. You shouldn't have to wince your way through making a smoothie. And now thanks to the Hamilton Beach Professional Quiet Shield blender, you don't have to.
That's because this Hamilton Beach blender comes equipped with a brilliant feature — a removable quiet shield that secures over the blender jar to muffle noise. According to Kitchen Gear Pro, the sound enclosure reduces noise output by about 40 percent and produces approximately 82 decibels. Not only does the quiet shield effectively hush all that obnoxious auditory pandemonium, but it also doubles as a convenient serving pitcher. With four program settings and a pulse function that works along with 10 different speed options, you're sure to achieve whatever consistency you're looking for with this blender.
And if you're still not entirely sold, this blender comes with a shatterproof 32 oz. jar that's BPA free, a five-year limited warranty, and 1,500 watts of power that can easily crush ice into oblivion. All in all, it's an absolute steal — all while heroically sparing your eardrums from some needless suffering.
Purchasse the Hamilton Beach Professional Quiet Shield blender on Amazon for $265.
Best blender for smoothies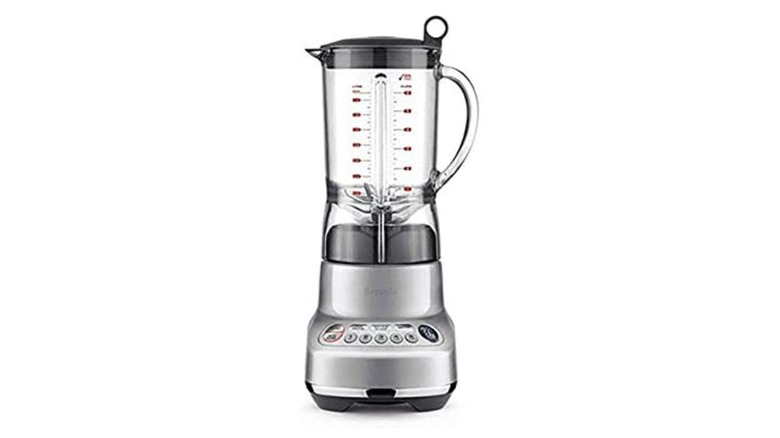 Breville
Blenders are the perfect vessel to make smoothies. That said, some blender models do a better job than others. Poorly designed blenders will leave behind unwanted lumps and chunks that can ruin the perfectly smooth consistency that you're trying to achieve. It's worth it to invest in a blender that you can put your full confidence in and there's no doubt that the Breville Fresh and Furious blender is one of the best mid-priced blenders on the market.
With contoured surgical steel blades that ensure a smooth finish, an innovative lid design that firmly secures onto the top of the pitcher and also has a ring pull for easy removal, and a specific setting for green smoothies to help you pulverize and liquefy tougher vegetables like fresh kale, this blender is clearly top-notch. Beyond this, the Breville Fresh and Furious has nine task controls, an LCD display system for easy visibility, a shatterproof BPA-free plastic jug, and 1,100 watts of power packed into a sleek and modest size for easy storage. You don't have to just take our word for it: America's Test Kitchen has deemed this particular model as its favorite mid-priced blender for its affordability and great performance.
The Breville Fresh and Furious blender is available on Amazon for $200.
Best immersion blender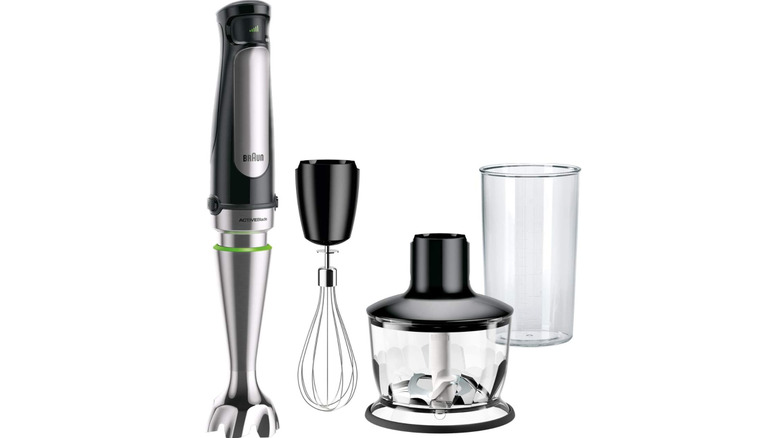 Braun
Sometimes you don't need that big, clunky countertop blender for smaller tasks around the kitchen. Immersion blenders are often overlooked and dismissed by novices, yet with their modest size and convenient design, immersion blenders can be an indispensable tool that profoundly simplifies your cooking process. Want a faster way to beat fresh eggs for that frittata? Looking for a swifter method to get all those lumps out of your pancake batter? Need a quicker route to whirl up some homemade salad dressing? The Braun MQ7035X immersion blender is the perfect gadget for these tasks and more. It easily fits in the palm of your hand, gives you more tactile control, and won't take up tons of counter space.
The Braun immersion blender also comes with extra attachments like a two-cup food processor and a whisk so that you can switch tasks with ease. With an extra milling blade for more thorough blending, its flexible shaft also allows the blades to move up and down, granting you more command over the blending process. Weighing less than two pounds, the Braun immersion blender is easy to hold and control. Once you score this handy gizmo and see firsthand how useful it is, you'll understand what you've been missing out on.
Purchase the Braun MQ7035X immersion blender on Amazon for $90.
Best Single-Serve Blender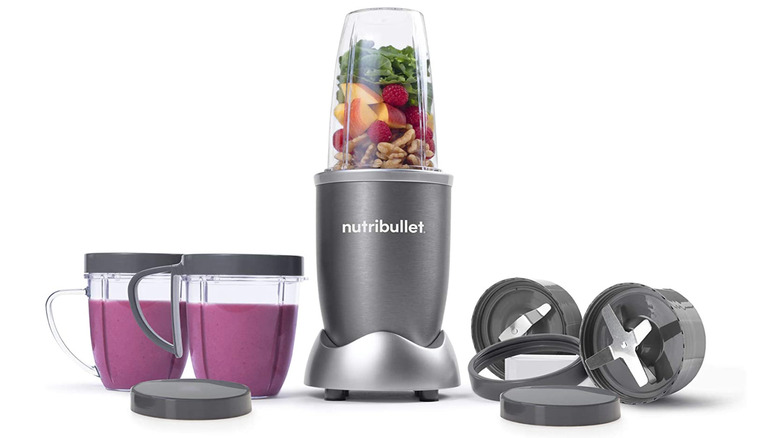 Nutribullet
Every mixing task doesn't require a bulky blender for big batches. Sometimes you just want something small and compact that gets the job done and that's where single-serve blenders shine. The NutriBullet NBR-1201 blender comes with three cups and two flip-top to-go lids. These to-go lids easily secure over the cups after a blending session, which means that in just a matter of minutes, you can mix up a nutritious drink, pop the top on and be out the door in no time. This feature is perfectly suited for those of you who lead a busy lifestyle but still like to eat fresh and healthy.
Despite its modest size, the 600-watt motor is strong enough to pulverize whole nuts and the tough skins of produce. The Nutribullet is actually a much healthier option than a juicer, because juicers tend to strip produce of its pulp and skin, which are packed with nutrition (via Wexner Medical Center). If you lead an active lifestyle and you're looking to upgrade your smoothie game on-the-go, then look no further: The Nutribullet was made with you in mind.
You can buy the NutriBullet NBR-1201 blender on Amazon for $70.
Best commercial blender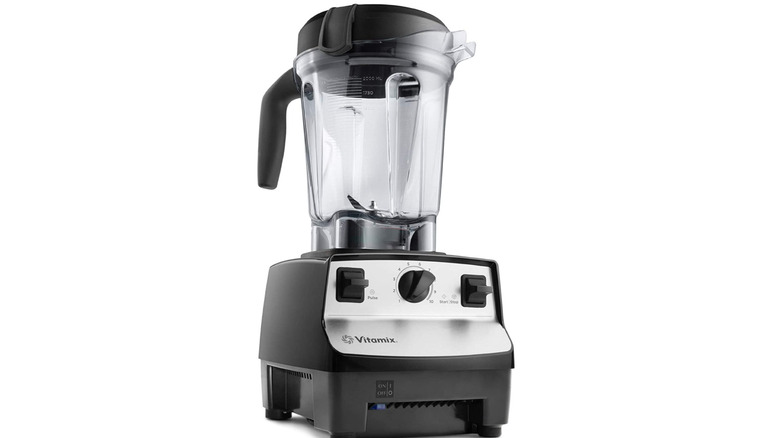 Vitamix
If you run a restaurant that depends on blenders, the Vitamix 5300 won't let you down. The Vitamix 5300 is a professional-grade blender that comes with a 64-ounce jug that will fit under most cabinets, making it easy to store. Its high-performance motor is capable of crushing frozen fruit, grinding nuts into butter, and shattering coffee beans into coffee grounds. The Vitamix's laser-cut stainless steel blades also produce heat through friction, allowing this blender to make steaming-hot soup.
Highly durable, the Vitamix 5300 is engineered and assembled in the U.S. by a fourth-generation family-owned American company. And we're not the only ones that are big fans of the Vitamix 5300 — the brand also comes highly recommended by chefs. If you're worried about cleanup, you can rest easy knowing that the Vitamix is capable of cleaning itself in a minute or less. Considering its strength and durability, the Vitamix 5300 is easily one of the best commercial blenders out there.
The Vitamix 5300 is available from Amazon for $498.
Best portable blender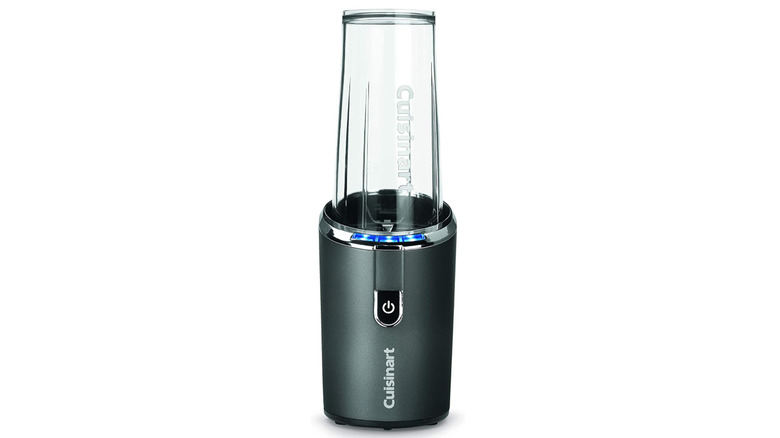 Cuisinart
Imagine being able to easily blend up delicious mixed drinks somewhere far away from the convenience of an electrical outlet. Maybe you're lounging by the pool on a gorgeous day with some friends. Maybe you're in the middle of a beautiful field on a remote camping trip. Or maybe you're ready to power up with a tasty protein shake after a good workout at the gym. The Cuisinart EvolutionX cordless rechargeable blender can make all of these dreams a reality.
That's because the Cuisinart cordless blender has a rechargeable lithium-ion battery that's USB compatible. When fully charged, the Cuisinart cordless blender can blend at maximum speed for 20 solid minutes. Depending on how long you need to blend for, you could potentially make a dozen drinks or more with just a single charge. And if the battery runs out, no worries — you can plug it back in and hook yourself up with a fully recharged battery in just a couple of hours. To further sweeten the pot, Cuisinart throws in a travel lid that clips onto the 16-ounce cup, instantly transforming the blender jar into a drink container that can be taken to go. Portable yet powerful, the Cuisinart cordless blender is a great companion for all of your adventures.
Purchase the Cuisinart EvolutionX cordless rechargeable blender from Amazon for $80.
Best blender combo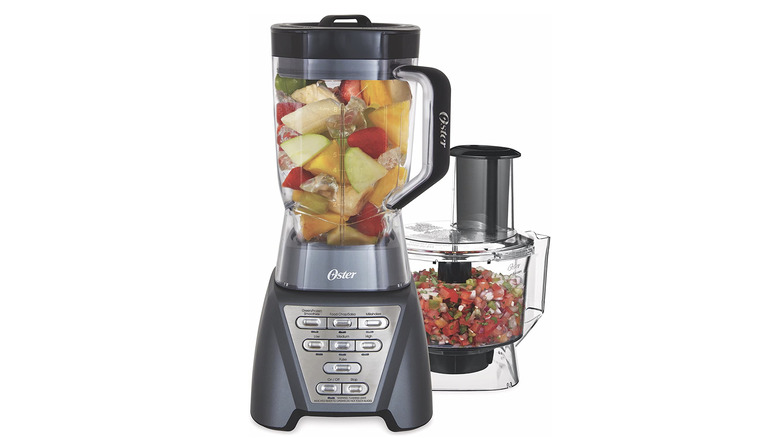 Oster
Some blenders add utility by offering many different attachments. The Oster Pro 1200 blender comes with an 8-cup BPA-free Tritan plastic jar that's dishwasher safe and it also includes a five-cup food processor with slicing and shredding blades. This means that the Oster pro blender allows you to transition from making smoothies and soups to chunky salsas or guacamole in a flash.
The Oster Pro blender has dual direction blade technology with 1,200 watts of power and also comes with a one-touch control system that has seven different speed options. The motor base has vents to prevent overheating, it can chop ice cubes into bar-quality crushed ice, and it can make fresh almond butter in less than ten minutes (via Rtings). All things considered, the Oster Pro 1200 is a high-quality appliance that provides great versatility at a reasonable price. For those of you who like to alternate between blending and chopping in the kitchen, this blender will save you some serious time.
The Oster Pro 1200 blender is available from Amazon for $100.
Best blended drink maker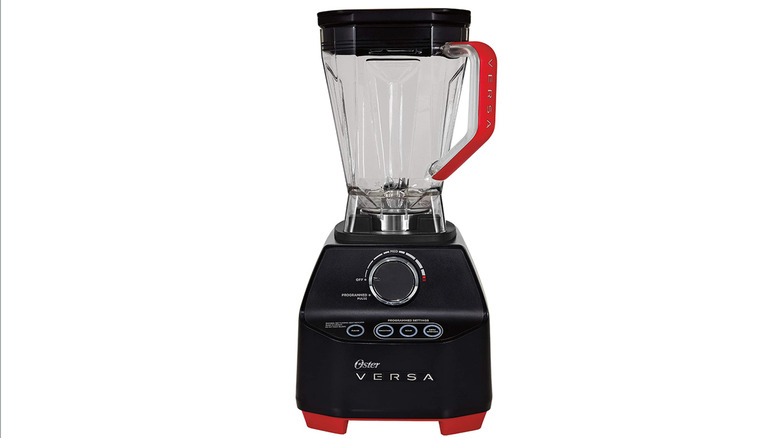 Oster
There are a few features that set the Oster Versa blender apart from the pack. For one, at 1,400 watts, it has a massively powerful motor system for a blender. It's also equipped with stainless steel blades that spin over 250 miles per hour. This combination of speed and power puts the Oster versa blender in a position to shatter just about any ingredient you throw inside of it, making it the perfect vessel for creating perfectly smooth margaritas or any other blended drink of your choice. This model also has an optional ice blade accessory for purchase that's specifically designed to crush cubes flawlessly.
The Oster versa blender also comes with three program settings and an intuitive speed dial. It comes with a limited seven-year warranty, which is quite generous, time-wise. With a sturdy base, a tamper accessory, and two recipe books to provide you with some inspiration, the Oster versa is an excellent high-performance blender that makes mixing amazing drinks practically effortless.
You can buy the Oster Versa blender on Amazon for $230.