When Life Gives You Overcooked Steak, Make Breakfast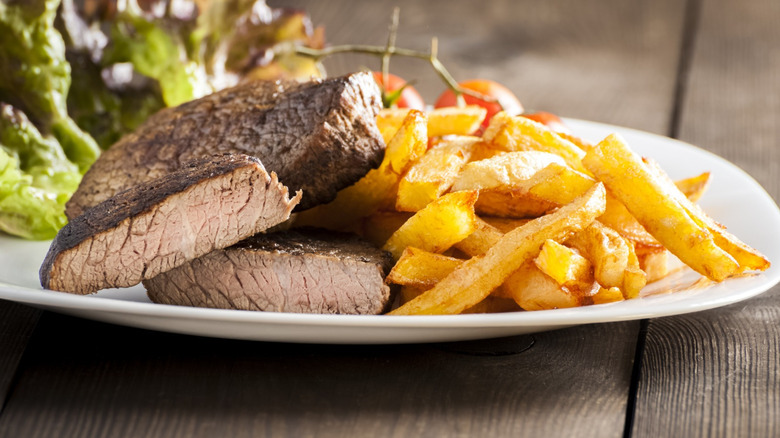 Rlat/Getty
"Well done?" Maybe, maybe not. Overcooked steak might not be the culinary masterpiece you intended to make, but that doesn't mean it's destined for the trash bin. With a touch of creativity, you can transform a tough piece of beef into a delightful breakfast dish component. Here are a handful of ways you can salvage overcooked steak to prepare a mouthwatering morning meal.
For starters, homemade biscuits and gravy can be amped up with chipped steak as a hearty substitute for traditional sausage. Simmer the steak in your flavorful gravy and pour it over freshly baked biscuits. To create a take on steak and eggs, sauté diced onions, bell peppers, and tomatoes in a pan, add the meat, and season with any herbs and spices you desire. Then, crack a few eggs and scramble everything together. 
Are you craving a breakfast burrito? Thinly slice the overcooked steak and scramble some eggs, then warm a tortilla and fill it with the steak and egg mixture. Feel free to stir in grated cheese and add avocado slices and dollops of sour cream and salsa before rolling it up for a portable, protein-packed nosh.
For a simple hash, start by cubing up the steak. Sauté diced potatoes until they're crispy and golden, toss in the meat, sautéed onions, and minced garlic, and season the mixture with a dash of salt, pepper, and paprika or cayenne powder for an extra kick. Finally, garnish the finished product with a fried or poached egg.
Other breakfast classics you can make with overcooked steak
Brekkie recipes capable of reviving overcooked steak are virtually endless! For example, instead of ham, use your overcooked steak as the base for eggs Benedict, an ever-classic breakfast staple. Toast an English muffin, layer on the steak slices, and top it all off with a poached egg. Drizzle homemade hollandaise sauce over the top and sprinkle a pinch of chives over the plate to create the dish's quintessential creaminess and zest.
To whip up a steak breakfast sandwich, thinly slice the overcooked steak and layer it on a brioche bun, toasted bagel, or croissant with an egg, any style. Add your favorite cheese, vegetables, and condiments. For a quick, easy steak omelet, dice your meat and warm it up for a few minutes in a pan. Beat a few eggs in a bowl, pour them into the pan, then fold in the steak along with sautéed veggies and cheese. Gently fold the omelet over the filling and let the cheese melt.
It's important to remember that mishaps in the kitchen can often lead to innovative and unexpected creations. With a bit of ingenuity, that overcooked steak can become the star of your breakfast table. Bon appétit!