Take That Leftover Rotisserie Chicken And Make Loaded Baked Potatoes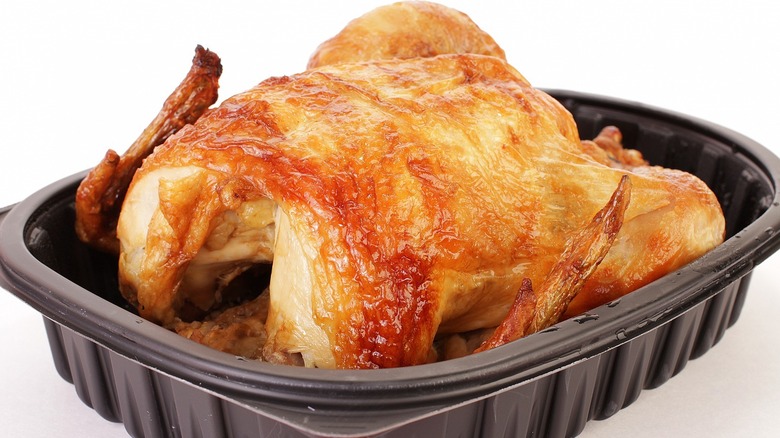 Warren_price/Getty
As rotisserie chicken is already cooked and seasoned, using it simplifies the process of meal prepping. Plus, it goes with just about anything. Despite its versatile nature, however, there always seems to be some left over. Fortunately, people have devised clever ways to use leftover rotisserie chicken instead of letting it go to waste. One particularly inspired option is to make loaded baked potatoes.
That's right, rotisserie chicken creates a delicious topping for baked potatoes. While numerous recipes recommend using bacon, chicken also complements its key ingredients: potatoes and cheese. Meat lovers can even combine chicken and bacon to create more substantial loaded baked potatoes capable of feeding the whole family or dinner guests.
A TikTok creator shared one mouthwatering twice-baked potato recipe that utilizes rotisserie chicken and leaves nothing on the table. It mixes the inside of a baked potato with rotisserie chicken, bacon bits, sour cream, milk, ranch seasoning, and lots of cheese. The ingredients are combined in a bowl and spooned into the potato skins to bake. The finished product doesn't just look creamy and delicious but would also make a perfect appetizer, snack, or meal.
Ways to make loaded baked potatoes with rotisserie chicken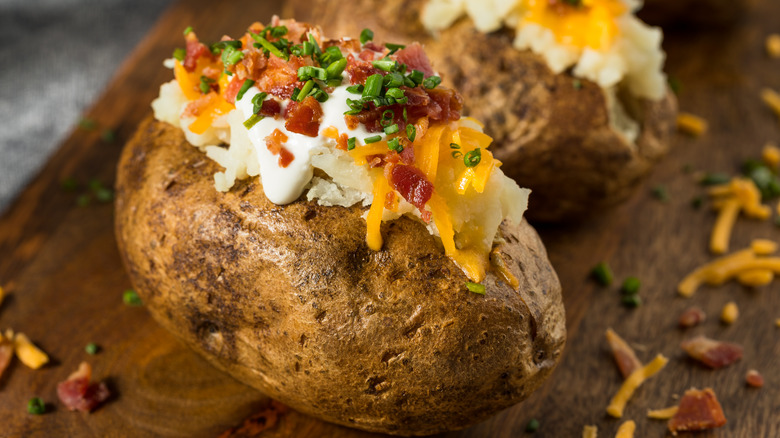 Bhofack2/Getty Images
Making baked potatoes with leftover rotisserie chicken is reasonably straightforward — but there are many ways to spruce up this recipe. Those looking for a kick can spice up their potatoes by topping them with Frank's RedHot or Buffalo sauce. Ree Drummond offers an alternate recommendation: adding barbecue sauce to the chicken beforehand. However, almost any sauce can enhance the flavor of rotisserie chicken. You can even mix sour cream and classic baked potato toppings to create an all-in-one sauce! 
Since nearly anything goes with chicken and potatoes, your creativity is the key to making this dish. Think outside of the box with unique topping choices that prove sauce isn't the only way to improve your baked potato experience. For example, roasted vegetables, chili, and eggs are some ingredients that can take this humble ingredient to the next level. All you need to do is avoid making common baked potato mistakes, like using the wrong type of potato, and a delicious final product is all but guaranteed.