Use Up Leftover Rotisserie Chicken With These Genius Tricks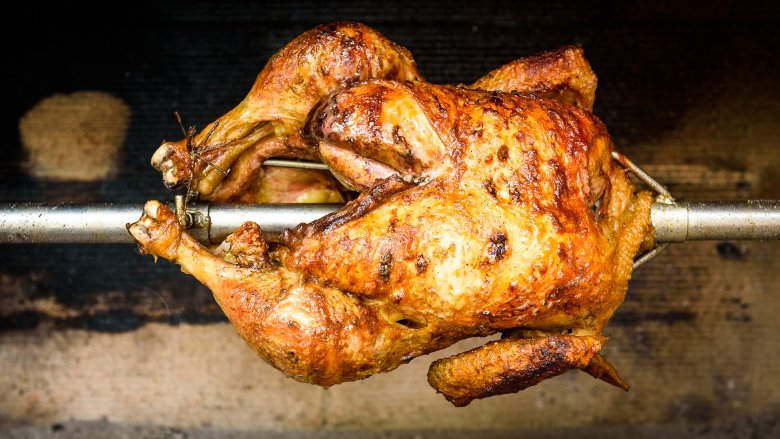 Shutterstock
Chicken is healthy, inexpensive, and easy to make, but let's be real: Chicken leftovers can get pretty boring. After all, how many times can you eat chicken salad, chicken-filled nachos, or chicken fried rice before you're over it? It's too bad, really, because picking up rotisserie chicken is the best way to put dinner on the table for only $5. If you're shopping at Costco, that price gets you a 3-pound cooked chicken, which is not only almost twice as heavy as most grocery stores but it's also less than the price of buying raw chicken breasts. 
Yes, rotisserie chicken can be a lunch- and dinner-time savior, but you need leftover ideas that push the envelope, taking the chicken recipes you love and turning them on their head. These deeply satisfying recipe ideas taste like you've been planning them for weeks and got up early in the morning to make it all happen. All with little to no effort on your part! So what are you waiting for? Pick up an extra chicken at the store to ensure you have leftovers and take your leftover game to the next level with these genius ways to use up a leftover rotisserie chicken. 
Yes, you can eat rotisserie chicken for breakfast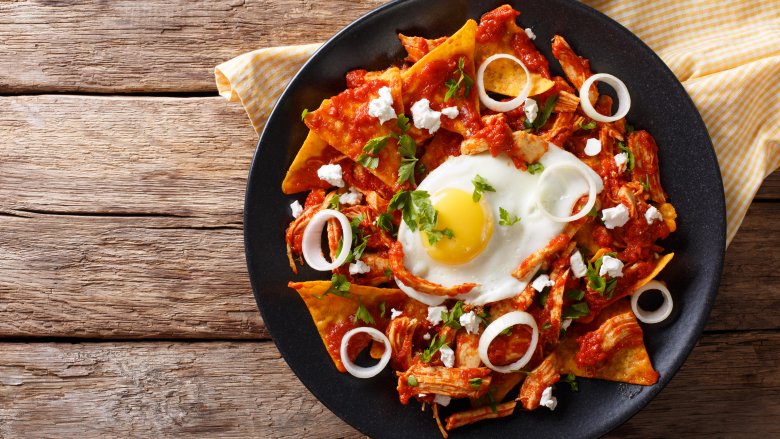 Shutterstock
Some people are weirded out by the combination of chicken and eggs, but we think it tastes fantastic. You could make a breakfast hash with leftover rotisserie chicken, sure, or you could do something different for brunch this weekend. Chicken is a classic component of chilaquiles, a traditional Mexican breakfast dish made by simmering fried tortilla strips in red or green salsa. The dish is then topped with warm shredded chicken, cheese and sour cream, and fried or scrambled eggs. 
If you can't stand the thought of chicken and eggs together at breakfast, try making congee, a savory rice porridge that's a popular breakfast in China. To make it, add 8 cups of water, 1 cup of white rice, and a pinch of salt to a slow cooker. That might seem like a lot of water, but trust us; it's necessary to get the rice to a polenta-like consistency. Cook the mixture on low for about 10 hours until the rice is thick and soft. Then, stir in three cups of reheated chicken along with minced fresh ginger, roasted peanuts, and chopped cilantro — or whatever other toppings sound simple and delicious.
Use leftover rotisserie chicken to make a power bowl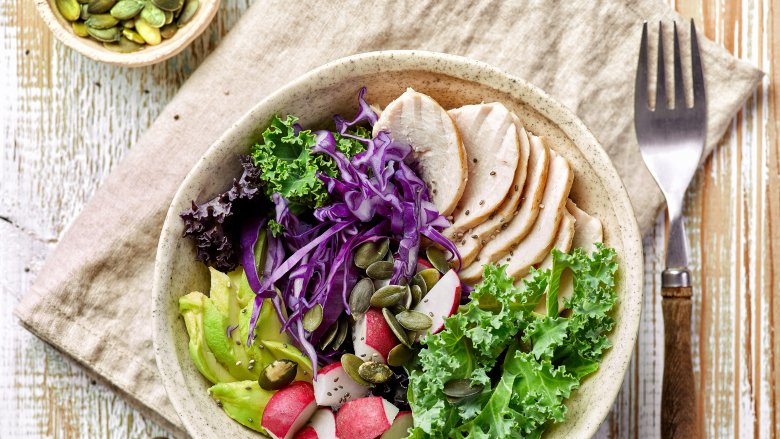 Shutterstock
We love power bowls! These infinitely flexible meals are super easy to customize. Start with a grain like quinoa, couscous, rice, farro, or millet. Then, add a protein (in this case, your leftover rotisserie chicken) and any vegetables you like. Finish the dish off with a fat, such as cheese, Greek yogurt, hummus, nuts, seeds, avocados, or aioli. Before you know it, you've created a balanced, healthy, filling meal. 
These bowls are an ideal way to use up leftovers because they can be made with all pre-cooked ingredients. When you don't have to cook the rice or meat from scratch, you can throw together a power bowl in as little as five minutes. And leftover rotisserie chicken is one of our favorite ingredients here because chicken goes well with everything. Make a Mexican-inspired chicken burrito bowl with rice, black beans, cabbage, and avocado. Or, go Greek with orzo pasta, cucumbers, tomatoes, olives, tzatziki-dressed chicken, and feta cheese. You can even use noodles as your grain, mixing something like soba with miso dressing, edamame, steamed broccoli, sesame seeds, and chicken (of course). Think of the core ingredients of your favorite cuisine and create a bowl that celebrates them.
Create fancy chicken salads with leftover rotisserie chicken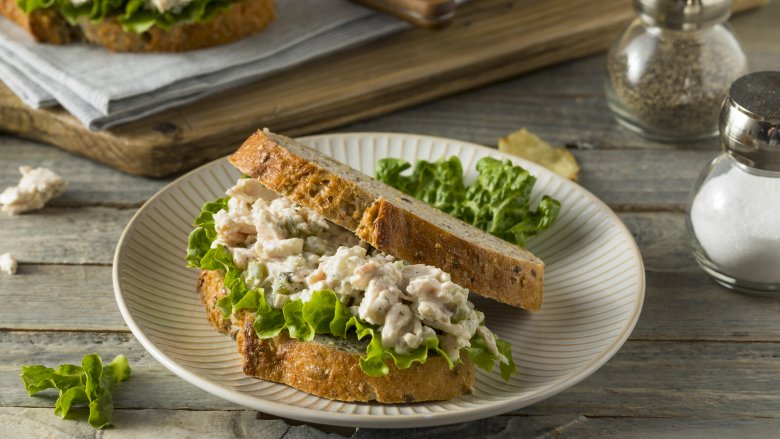 Shutterstock
Classic chicken salad can be kind of dull: diced chicken breast mixed in a mayonnaise dressing alongside celery, walnuts, and apples. The flavors totally work, but it can get boring after a while. Take advantage of having leftover rotisserie chicken by making a few fun twists on chicken salad. Because your leftover chicken contains white and dark meat, this version will automatically be juicier and richer than recipes that use chicken breast because dark meat has more flavor than white meat. 
Like the power bowl, chicken salad can be inspired by any cuisine. Keep in mind that you'll want to create some kind of dressing to hold the mixture together; it can be as simple as mayonnaise or something fancier. Then, have some fun with your veggie additions. A Thai-style chicken salad could contain a peanut dressing, soy sauce, shredded carrots, lime juice, and spicy Serrano peppers. Or, make a grill-influenced version by combining barbecue sauce with mayonnaise and tossing it with grilled corn, chopped peppers and onions, and blue cheese. Don't be afraid to add another meat to the mix, either. The combination of chicken, crumbled bacon, ranch, avocado, and arugula is kind of magical.
Stuff leftover rotisserie chicken inside of a baked potato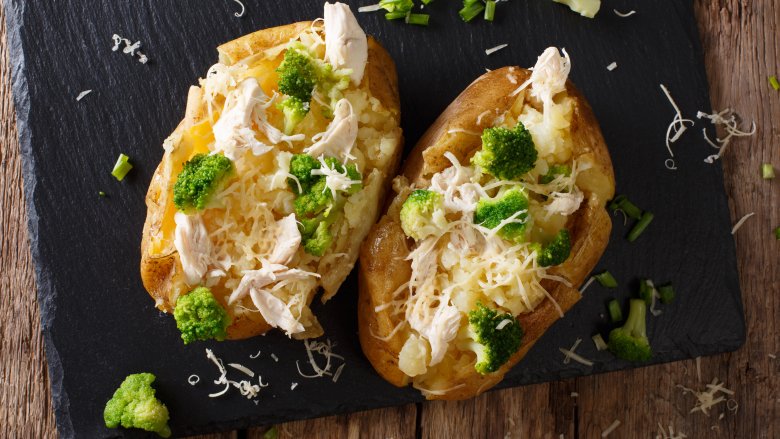 Shutterstock
One of our favorite quick-and-easy weeknight dinners is stuffed potatoes. The traditional sour-cream-and-chive baked potato is often relegated to its role as a side dish, but it's filling and satisfying enough to serve as a main if you include a filling protein — like leftover shredded rotisserie chicken. If your preference leans towards sweet potatoes, go for it. Otherwise, look to starchy Idaho or russet potatoes. Bake either kind at 425 degrees Fahrenheit for 50 minutes to an hour, until the skins are dry and the potato is soft all the way through when pierced with a fork.
Once the potato is cooked, it's time to get stuffing. Slice the potato in half with a knife and use your fingers to carefully pinch the sides toward the middle, fluffing up the filling inside. Then, add about a cup of shredded rotisserie chicken. To add extra flavor, toss the chicken in a sauce like barbecue, tomato, or buffalo sauce. Finish the potato by adding toppings. Some of our favorites are: sour cream or Greek yogurt; diced ham, bacon, or pepperoni; cheddar, Swiss, or mozzarella cheese; roasted vegetables or sauteed spinach; and fresh herbs like cilantro, green onions, or parsley.
Make a copycat lettuce wrap with leftover rotisserie chicken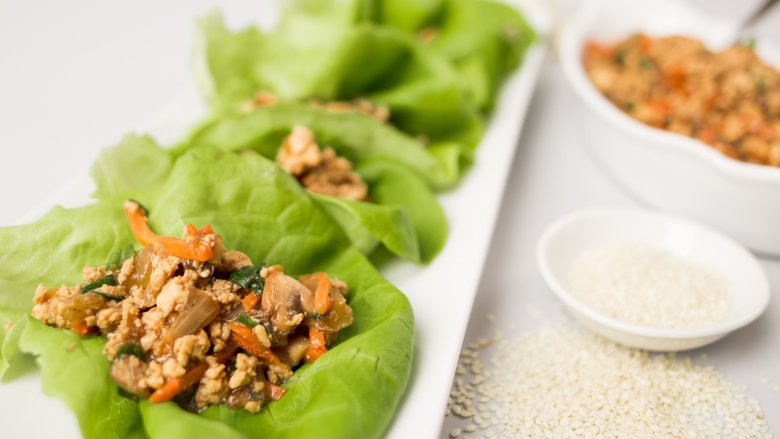 Shutterstock
Lettuce cups are a great party appetizer, but they also make a fantastic lunch. With a handful of ingredients, you can turn your leftover rotisserie chicken into a copycat version of P.F. Chang's lettuce wraps. All you need is a cup of chicken, a quarter cup of teriyaki sauce, a tablespoon of grated ginger, a few thinly sliced green onions, and a can of water chestnuts, drained and chopped. Heat the ingredients over medium-high heat until the chicken is warmed through and spoon the mixture into butter lettuce or baby romaine leaves. It's as easy as that!
If you really want to mimic the texture of the restaurant's lettuce wraps, you'll want to chop up your rotisserie chicken. The original recipe uses ground chicken, and we'll be using shredded chicken here. If your knife skills aren't up to the task or you just don't feel like finely chopping a bunch of chicken, you can toss it into a food processor and give it a few pulses. When the chicken is broken down into small pieces, it should have a similar texture to ground chicken.
Add cheese and your rotisserie chicken will taste brand new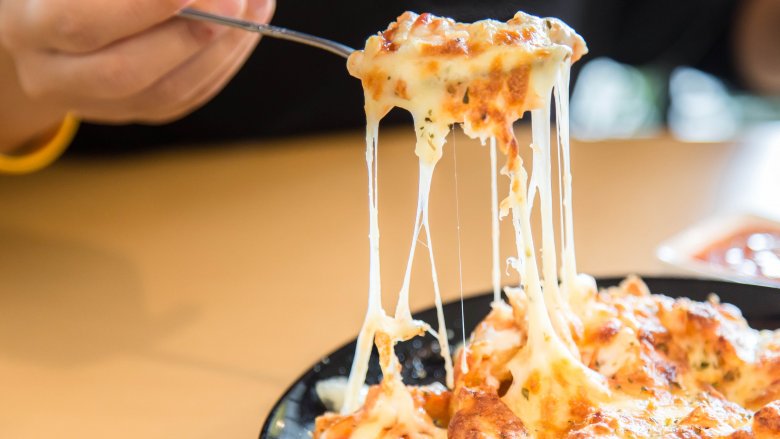 Shutterstock
There's something sort of magical about cheese. It's nutty, salty flavor pairs perfectly with your favorite foods, and that melty texture keeps you coming back for bite after bite. When Thrillist revealed that cheese is actually addictive, we weren't really that surprised. Turns out that dairy contains a protein called casein, which becomes concentrated during the cheesemaking process. When your body breaks it down, the resulting amino acids attach to your brain's opiate receptors. In the end, cheese makes you feel good, so you keep going back for more. Our obsession with grilled cheese totally makes sense now.
All that to say, the easiest way to make your leftover shredded rotisserie chicken taste wonderful is to add cheese to the mix. These types of meals can come in many forms: quesadillas, casseroles, pizza, flatbread, or nachos. If you really want to take things to the next level, make a batch of nacho cheese and smother your chicken and chips with the ooey, gooey mixture. Having trouble getting your nacho cheese to a stadium-worthy level of creaminess? We can help with that; you might be making a common mistake, like using the wrong cheese  or too much heat.
The pastabilites are endless with rotisserie chicken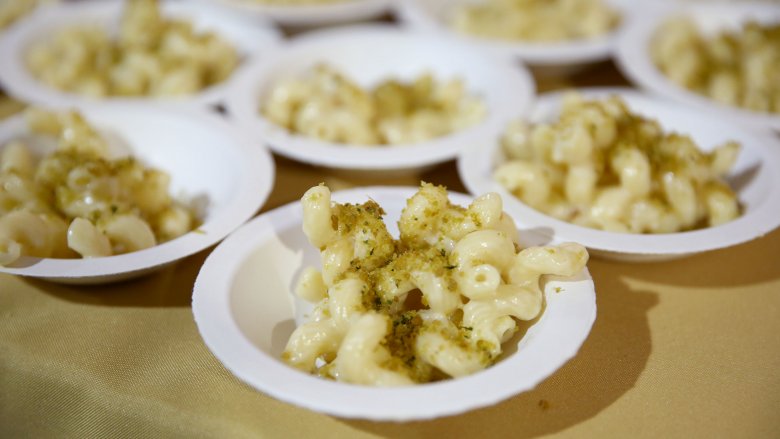 Monica Schipper/Getty Images
We would apologize for the bad pun here, but it turns out the sentiment is true: There are endless ways to transform leftover rotisserie chicken into a meal when you introduce noodles into the mix. It doesn't even have to be traditional, Italian pasta shapes, either. There are a ton of Asian-style noodles like soba, ramen, udon, and somen, or you can think outside the grain and use spaghetti squash, spiralized zucchini zoodles, or thinly sliced eggplants as lasagna "noodles."
From there, it's easy to use chicken in your favorite pasta dishes. Swap chicken in for ground beef in lasagna recipes, use it to make baked ziti and stuffed shells, or whip up a batch of super creamy mac and cheese and add shredded rotisserie chicken at the end. If you're going Asian-style, the process is similarly straightforward; chicken is an excellent choice for stir-fry dishes with sesame or peanut sauces, and adding a soba or lo mein noodles is a great way to make chicken and vegetables more filling.
Who needs pulled pork for barbecue when you have leftover rotisserie chicken?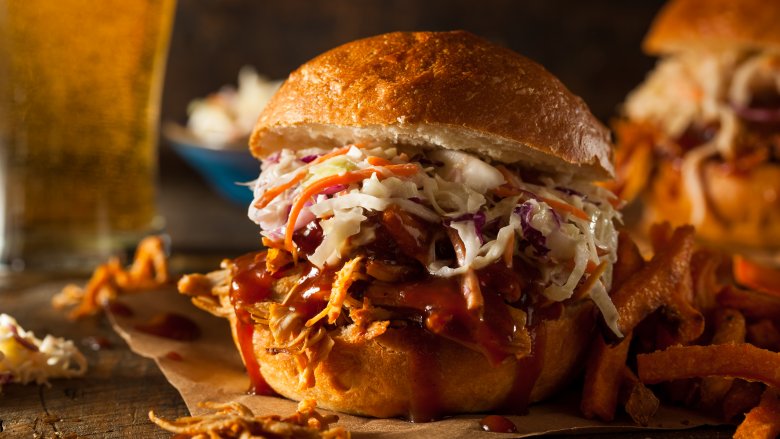 Shutterstock
Pulled pork is delicious — no doubt — but it's not necessarily easy to make. It takes hours on a smoker or in a Dutch oven, and although a slow cooker is a hands-off cooking method, that doesn't mean it can create shredded pork in an instant. So, why not swap in leftover rotisserie chicken? We already know how easy it is to shred and store the stuff, and it's not like you had to wait to cook it, either.
Give it a try: Toss shredded chicken with your favorite barbecue sauce and serve it up on a potato bun with pickles, coleslaw, and more barbecue sauce. Take a bite and see if you're missing anything. The meat will still be shredded and tender, and the barbecue sauce might be so assertive you may not miss the flavor of pork at all. Since chicken has fewer fat and calories than pork, this type of ingredient swap goes a long way towards making your favorite sandwich healthier. 
Tacos aren't just for Tuesday if you have rotisserie chicken on-hand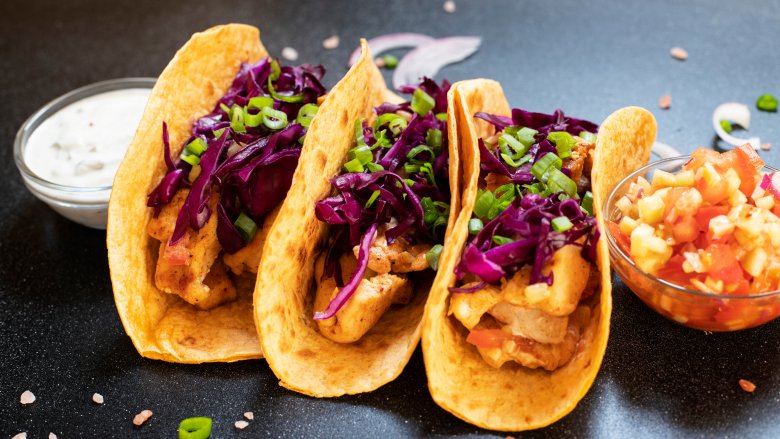 Shutterstock
The most difficult part about Taco Tuesday is cooking the protein. Unlike pizza and sandwiches, you can't just use sliced meats on a taco. Those thin slices — even when stacked tall — just don't have the toothsome chewiness of a beefy taco. Luckily, chicken is a completely acceptable taco ingredient. It goes well with salsa and sour cream, and it has the right texture whether it's shredded or chopped.
The easiest way to spice up your chicken for tacos is to coat it in taco seasoning. We like to toss a cup of cooked chicken with a teaspoon and a half of taco seasoning. If you want to make your own, feel free to mix together chili powder, ground cumin, onion and garlic powders, paprika, and dried oregano. Then, cook the chicken in a small amount of olive oil until it's warmed through and fragrant, adding a splash of water if you need to help the coating stick. When the chicken is hot, divide it among four flour or corn tortillas and add your favorite toppings: salsa, sour cream, cheese, avocado, shredded lettuce, and pickled jalapeno are all good choices.
Turn a packet of ramen into a gourmet meal with rotisserie chicken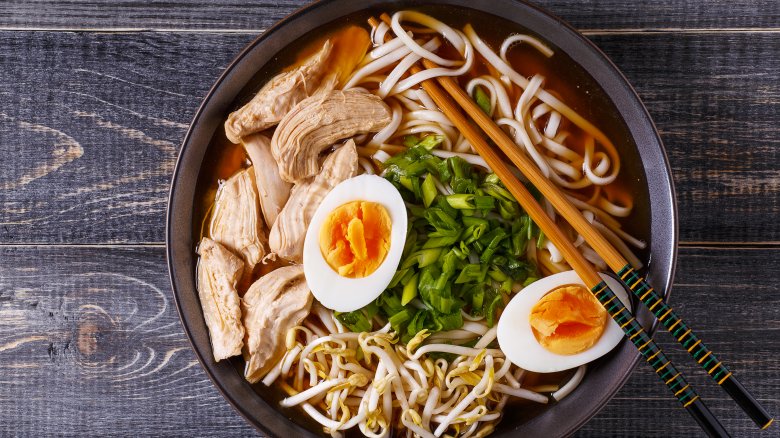 Shutterstock
It's surprisingly easy to upgrade instant ramen. All you need is a package of dried noodles, your leftover rotisserie chicken, and a hard-boiled egg. Just like that, you turned a 35 cent purchase into a gourmet meal. It helps to pick the noodles with chicken-flavored seasoning — just saying, shrimp-flavor plus chicken might be a bit weird — but it's not strictly necessary. 
You can totally reheat the chicken by simmering it alongside the noodles in the broth. By the time the noodles are cooked through, the chicken should be warmed to a safe temperature using this method. But, if you want to add some extra flavor to the chicken, feel free to simmer it in sauce in a frying pan first. You can use a premade Asian-style sauce like teriyaki or oyster sauce, or you can keep things simple by cooking the chicken in a 50/50 mixture of soy sauce and water. Add a half teaspoon of sambal oelek if you want to spice things up.
Ditch the cured meats and use rotisserie chicken on pizza instead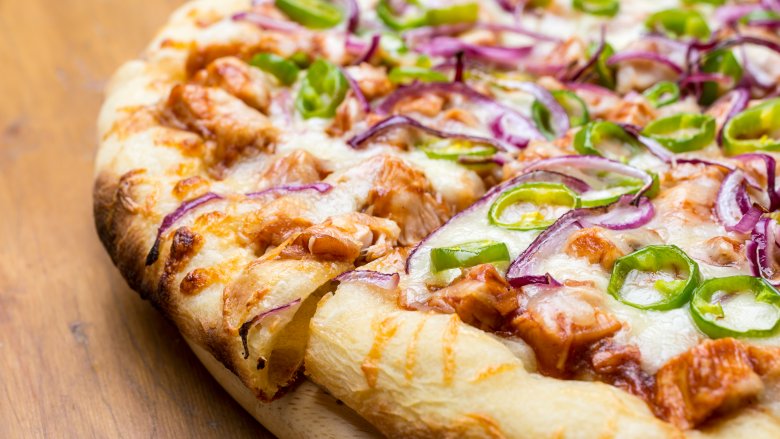 Shutterstock
Pepperoni pizza is iconic for a reason, but that doesn't mean you can't get weird and wacky when making pizza at home. Leftover rotisserie chicken is a perfect addition to pizzas and flatbreads, but there is one problem: It can dry out quickly in the high-temperature cooking environment. Never fear; we have a solution.
There are two ways to keep chicken moist as it cooks on a pizza. The first is super simple: put it underneath the cheese. It might not be traditional, but trapping the chicken under that layer of melted cheese goes a long way towards keeping it juicy. If you can't stand the thought of eating an unseen ingredient, try the second method: coating the chicken with sauce. You can use the same sauce you use as the base of the pizza, which works really well for pizzas like barbecue chicken. Spread the barbecue sauce onto the pizza dough and toss it with the chicken in a small bowl. Add green onions, jalapenos, and shredded cheese. Or, you can mix and match sauces by using marinara as the pizza sauce but coating the chicken with pesto. A pizza like this would taste great with toppings like tomatoes and fresh mozzarella. 
Make your favorite soups healthier with rotisserie chicken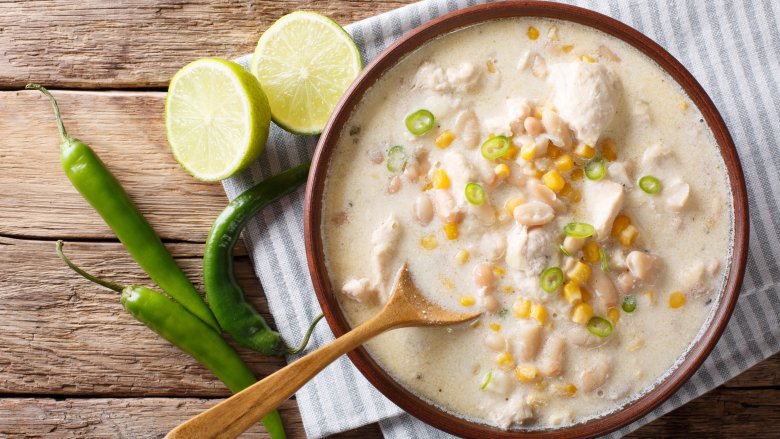 Shutterstock
Soups are warm and comforting, but they're not always necessarily healthy. Luckily, chicken is better for you than red meats like beef, pork, and lamb because it has fewer saturated and trans fats, the kind that may raise cholesterol and lead to heart disease. Many of your favorite meaty soup and stew recipes still taste great when you swap in chicken. Beefy chili might be the norm, but we think white bean chicken chili is tastier, and it's easy to make, too. A quart of chicken stock, three cups of shredded chicken, two cans of cannellini beans, a can of green chilies, and a handful of spices is all you need to make a tasty, healthier chili.
Of course, you can always stay classic when it comes to quick soups and make your grandmother's chicken and noodle recipe. Instead of simmering chicken breasts as the base of the soup, pick up a few cans of chicken broth at the store and use up that leftover chicken instead. Since the chicken is already cooked, this soup can come together in as little as 15 minutes.
Chicken fritters are almost better than chicken tenders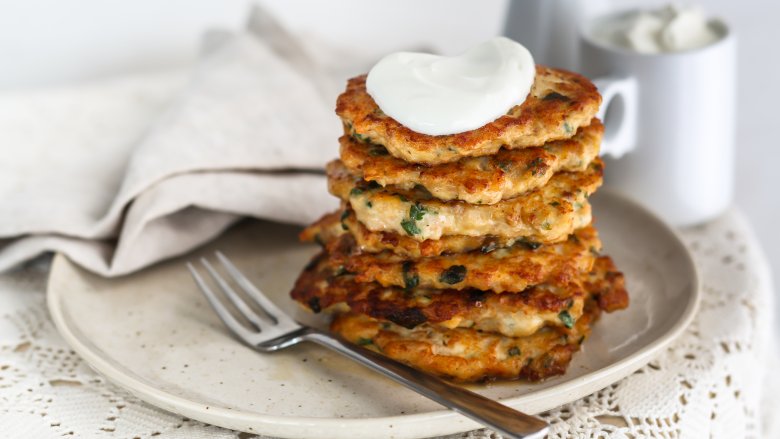 Shutterstock
You can't make chicken tenders or fried chicken patties from leftover rotisserie chicken, but you can make the next best thing: chicken fritters. The idea is absolutely brilliant! Combine two cups of chopped, cooked rotisserie chicken with two eggs, 1/3 cup of mayonnaise, 1/3 cup AP flour, and 4 ounces of shredded mozzarella cheese. Add a pinch of salt and pepper and stir the mixture until it's well combined. Refrigerate the mix for at least two hours (or as long as overnight) to help the patties stick together as they cook. When you're ready, heat a few tablespoons of cooking oil in a large skillet and drop tablespoon-sized dollops of the batter into the hot oil, flattening them out with the back of a spoon. Cook the fritters for three minutes a side, until they're golden brown and crispy.
When they're finished, use the fried fritter patties on sandwiches or eat them solo as a snack. They're especially tasty when served up with a side of tzatziki or ranch dipping sauce.
You have a few days to figure out what to do with your leftover rotisserie chicken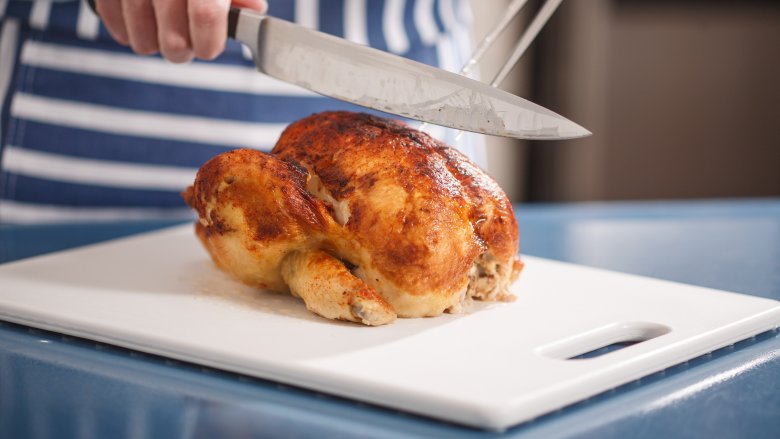 Shutterstock
If you can't decide which chicken dish to make first, don't worry; you have some time. According to the United States Department of Agriculture (USDA), leftover cooked chicken is good in the refrigerator for three to four days, and it will last up to four months in the freezer. Before you plan to use rotisserie chicken leftovers, though, it's worth asking a store employee how long the rotisserie chicken was sitting in the heated case. The USDA cautions that food stored above 90 degrees Fahrenheit for more than an hour is not safe to cool down and reheat. 
You might be tempted to store the leftover rotisserie chicken whole in the fridge, but it's worth taking the time to pull the meat off the bones first. The chicken meat will cool down more quickly if it's stored off the bone in shallow containers, keeping it safer from foodborne pathogens and bacteria. It's easier to remove the meat when it's hot, too. Then, it'll be simple to toss the container of chicken into the microwave, heat the chicken up to 165 degrees, and add it to your breakfast, lunch, or dinner.