Spicy Cocktails Don't Have To Be Tequila-Based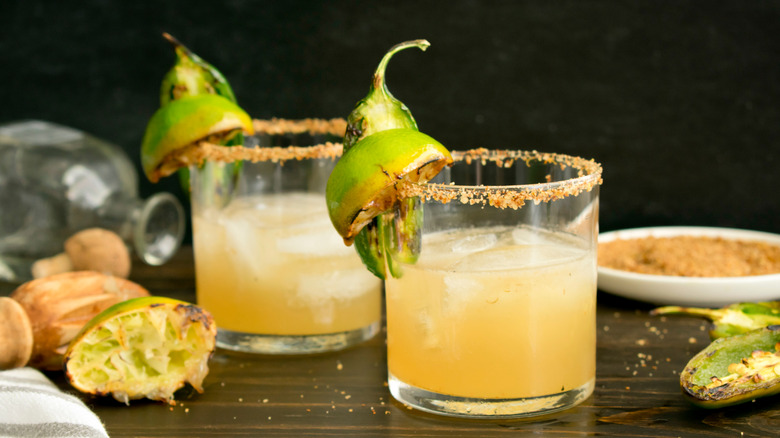 Candice Bell/Shutterstock
Spicy flavors make for exciting and complex cocktails. Whether you're enjoying them with friends on the beach or pairing them with meals, spicy cocktails are often made with tequila. As much as we love a spicy margarita or paloma, you'd be limiting yourself by only sticking with one liquor to make spicy libations. As it turns out, you can use plenty of other spirits to make fiery cocktails.
Whiskey is a versatile, intricate spirit with a wide range of flavors, including caramel and vanilla. When paired with piquant, spicy flavors — such as those from hot peppers or spices — you'll have cocktails with a surprising amount of depth and complexity.
Gin is a spirit that is known for its botanical flavors, which often include notes of juniper or citrus. When it's cut with a spicy edge, the earthy bouquet in gin is intensified, giving your cocktails a pointedly herbaceous aroma. Vodka, on the other hand, is a neutral spirit with a flavor profile often described as clean and smooth. Its neutral nature makes it a versatile base for cocktails and pairings, including those with spicy flavors.
If you want a spicy cocktail featuring a spirit that's akin to tequila, try using mezcal. Both mezcal and tequila are made from agave plants, but mezcal has a noticeably smoky finish. When smoke and spice intertwine, they create flavor complexity.
Unique spicy cocktails to try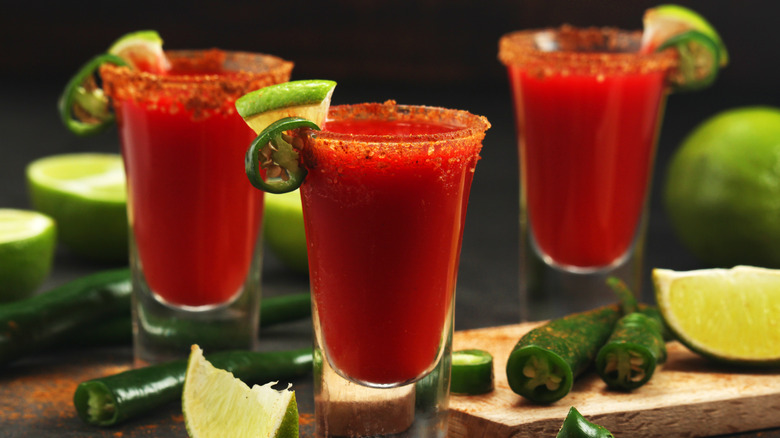 Anastasia Kamysheva/Shutterstock
Since spicy cocktails made without tequila aren't as common as those with it, you might need some recipe ideas. But don't worry, we've got you covered. What's a good brunch without a bloody mary? Make your vodka-based, tomato-kissed hangover cure spicy by including muddled jalapeños and a few extra dashes of hot sauce in your favorite recipe. One mixologist on TikTok fashioned a spicy cucumber gin sour by muddling jalapeños, fresh juicy cucumbers, and agave syrup, then combining it with Hendricks gin and a dash of elderflower liqueur for a light, sophisticated, and subtly spicy cocktail.
@chacekitchen

Spicy Cucumber Gin Sour 🥒🌶️ -2 oz gin -3/4 oz lemon juice -3/4 oz cucumber juice -1/2 oz agave -a few jalapeño slices -spalsh of St. Germain -1 egg white Add jalapeño, lemon juice, cucumber juice, and agave to a glass and muddle. Strain into shaker. Add gin, St. Germain, and egg white and shake. Add ice and shake again. Pour, garnish, and enjoy! gin ginsour cucumbercocktail cucumberdrinks hendricksgin stgermain gincocktailrecipes gindrinks summerdrinks summercocktails refreshingcocktails
You could also try making a whiskey sour with spice derived from fresh ginger, by combining whiskey with fresh-squeezed lemon and lime juice, ginger-infused simple syrup, bitters, and a dash of egg whites for a pepper-free spicy cocktail. If you're not in the mood for exploration, keep it classic by swapping tequila for mezcal in your favorite spicy margarita recipe and garnish the rim with Tajin for extra tang. Whichever way you choose to make your spicy cocktail, always drink responsibly.