We Tried Tim Hortons' New Fall Drinks And We're Now Officially Ready For Sweater Weather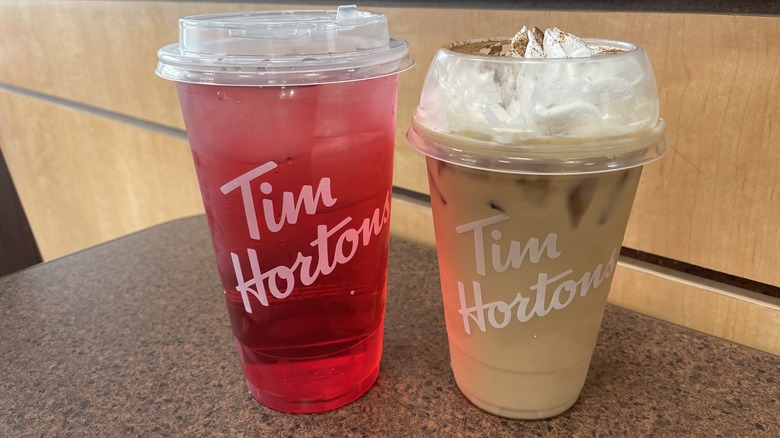 Amy Boyington/Mashed
If there's one thing that makes us not feel as sad about the sunny days of summer coming to an end, it's knowing that the cool breezes, brisk smells, and delicious flavors of fall are on the way. That's right, pumpkin season is just around the corner, which also means that some of our favorite restaurants are getting ready to drop their brand-new fall offerings.
Fall drinks are among our absolutely must-have items to ring in the season, and Tim Hortons usually offers at least a couple of new fall drinks we can't wait to get a hold of. This year, the Canada-based coffee chain with more than 600 U.S. locations concentrated mostly in the Northeast is bringing back its tried-and-true fall drink, the Pumpkin Spice Iced Capp, while releasing three new drinks for fall enthusiasts to enjoy: the Maple Cinnamon Sugar Iced Latte, Spiced Apple Cranberry Refresher, and Peach Refresher.
As soon as we heard the news, we ran to our nearby Tim Hortons to try the two most fall-ish options to give you the low-down on what to expect before spending your own money.
What's in the Tim Hortons' new drinks?
Amy Boyington/Mashed
The first drink we had to get our hands on was the Maple Cinnamon Sugar Iced Latte, a drink whose name alone makes us think of crisp, falling leaves, bonfires, and Friday night football games. This drink kicks up the flavor of a traditional iced latte by adding hints of brown sugar, maple syrup, and cinnamon. Of course, it's topped with the creamy whipped topping you'd expect from a latte and blended with milk for a smooth finish. You can also order a hot version of this latte if you'd prefer, which could be ideal as the weather turns cooler.
If you're not a coffee drinker or prefer something a little lighter, the second drink we tried — the Spiced Apple Cranberry Refresher — has you covered. Like other Tim Hortons Refreshers, this drink comes with just the right amount of ice to keep it cold, but it adds flavors like spiced chai, cinnamon, nutmeg, and cardamom, all reminiscent of comforting hot spiced apple drinks.
Where, when, and for how much can you buy them?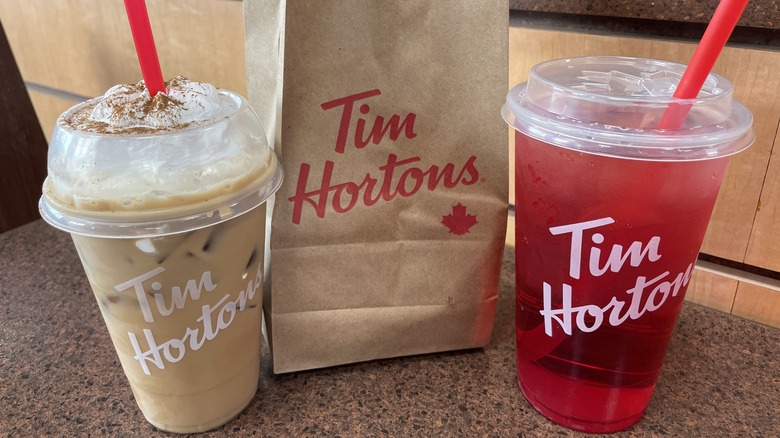 Amy Boyington/Mashed
The new Maple Cinnamon Sugar Iced Latte and Spiced Apple Cranberry Refresher are available at participating Tim Hortons restaurants across the United States beginning August 23, 2023. You can use the Tim Hortons store locator to find the location nearest you and check its online menu to see if the drinks are available.
However, be aware that because these drinks are released specifically for fall, they're available only for a limited time. Traditionally, Tim Hortons starts tucking away its fall menu when it's time to release its new offerings for the holiday season, which usually happens in November. So, you can safely count on having the drinks available on the menu throughout the bulk of fall.
Pricing may vary among Tim Hortons locations, but when we picked up our drinks, we paid $4.39 for a medium Maple Cinnamon Sugar Iced Latte and $2.99 for a medium Spiced Apple Cranberry Refresher.
How do the new Tim Hortons' fall drinks compare to the rest of the drink menu?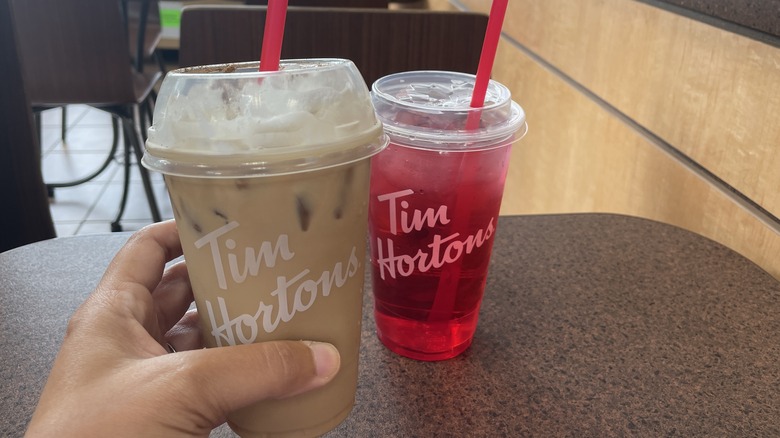 Amy Boyington/Mashed
If you're a frequent customer of Tim Hortons, you already know that its drink menu is bursting with freshly made hot and iced coffee as well as lattes, Americanos, tea, and more. There are also plenty of items for non-coffee drinkers to choose from, including Refreshers, iced tea, frozen lemonade, and TimsBoost energy drinks.
We're glad that the new fall drinks at Tim Hortons cater to both coffee drinkers and people who prefer juice or tea, fitting in well with its usual menu items. The Maple Cinnamon Sugar Iced Latte and Spiced Apple Cranberry Refresher both add a fun twist to products already on the menu without veering into the "I don't understand why this is here" lane.
Meanwhile, both drinks also blend well into Tim Hortons' well-known seasonal overhaul. Like other coffeehouse chains, Tim Hortons offers new fall-inspired drinks each year for customers awaiting pumpkin, apple, and maple everything after a long, hot summer. This latte and Refresher fit into its annual tradition while giving regular customers something new and fresh to try.
A closer look at the nutritional value of these drinks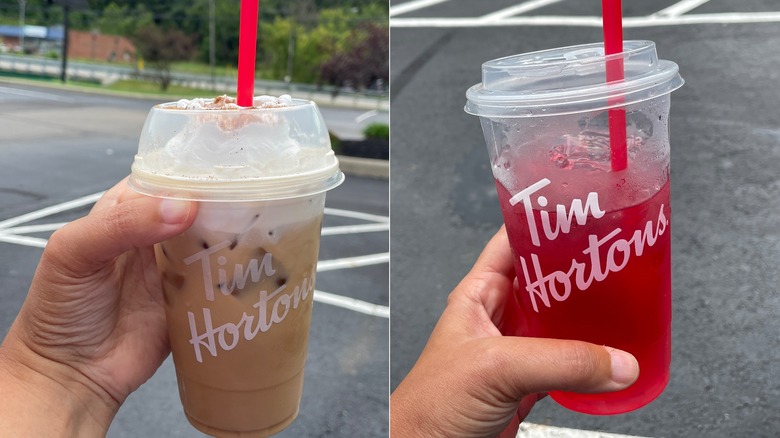 Amy Boyington/Mashed
Unless you're getting a plain black coffee from Tim Hortons, you probably aren't expecting your drink to be low in calories or sugar, neither of which these new drinks can claim. As with many fast food menu items, they're made to be flavorful treats rather than cater to health food enthusiasts.
A medium Maple Cinnamon Sugar Iced Latte that we sampled has 370 calories, 11 grams of fat, 57 carbs, 10 grams of protein, and 53 grams of sugar. As with other Tim Hortons drinks, you can customize the latte to your preferences, so these nutritional stats can vary depending on how you order yours. Keep in mind that sizing also makes a significant difference. For example, opting for a large adds another 100 calories and 16 grams of sugar.
Meanwhile, the medium Spiced Apple Cranberry Refresher we included in our order comes in at 210 calories, 48 carbs, and 27 grams of sugar with no fat. The large version adds an extra 50 calories and 6 grams of sugar.
Our verdict on the Maple Cinnamon Sugar Iced Latte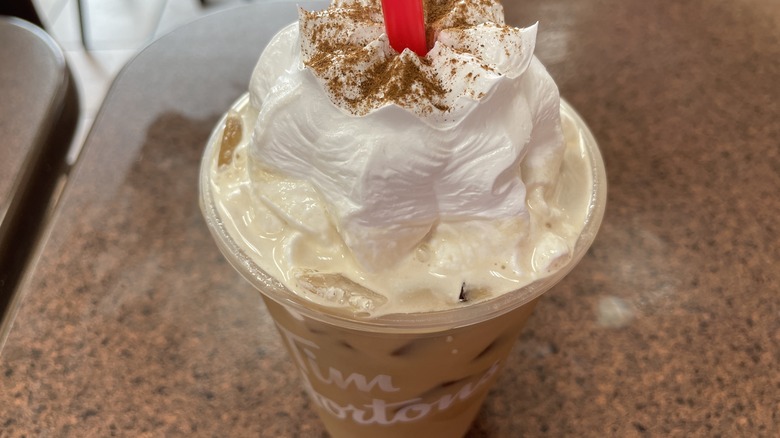 Amy Boyington/Mashed
Overall, the Maple Cinnamon Sugar Iced Latte was a delight to drink. From the first sip, it offered strong coffee flavor with just the right amount of maple infusion. What we wished we tasted a bit more was the "cinnamon sugar" component of the drink. Although this drink was lightly sweetened, we're sure that some latte drinkers might prefer something a bit sweeter, especially from a drink with the word "sugar" in its name. If you're not a fan of bold coffee flavors, you might want to add some sugar to your drink when customizing it on the app or ordering it at your local Tim Hortons.
The only other feature of this latte we didn't totally love was its whipped topping. Perhaps it was just an error at the Tim Hortons we sampled from, but the whipped topping on this drink was much stiffer than that of other Tim Hortons drinks we've tried in the past. As a result, it didn't slowly melt into the drink like it usually does to create the creamy, delicious last few sips we get excited for. Instead, the topping you see in our photo was still in the cup after drinking the entire latte, and it was unsippable through the straw. In the end, we tossed it in the trash bin. We were still satisfied with the latte itself, though.
Our verdict on the Spiced Apple Cranberry Refresher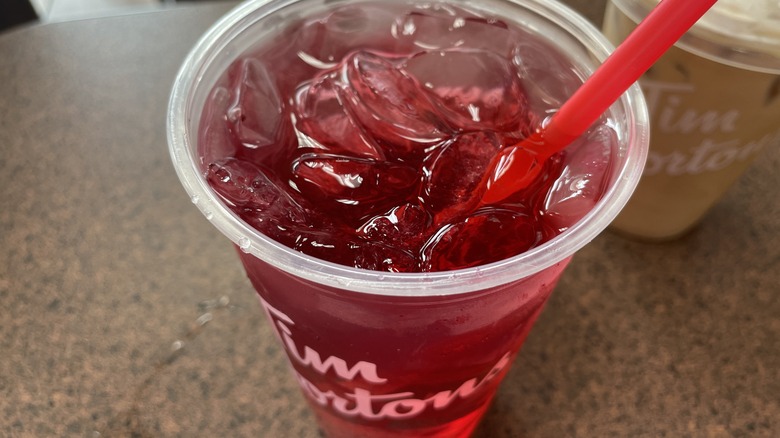 Amy Boyington/Mashed
In our opinion, the absolute star of the new Tim Hortons drink drop is the Spiced Apple Cranberry Refresher. Although we usually head to Tim Hortons when we're in the mood for coffee or donuts, an occasional Refresher makes its way into our orders. They truly are refreshing with their bright flavors and chilled temperatures, making them ideal as summer drinks. As such, we weren't too sure how well this would translate into a must-have drink for fall, but we quickly realized that it certainly can.
The Spiced Apple Cranberry Refresher is almost craving-producing — it's that good. The drink's apple and cranberry flavors blend together in the tastiest way without one overpowering the other. While we didn't immediately taste the spices when we took a sip, we soon found them in the aftertaste, and that really tied everything up in a perfect fall bow. This is one drink we wish would stay on the menu permanently. Until then, we plan to make several trips to Tim Hortons this fall to order it before it disappears.