Pumpkin Spice Fans Will Love Tim Horton's Returning Fall Menu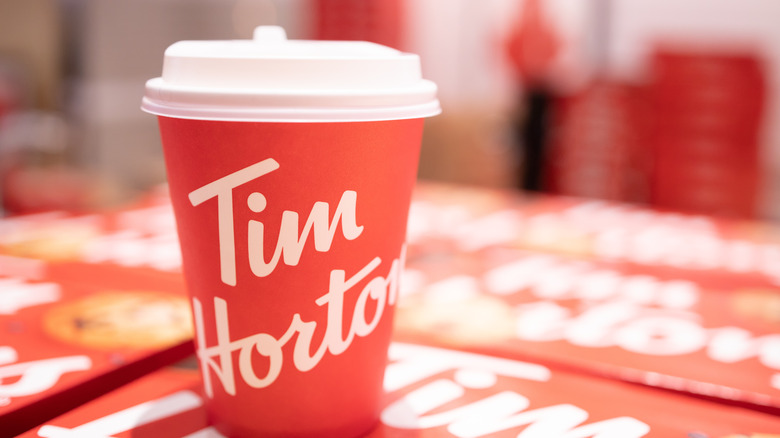 charnsitr/Shutterstock
As of yesterday, pumpkin spice is back at Tim Hortons, as the chain follows the many other brands now adding fall-flavored selections back to their menus in late August. And if you love pumpkin spice, you're in luck, as the chain offers plenty of pumpkin spice goodness, far beyond a mere latte.
There is, of course, the Tim Hortons version of a pumpkin spice latte, but beyond this hot or cold beverage, there's also a pumpkin spice iced capp, an iced cappuccino-esque version of the pumpkin spice latte. According to Narcity, a pumpkin spice-flavored tea is also available. On the food side of things, there are pumpkin spice muffins (filled with cream cheese) and glazed donuts, as well as pumpkin spice Timbits, the adorable Tim Hortons donut holes, all of which were available last year as well, according to a press release posted at Business Wire.
However, it's not just all things pumpkin spice that's available at Tim Hortons this season.
More than just pumpkin spice: Is apple pie the new flavor of fall?
Tim Hortons has expanded its fall flavor lineup this year with an apple-inspired offering. A new apple pie dream donut features maple icing, graham cracker crumbs, apple pie filling, and whipped cream (via Narcity). The apple pie dream donut looks seriously decadent; one YouTube reviewer who was quick to snatch up one of the first donuts yesterday said the donut is filled with chunks of real apple, describing the pastry as "the gooey part of an apple fritter, just in a donut."
With this new offering from Tim Hortons and Starbucks' new Apple Crisp Macchiato, is apple the new fall flavor? So far, it seems the jury is out, with comments on the latter ranging from high praise ("The apple crisp macchiato at Starbucks is a work of ABSOLUTE GENIUS!!" said one reviewer on Twitter) to utter disappointment (another Twitter user said, "the apple crisp macchiato is 0/10, but I don't know what I expected"). Time for some taste testing?