Viral Caramel Apple Bites Are The Perfect Fall Snack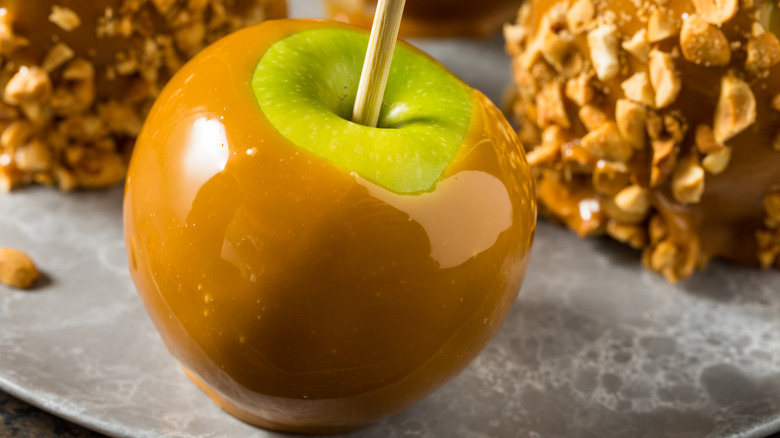 Bhofack2/Getty Images
Every fall, the cool breeze and falling leaves bring along flavors that were seemingly forgotten for many months. From maple to pumpkin spice, new products and old favorites emerge for a limited-time run. This also includes homemade treats, such as the ones Bridget Lucille made for TikTok. In a viral video with nearly 3 million views, the poster showed viewers how to prepare caramel apple bites.
A fan of the popular dessert, fellow TikToker Amanda Finks showed users how it was done by using a baking sheet to spread out small square pretzels, half topped with Rolos and half with caramels. After preheating the oven to 250 degrees Fahrenheit, the TikToker warmed the treats until they were "soft and melty." "The Rolos only need two to three minutes, but the caramels need about 10," they said. After removing the snacks from the oven, they topped each candy-topped pretzel bite with a slice of fresh green apple. The desserts can then be eaten as is or pressed together in sandwich form.
These treats mirror an already popular flavor combination
Par for the course for viral sensations, TikTokers rapidly began making their own iteration of Bridget Lucille's snack. Some use crackers instead of pretzels, and some prefer to bake the apples along with the candies, layering apple slices over the crackers and topping them with caramels and chocolate squares before baking for five minutes and placing in the freezer to set.
Because this classic flavor combination isn't new, it's no surprise that these snacks are going viral. At first glance, it's obvious that caramel apple bites are designed as a quick and easy substitute for classic caramel apples. A longtime fall favorite, caramel apples were invented in the 1950s as a way to use up leftover Halloween candies. They were first made by Dan Walker, who at the time was an employee of Kraft Foods. The process was tedious at first, but that changed with the 1960s invention of the caramel apple machine by Chicago shop worker Vito Raimondi.
If you want to stick as closely to tradition as possible when making these TikTok sweets, Granny Smiths are the best type of apple for caramel apples due to their sour flavor profile. Because caramel is sweet, the tartness of a Granny Smith is complementary without being overwhelming. Plus, these pretty green fruits are also the best apples for baking since they're sturdy enough to hold their shape in the oven, making them perfect for pies, tarts, and TikTok treats alike.