Tomatoes Deserve A Place In Your Morning Smoothies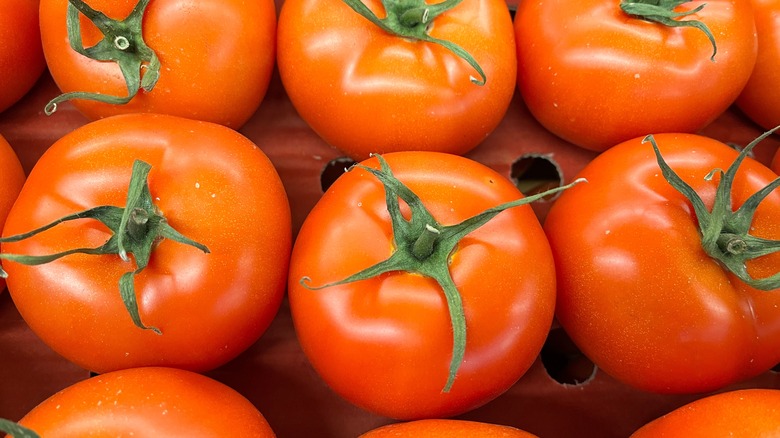 ShadeDesign/Shutterstock
Tomatoes can be used as a base for a number of products, from sauces, soups, and condiments to nutritious beverages and even cocktails. If they can work for other chilled drinks, such as tomato juice and a Bloody Mary, perhaps tomatoes also deserve a place in your morning breakfast smoothies. And at least in the botanical sense, they are technically a fruit, so you would still be drinking a fruit smoothie.
A tomato smoothie is basically a frozen twist on a V8, with most online recipes calling for some combination of tomatoes, tomato juice, celery, carrots, and various seasonings and condiments; but there are a number of different versions from which to choose. Some even toss more fruit into the mix like the tomato-strawberry smoothie concoction. A regular tomato smoothie brings a tangy, savory flavor while the latter option allows you to incorporate elements of sweetness into the mix. And there are more benefits to tomato smoothies than just the taste.
Health benefits of tomatoes and other unique smoothie flavor combos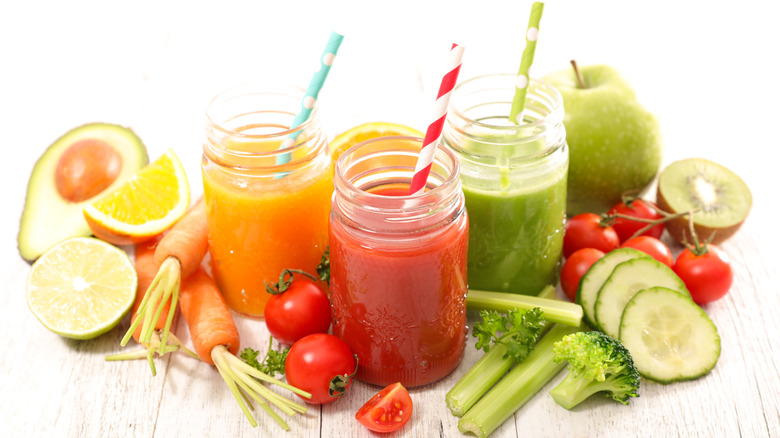 margouillat photo/Shutterstock
Tomatoes are a heart-healthy food that can help lower your risk of cardiovascular disease and potentially reduce your risk for cancer and diabetes. They also provide a source of essential vitamins and minerals such as the antioxidant and immune-system-boosting vitamin C, as well as potassium and folate. Yet tomato smoothies aren't the only unusual or unexpected homemade smoothie flavor combination you can meld to help kickstart your day.
There is also the carrot-ginger citrus smoothie that mixes carrots and citrusy ingredients like orange and lemon with the aforementioned ginger and banana. If that's not enough to intrigue your palate, maybe a banana, coffee, cashew, and cocoa smoothie is more your speed. Or make use of another botanically defined fruit that eats like a vegetable, the avocado, and whip up a peach, mango, and avocado smoothie. For the unorthodox smoothie that may claim the prize for the most unique amalgamation, try an apricot-chickpea smoothie. Of course, you can always become a mad scientist in the kitchen and experiment with different beakers of fruits, veggies, juices, nuts, seasonings, and spices until you find the sweet and/or savory spot. You're only limited by your imagination and your available ingredients on hand.