Take Leftover Pumpkin Purée And Make Autumnal 'Ice' Cubes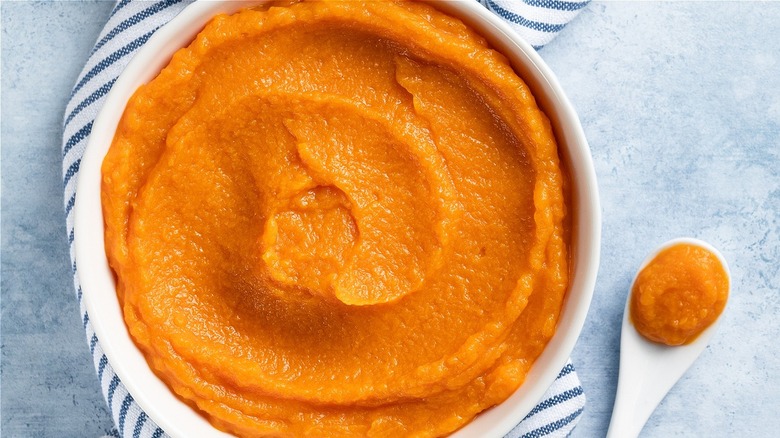 Alena_Kos/Shutterstock
As spooky season approaches, the hunt for new ways to enjoy pumpkin-flavored products and beverages is in full swing. While we used to rely on coffee giants like Starbucks to supply us with our daily fix, resourceful Pumpkin Spice Latte lovers have been hard at work, coming up with ways to achieve the perfect fall-flavored drink without having to leave the comfort of home. Of these creative solutions, few are as simple and satisfying as pumpkin ice cubes.
Crafting pumpkin ice cubes at home is an astonishingly uncomplicated endeavor. In their most basic form, pumpkin ice cubes can be made by simply popping open a can of pumpkin purée, pressing it into an ice cube tray, and smoothing it over with a spatula before leaving it to set in the freezer. With nothing more than pumpkin in them, these "simply pumpkin" ice cubes are best used as an addition to smoothies or as a sweet and healthy treat for your canine companion. However, if it's the sweet and spicy notes of pumpkin spice that you're after, you're going to need a few more ingredients.
Spiced pumpkin ice cubes for an instant PSL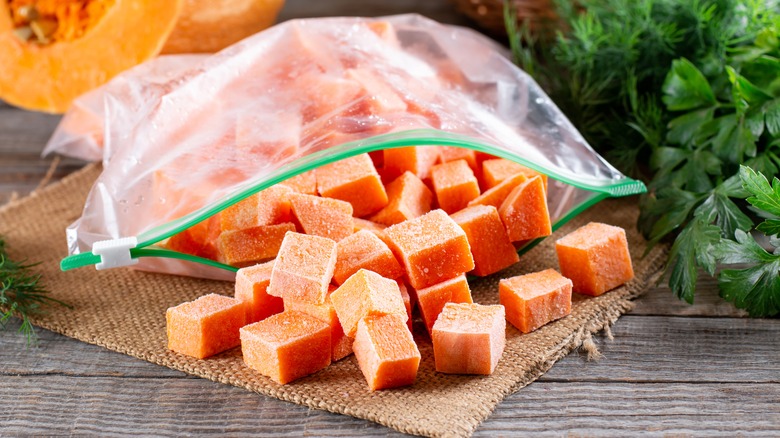 Ahanov Michael/Shutterstock
While making plain old pumpkin ice cubes couldn't be easier, whipping up a batch of spiced pumpkin ice cubes isn't terribly demanding either. Homemade pumpkin spiced beverages, that mimic the infamous PSL from Starbucks, are typically flavored with a syrup made of pumpkin purée, sugar, water, and spices, such as cinnamon, allspice, and nutmeg. But rather than fashioning a syrup, which can spoil in a matter of weeks, you can achieve the same flavor profile by crafting a spiced and sweetened pumpkin purée which can be frozen into ice cubes and stored for up to three months.
To turn your spiced pumpkin ice cubes into a PSL, you need only to pour hot coffee or espresso over the ice cube. As it melts, your coffee will be infused with the flavors of fall right before your eyes. Warm milk can be added if you're the hot latte type, and chilled milk can be the topper if you're in the mood for something iced. Alternatively, the spiced ice cubes can be put in cold milk, cold brew, or iced teas for an additional pop of flavor.