Your Halloween Punch Is Nothing Without Sherbet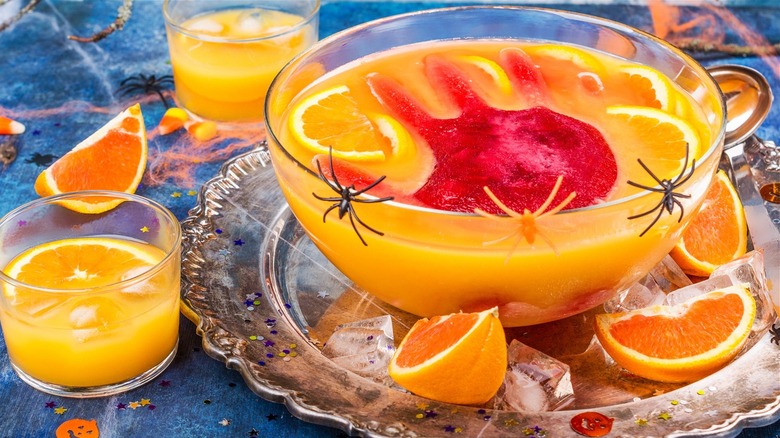 Happy_lark/Getty
Since fall is right around the corner, it's time to start thinking about Halloween. Of course, if you are heading to or hosting a Halloween party, costumes and decor may be at the top of your mind. However, a party isn't complete without food or drinks. You could make individual cocktails or mocktails for everyone, but the host should be able to enjoy the party, too. One of the quintessential party beverages is a festive punch everyone can enjoy. If your first thought goes to the fruit punch of your childhood, think again. Party punch is not only delicious but extremely simple to make.
One ingredient your punch shouldn't be without is sherbet. Sherbet is a frozen dessert similar in texture to ice cream. The base starts with fruit juice or purée and milk or cream. From there, the mix gets churned in an ice cream machine until thick and smooth. Even though sherbet has a creamy texture, it has a much lower butterfat content than ice cream and gelato. 
When sherbet combines with fizzy soda, it creates a delicious, non-alcoholic punch. To take this crowd-pleasing drink to the next level, add dry ice. The dry ice creates a steaming, bubbling visual effect that screams Halloween. Our Halloween punch with dry ice recipe turns three simple ingredients into a sweet beverage cauldron your guests will love to drink from. Plus, you won't have to refill everyone's drinks all night.
How to make the perfect Halloween punch
Our Halloween-themed punch recipe is made with lime sherbet, 7UP, and Sunny-D. Lime green sherbet is a fantastic choice for creating a festive, haunting color. However, any sherbet flavor will work. Rainbow sherbet, which is lime, raspberry, and orange flavored, is a popular choice for punch recipes since it can be combined with a variety of fresh fruits and juices. While you may be tempted to dump an entire sherbet container into a punch bowl, you must scoop tiny amounts and place them all over the interior. When soda hits the mounds of sherbet, it creates bubbles and allows the colors to swirl together.
When using dry ice, it's crucial to remember a few safety tips. First, learn how to add dry ice to your drinks. This ingredient is so cold that it can burn skin, so wearing gloves and handling it with tongs is recommended. Per Cocktail Safe, dry ice is not safe to ingest. When serving, scoop around it in the punch bowl and ensure it has been completely removed from any glasses before drinking. 
Punch can be completely customizable depending on your tastes. While sherbet is our top choice, fruit sorbets and ice cream can also be used. Likewise, feel free to add champagne, beer, or your favorite alcohol for an adults-only brew.