Breakfast Poutine With Red Eye Gravy Recipe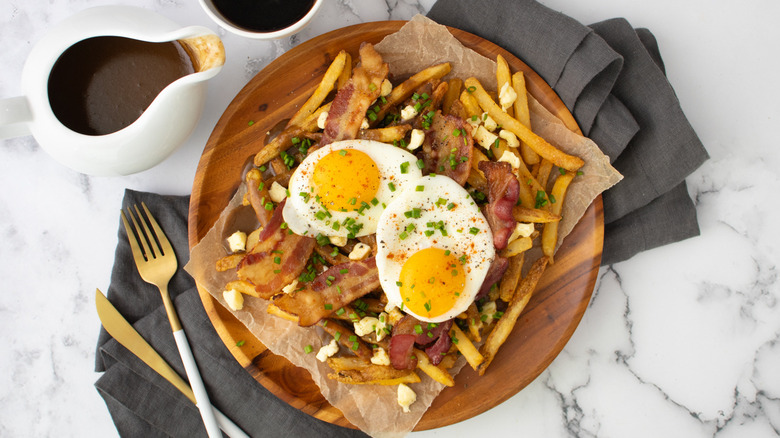 Patterson Watkins/Mashed
If you're acquainted with poutine, the idea of serving it for breakfast may seem like a wild dream. If you're unfamiliar with it, the dish consists of fries with gravy and cheese curds — seemingly better suited for a late night out rather than your morning meal. Nevertheless, when you taste this breakfast poutine with red eye gravy, you're going to wonder why you didn't come up with the concept sooner.
Mashed recipe developer Patterson Watkins says it right: "Poutine will cure all that ails ya," calling it "the epitome of happy-go-lucky food." So certain is she of its magical powers that she comments, "Having a bad day? Poutine'll perk up that mood." While the classic Canadian concoction is a decadent delight, she points out that breakfast is the time of day when we could all use a little more pep — so why not take a winning combination and load it up with bacon, eggs, and a coffee-laced gravy?
Gather the ingredients for this breakfast poutine with red eye gravy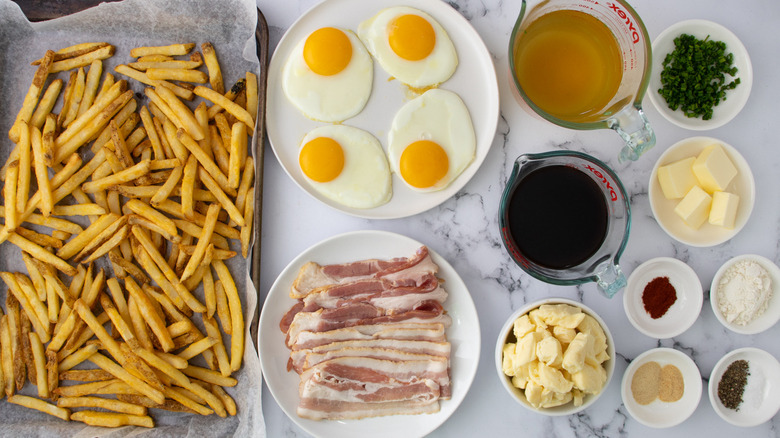 Patterson Watkins/Mashed
For this hearty breakfast poutine, you'll need bacon strips, butter, all-purpose flour, garlic powder, onion powder, chicken broth, brewed coffee, salt, and pepper. Next, pick up a package of frozen hand cut-style fries to keep the prep ultra simple. "Cheese curds (AKA squeaky cheese) make the poutine," Watkins notes, so don't skip out on this ingredient that's "a little more dense, fresh, and mild-tasting than your typical aged cheeses." You might have to visit a couple of grocery stores to find them in stock, but if you can't, Watkins says "substituting with a mild white cheddar or whole milk mozzarella will work in a pinch." Finally, take this poutine up a notch with fried eggs, fresh chives, and paprika.
Cook the bacon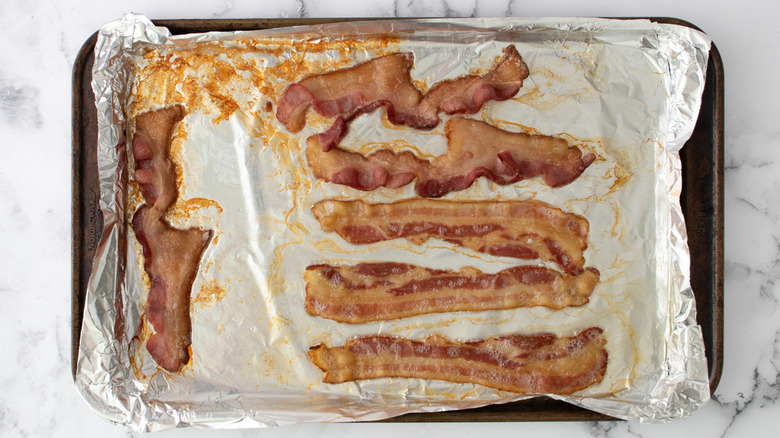 Patterson Watkins/Mashed
Begin by preheating the oven to 425 F and lining a baking sheet with tin foil so you have zero bacon grease to wipe up. Place the strips on the sheet and bake for 10-15 minutes until the bacon is crisp, flipping the strips halfway through so they cook evenly. 
Once the bacon is ready, remove the tray from the oven and drain the drippings right into a large skillet for the gravy. Line a plate with a paper towel and place the bacon slices on top to absorb the extra grease.
Prepare the gravy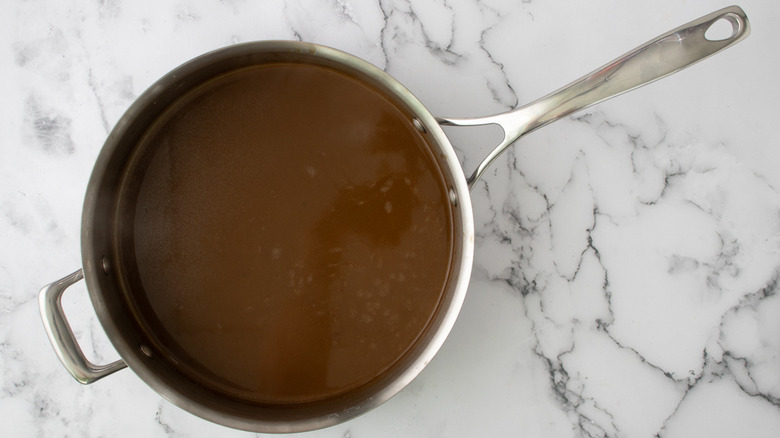 Patterson Watkins/Mashed
Place the large skillet of drippings on the stovetop and add the butter. Heat the contents on medium until the butter melts, then whisk in the flour, garlic powder, and onion powder to make the roux. Once the mixture is smooth, pour in the broth and coffee, whisking to combine. Heat the mixture to a simmer for 6-8 minutes to thicken the gravy. When it reaches your desired consistency, keep it warm while you assemble the poutine.
Although this poutine should be made to order, Watkins notes, "If you're looking to cut some day-of time, you can make the gravy, cool it, and reheat it on the stovetop or microwave." Keep in mind that it might thicken when you reheat it, so she recommends keeping extra broth handy to thin it out. 
Bake the fries, assemble, and serve the poutine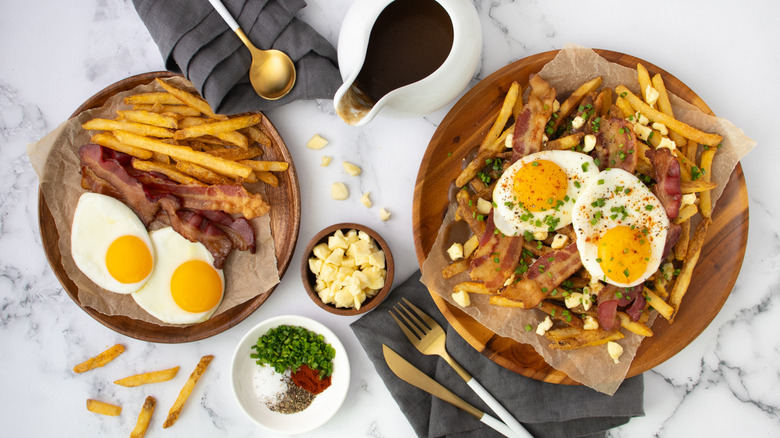 Patterson Watkins/Mashed
"Feel free to cook your store-bought fries using the method you like best," Watkins says, pointing out that "the oven is preheated (for cooking the bacon) to the temperature most recommend for baking. But, frying your french fries is just as tasty." 
When the fries are hot and crispy, distribute them among the plates. Ladle some gravy over each portion and sprinkle the cheese curds on top. Add bacon strips, fried eggs, and a sprinkling of chopped chives on top, then finish it off with a bit of salt, pepper, and paprika before serving. 
As for when to serve these? "Invite some buddies over for a weekend feast! This breakfast poutine recipe has Saturday/Sunday brunch written all over it!" Patterson raves, and we bet you'll feel the same way too.
Breakfast Poutine With Red Eye Gravy Recipe
Poutine is always a winner, so why not turn it into breakfast with crispy bacon, fried eggs, and coffee-spiked gravy?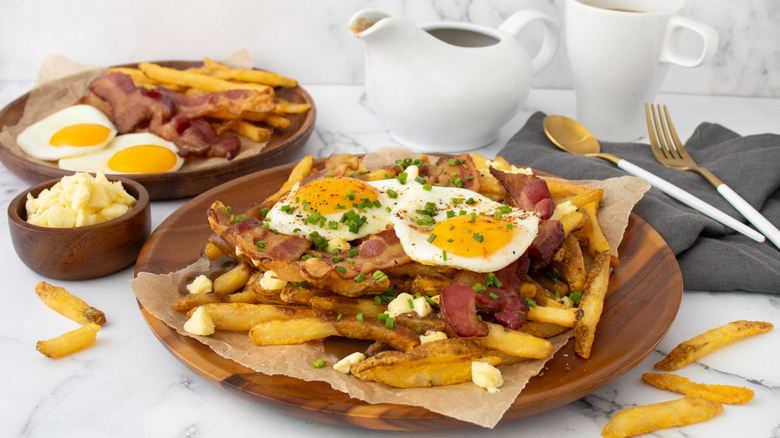 Ingredients
6 strips bacon
4 tablespoons butter
2 ½ tablespoons all-purpose flour
½ teaspoon garlic powder
½ teaspoon onion powder
1 ½ cups chicken broth
1 cup brewed coffee
Salt and black pepper, to taste, divided
1 (28-ounce) package hand-cut style fries
4 ounces cheese curds
4 fried eggs
2 tablespoons chopped chives
1 pinch paprika
Directions
Preheat the oven to 425 F and line a large baking sheet with aluminum foil.
Place the bacon strips on the prepared baking sheet and bake for 10-15 minutes or until crisp, flipping halfway through.
Remove the bacon from the oven and drain off the drippings. Transfer the strips to a paper towel-lined plate to soak up the grease.
Add the drippings and butter to a large skillet and heat over medium.
When the skillet is hot and the butter has melted, add the flour, garlic powder, and onion powder, and whisk to combine the roux.
Whisk the broth and coffee into the pan with the roux.
Bring the contents to a simmer and cook for 6-8 minutes or until the gravy has thickened. Keep warm until you are ready to assemble and serve the poutine.
Cook the fries according to package instructions.
Once cooked, distribute fries among plates, drizzle with gravy, and sprinkle with cheese curds.
Top the poutine with bacon and fried eggs and garnish with chopped chives. Sprinkle on salt, pepper, and paprika before serving.
Nutrition
| | |
| --- | --- |
| Calories per Serving | 428 |
| Total Fat | 35.5 g |
| Saturated Fat | 15.0 g |
| Trans Fat | 0.1 g |
| Cholesterol | 214.3 mg |
| | |
| --- | --- |
| Total Carbohydrates | 9.3 g |
| Dietary Fiber | 0.5 g |
| Total Sugars | 2.6 g |
| Sodium | 651.2 mg |
| Protein | 17.3 g |